Best Lifted Truck Jack Available Today (Review & Buying Guide)
Buying the Best Lifted Truck Jack

on the Market
No one ever wants to be in a situation where they have to use a truck jack on the road, but it's likely to happen at some point. If you're driving a lifted truck, you especially want to make sure you have a jack that can still work for you, whether you're at home or on the road. Your jack will need to be able to raise the vehicle higher. Additionally, it must be able to support all that extra weight. In today's guide, we will help you look through the many options to find the best lifted truck jack available now.
Ultimate Rides deals in lifted trucks every single day. That's why you can trust us to offer up some useful suggestions. Check out our recommendations in the list down below. You'll find eight of our favorite truck jacks suitable for lifted vehicles. After that, we've put together a buying guide with even more advice. If you're not able to find a lifted truck jack on our list that works for you, hopefully the right information will be available there. Good luck!
---
1. BIG RED T83006 Torin Hydraulic Trolley Service/Floor Jack with Extra Saddle (ASIN – B0028JW4PU)
Height: 5.875″ – 24.5″
The first lifted truck jack that we would like to share with you is an iconic option from BIG RED. This recognizable truck jack has been used by countless people over the years, and has a great reputation. This specific model can raise vehicles up to 24.5 inches, so it should fit most modest lift kits. It's available for less than $100, and won't take up too much space no matter where you decide to store it. You'll be able to count on quality construction for this product, as well as reliability. It's easy to use, and can support up to 6,000 lbs. There is even a safety bypass system to ensure you don't overload the jack. For all these reasons, we think it's a strong contender for the best option out there. Just make sure the height is enough to suit your truck.
BIG RED T83006 Torin Hydraulic Trolley Service/Floor Jack with Extra Saddle (Fits: SUVs and Extended Height Trucks): 3 Ton (6,000 lb) Capacity, Red
---
2. Blackhawk B6350 Black/Red Fast Lift Service Jack (ASIN – B0054WGRBA)
Height: 5.5″ – 22″
Next up, we have a heavy-duty jack from Blackhawk. It can hold up to 3.5 tons, and has internal safety measures for your protection. The height leaves something to be desired, but it can still work for a large variety of trucks out there. Load control is made simple here with the universal joint, making it easy to fit on most types of vehicles in different positions. As always, this jack is simply meant to raise the vehicle, not to permanently support its weight. Despite these limitations, it can certainly still get the job done for the vast majority of trucks out there. Just make sure to do your measurements to see how high you'll need to raise your vehicle before buying any lifted truck jack.
Blackhawk B6350 Black/Red Fast Lift Service Jack – 3.5 Ton Capacity
---
3. COOKE Pro Eagle 3 Ton Big Wheel Hydraulic Off Road Jack (ASIN – B0794J5VRB)
Height: Up to 28″
If you're looking for something heavy-duty with plenty of height, and you have lots of room in your budget, this is definitely the option we'd pick. Yes, it is definitely expensive. However, you're getting top-notch construction and reliability here. The kit includes an eight-inch extension for the standard lift height, and there's an even longer extension available for you to buy. The jack is made for heavy trucks in off-road situations, and it is built tough enough to handle it all. If that sounds like the right fit for you, check the product out and decide for yourself if it's the one.
COOKE Pro Eagle 3 Ton Big Wheel Hydraulic Off Road Jack, for Lifted, 4WD, and Extreme Vehicles
---
4. TCE AT83006U Torin Hydraulic Trolley Service/Floor Jack with Extra Saddle (ASIN – B087DW4GNL)
Height: 5.875″ – 24.5″
This next jack is for fans of the Big Red but who want to go for a different style. The product is nearly the same, featuring all the same things we love about the original with a fresh coat of paint. Along those same lines, the jack can still only get to 24.5 inches, which may be a limitation for some. However, we feel that most people will be able to count on this as their go-to truck jack for the foreseeable future.
TCE AT83006U Torin Hydraulic Trolley Service/Floor Jack with Extra Saddle (Fits: SUVs and Extended Height Trucks): 3 Ton (6,000 lb) Capacity, Blue
---
5. Ark Motoring Off-Road High Lift Jack with 3 Tons Capacity (ASIN – B08NNLHVYJ)
Height: 4.7″ – 40.6″
If height if your main priority, this is the jack for you. It offers plenty of height, so you'll just need to find a set of jack stands that can go along with it. These jack stands are built for heavy-duty vehicles such as farm equipment, so you know they'll be able to handle your truck. You will have the ability to support up to 6,600 lbs. with this jack, and the height goes up quite a bit more than you'll likely ever need. Feel free to pick this up for your model today.
Ark Motoring Farm Jack, 48″ Off-Road High Lift Jack with 3 Tons Capacity, Cast and Steel, Black
---
6. Hi-Lift Jack HL484 48″ Hi-Lift Black Cast and Steel Jack (ASIN – B00042KG3A)
Height: Up to 48″
Here we have a cast and steel lifted truck jack that can offer a stunning degree of height for you. If the other truck jacks were too small for you, this one should do the truck. Plus, it features excellent construction, supporting tons of weight without safety issues. If you attempt to load more weight onto the jack than it allows, the safety bolt prevents it from raising. For these reasons, this jack certainly deserves a place on today's list.
Hi-Lift Jack HL484 48″ Hi-Lift Black Cast and Steel Jack
---
7. Hi-Lift Jack HL604 60″ Hi-Lift Black Cast and Steel Jack (ASIN – B00042KGMG)
Height: Up to 60″
Need to go even bigger? This jack is made from the same manufacturer but will allow you to go up even higher. This is more height than you'll need, but some smaller jacks just won't cut it for lifted trucks. One of the main challenges with one of these is that they can be somewhat of a pain to store if you're trying to keep it in your truck. Other than that, this is a great pick for those with tall lifts.
Hi-Lift Jack HL604 60″ Hi-Lift Black Cast and Steel Jack
---
8. BIG RED T43006 Torin Steel Jack Stands (ASIN – B002E1AYKY)
Height: 14″ – 20.5″
In the last position on our list, we wanted to include something a little different for you. A jack will be able to raise your truck up, but from there you'll need something to support its weight. That's where these stands come in. They can support plenty of weight, though their height does leave something to be desired. If this isn't enough for your truck, we encourage you to keep looking around until you find a set that fits. However, if all looks good with the height offered by these stands, you won't find much better quality out there anywhere. It's safe to say that Big Red knows what they are doing.
BIG RED T43006 Torin Steel Jack Stands (Fits: SUVs and Extended Height Trucks): 3 Ton (6,000 lb) Capacity, Red, 1 Pair
---
Lifted Truck Jack

Buying Guide
With the options available on our list, we hope you were able to find a jack that works for you. However, if you still need to keep looking, the information presented here in our buying guide should help you out. We'll tell you more about what you should be looking for in a lifted truck jack, as well as tips on how to use it while keeping your safety in mind. Finally, we'll leave you off with some more information on Ultimate Rides and how to get in contact with us.
Factors of Focus: Choosing a Truck Jack for You
It's obvious that any old truck jack probably is going to be very helpful if your vehicle is significantly taller than the standard. That's why you have to go out of your way to find a jack that offers enough height and strength. Those are the two main factors you want to keep in mind as you shop, though there are some other important elements to a good jack.
Ease of use is important, especially since some truck jacks have a reputation for being finnicky. If you buy a truck jack that is easy to use, you'll spend less time trying to lift your truck and get back on the road faster. Additionally, if you plan on keep the truck jack in your vehicle for emergency use, portability should be a factor. You need to find a jack that can fit somewhere in your truck where it'll be out of the way, and both easy to store and access.
Take a look at customer reviews to get a better idea of exactly what you're buying. Just remember that some negative reviews may come from people who did not read the directions carefully. Take into account the majority of reviews, and look for consistent patterns. If you do, you should find a quality truck jack in no time.
Using a Truck Jack Safely
Whenever you buy a truck jack, make sure to give the included instructions a full read. Don't throw them away afterwards, either. It's always good to have them around to consult, and you may need to read through the paper more than once to grasp it all. Safety is incredibly important when operating a truck jack, especially on vehicles with a lift kit. We even recommend testing out your jack the first time you open up the package. Before putting a vehicle on it, operate it with something less heavy and dangerous to make sure it all works correctly. If it does, you can go ahead and carefully move forward.
If you are feeling unsure about using your truck jack, never hesitate to consult professional help. Additionally, it's easier than ever to find video tutorials online that can walk you through the setup process. The number one thing to remember when operating a jack is to remain cautious and follow the instructions. As long as you do that, you have excellent chances of avoiding any kind of accident.
Visit or Call Ultimate Rides for Custom Trucks Today
The next time you're looking to buy a vehicle, we encourage you to check out the Ultimate Rides inventory. We have a huge selection to offer, including plenty of custom pickup trucks. Plus, no matter where you're located, we deliver our vehicles. That means people from across the country and beyond can have access to these stunning custom rides. If you live in the Chicago area, you can also feel free to bring your vehicle to us for service. That includes maintenance, repairs and detailing as well as custom modifications. Give us a call at 815-634-3900 to learn more, or come and visit the Ultimate Rides office at 38 W. Division St., Coal City, IL 60416.
---
Two Brothers With a Dream

,

Building The Best Ultimate Rides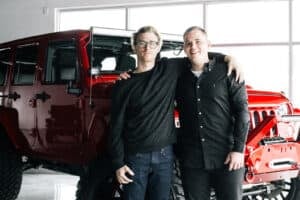 Ultimate Rides consists of two brothers who have been buying and selling custom vehicles for over ten years. Selling lifted trucks by day and writing these awesome reviews by night! They started their Ultimate Rides journey with a third brother Jake, who was a big part of building the business they have today. In 2016 Jake passed away and losing their brother was the hardest thing they ever had to deal with. Even though they had a tragic loss they plan to continue to set a new trend for the auto industry, keeping customers number one. Pushing the envelope on the lifted truck market, these guys love researching and learning about everything in the auto industry!
 — Nick and Alex Bulanda, Founders of Ultimate Rides