Best LED Headlights for Jeep Wrangler JK (Review & Buying Guide)
Tracking Down the Best LED Headlights for

Jeep Wrangler JK
When you're looking to upgrade your SUV, one of the customizations we'd recommend is installing some LED headlights. More and more vehicles these days come equipped with these lights, but they were much more rare in older generations. In today's guide, we would like to show you the best LED headlights for Jeep Wrangler JK models. Once you get your vehicle set up with a pair of these, you'll notice a huge difference in your visibility at night. They can also add a stylish but subtle new look to a Jeep.
Below you'll find some of our favorite products compiled in a list. We've included some of the best premium options out there as well as some high-quality budget LED headlights that should be more affordable. Following our list you'll find a buying guide. Here we'll provide you with some more information on choosing the right headlights, the installation process and more. If you have any questions after we're through, feel free to reach out to Ultimate Rides!
---
1. KC HiLiTES 42351 Gravity LED 7″ DOT Headlights (ASIN – B01DNK7BG4)
It's no secret that KC is one of the top manufacturers when it comes to aftermarket headlights. This set of LED headlights is perfect for the Jeep Wrangler JK. Installing these headlights is as simple as plugging them into the cables on your vehicle and putting them into the right position. They work great, lighting the road up ahead of you in the dark. This option may be a little pricey, but these are going to be among the best LED headlights for Jeep Wrangler JK drivers today.
KC HiLiTES 42351 Gravity LED 7″ DOT Headlight, Jeep JK 07-18 – Pair Pack System
---
2. Truck-Lite 27270C 7″ Round LED Headlights (ASIN – B01J99ZA2K)
A very good mid-price option to consider is this pair of headlights from Truck-Lite. They're the perfect size for the Wrangler JK, and they feature simple plug and play installation as well. You should notice a huge difference between your stock headlights and these, and you'll only have to spend a few hundred dollars. Truck-Lite is a reliable manufacturer of aftermarket headlights, and you should be able to trust in these LED chips to last quite a long while.
Truck-Lite 27270C 7″ Round LED Headlights Pair Hummer For Wrangler CJ TJ JK
---
3. LX-LIGHT 7" Round Black Cree LED Headlight High Low Beam (ASIN – B01B376YOE)
Next up, we have a set of LED headlights for your Jeep that you can get a hold of for less than $100. They also offer a sleek dark design that can add a whole lot of style to your SUV. Despite this, they still offer excellent brightness at night, and should be street legal just about everywhere. We recommend double-checking your state and local policies on tinted headlights, but these have been approved by the Department of Transportation, as have the other tinted options on our list.
LX-LIGHT 7" Round Black Cree LED Headlight High Low Beam Compatible with Jeep Wrangler JK TJ LJ CJ Hummber H1 H2 (Pair)
---
4. LX-LIGHT DOT Approved 7" Black LED Headlights + 4 "Cree LED Fog Lights (ASIN – B01KNXSIYS)
Here we have another set of headlights from LX-LIGHT. In fact, they are the same headlights as the last option on our list with one major difference. This set also includes a pair of LED fog lights for you to install. If you're looking to go for the full upgrade, you may as well pick up the products together in a set. This is a very reliable set of budget headlights. While there are brighter options out there, you really can't beat what you're getting here at this price point.
DOT Approved 7" Black LED Headlights + 4 "Cree LED Fog Lights Compatible with Jeep Wrangler 97-2017 JK TJ LJ
---
5. AUDEXEN 7-inch Round LED Headlights DOT Approved (ASIN – B07TW4WHVB)
At number five, we have another set of seven-inch round LED headlights for you to consider. They offer a different style than any of the other options on our list. If you're a fan, you'll find that these lights are a great pick. They feature strong LED chips that will stand the test of time, and a tough housing that's waterproof and easy to install. The manufacturer promises a refund if things are not as advertised, which should be a big reassurance for anyone buying.
7 Inch Led Headlights DOT Approved Round Headlight with DRL Low Beam and High Beam Compatible with Jeep Wrangler JK LJ CJ TJ 1997-2018 Headlamps Hummer H1 H2 – 2021 Exclusive Patent (Black)
---
6. GXENOGO 7-inch LED Halo Headlights with Turn Signal (ASIN – B07YZCHLVQ)
Finally, we have one last set to share with you on today's list. It's a pair of headlights that feature turn signals that light up a different color. You'll find strong and reliable LEDs, simple installation, and housing with efficient cooling and plenty of protection. These headlights are available for just around $100 as well, ensuring that you're getting a pretty good deal as far as these accessories go. These should be an asset for any Jeep Wrangler JK out there.
7 Inch LED Halo Headlights with Turn Signal Amber White DRL Compatible with 2007-2017 Jeep Wrangler JK JKU Headlamp Replacement-1 Pair Black
---
Best LED Headlights for Jeep Wrangler JK

Buying Guide
Were you able to find a set of lights on our list that suit you? There are always plenty more options out there if you need to keep searching. In our buying guide, we want to inform you what to look for in a set of headlights. That way, you'll be able to outfit your Jeep with the best accessories around. We don't believe in compromising when it comes to quality, and neither should you. Along with telling you how to pick out the best LED headlights for Jeep Wrangler JK, we'll also get into installation. Lastly, we'll leave you off with some more details on Ultimate Rides and what we can offer to you!
Factors of Focus: What Makes a Great Headlight?
When you're shopping around for LED headlights, the first thing you'll want to do is make sure the product you're looking at fits on your vehicle. That should do a great job narrowing down your options. From there, you'll want to figure out how much you're willing and able to spend on headlights. If you want the best LED headlights for Jeep Wrangler JK models out there, you may have to spend a pretty penny. However, there are also good options available on a budget. What you'll want to pay attention to is brightness and durability. The headlights have to work well, and hopefully for a long time.
Ease of installation should also be a factor, but is not as important as the other points. Customer reviews and product descriptions can be the main place to find all of this information. It's also not a bad idea to look around for reviews in other places on the internet. If you're here reading this, it seems you're off to a good start!
Installing Custom LED Headlights
Luckily for you, most headlights are known as being "plug and play." This means that the installation process should be as simple as plugging the headlight in and slotting it into place. That's why headlights are usually one of the easiest accessories to install on your vehicle. However, be aware that not all headlights are plug and play. Make sure to read through the description of the product you're thinking about buying to find out more. If you discover that it's not that easy to install, you may want to consider going to professionals for installation.
Choose Ultimate Rides for Anything and Everything Vehicle-Related
At Ultimate Rides, we can install LED headlights on your vehicle, and much much more. Our custom service center is open to the public, and we offer a huge range of vehicle modifications. We specialize in lift kits, but there's almost no limit to what we can do for your vehicle. Additionally, we sell custom vehicles of our own, including Jeep models. The next time you're looking to buy, we encourage you to check out the Ultimate Rides inventory. We even offer simple vehicle delivery! Contact us today at 815-634-3900 for more information, or stop by our office at 38 W. Division St., Coal City, IL  60416 if you're in the area!
---
Two Brothers With a Dream

,

Building The Best Ultimate Rides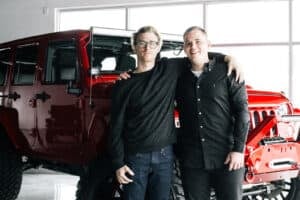 Ultimate Rides consists of two brothers who have been buying and selling custom vehicles for over ten years. Selling lifted trucks by day and writing these awesome reviews by night! They started their Ultimate Rides journey with a third brother Jake, who was a big part of building the business they have today. In 2016 Jake passed away and losing their brother was the hardest thing they ever had to deal with. Even though they had a tragic loss they plan to continue to set a new trend for the auto industry, keeping customers number one. Pushing the envelope on the lifted truck market, these guys love researching and learning about everything in the auto industry!
 — Nick and Alex Bulanda, Founders of Ultimate Rides