Finding the Best Shocks for Lifted Trucks (Review & Buying Guide)
The Best Shocks for Lifted Trucks

Available Today
When you decide to install a lift kit on your truck, it can be a big decision (in more ways than one). In addition to raising the height of your vehicle, it will also have an effect on your performance. A new set of shock absorbers will likely be required for your safety. If you are installing a lift kit on your own at home, it's important to install your new shocks with it. The trouble can be finding the right set of shocks.
Here at Ultimate Rides, we know quite a lot about suspension. That includes shocks, as well as lift kits. In today's guide, we're going to help you find the best shocks for lifted trucks. This list will include a variety of options for different models, model years, and lift kit sizes. Check out our list along with the buying guide at the end. By the time you're through, you will either have found the shocks you need or have the knowledge required to track them down. Good luck, and be sure to let us know if you have any questions or are interested in buying a custom truck!
---
1. Rough Country 4.5-8″ N3 Rear Shock Absorbers for 07-21 Chevy/GMC 1500 (ASIN – B07YZQZCBS)
Compatibility: 2007-2021 Chevy Silverado 1500/GMC Sierra 1500
If you want to find the best shocks for lifted trucks, Rough Country is a great place to start. They offer a wide variety of excellent vehicle parts and accessories, including shock absorbers. This pair is for the rear of the vehicle only, and can support up to eight inches of lift. They also fit on a wide range of model years, with this product specifically focusing on Chevy and GMC trucks. The shocks feature a three-year warranty, and are designed for top-tier performance. Despite that, they are still available at a very affordable price. Pick up a pair today and get them installed on your truck for reliability and more!
Rough Country 4.5-8″ N3 Rear Shock Absorbers for 07-21 Chevy/GMC 1500-23158_B
---
2. Rough Country 0-3.5″ N3 Rear Shocks for 09-21 Ford F-150 (ASIN – B07YZQBXTH)
Compatibility: 2009-2021 Ford F-150
Next up, we have a set of rear shocks from Rough Country for Ford trucks instead of Chevy and GMC. They are made for smaller lift kits, supporting up to 3.5 inches. They still offer excellent quality, and you'll feel a great difference in your ride when you have these on your truck. Once again you'll have that same three-year warranty backing you up, but you are not likely to need it. Rough Country uses high-quality materials, and a design built for success. You can feel confident installing these on your truck as long as all the specs match up.
Rough Country 0-3.5″ N3 Rear Shocks for 09-21 Ford F-150-23209_C
---
3. Rough Country 0-4″ N3 Rear Shock Absorbers for 07-21 Chevy/GMC 1500 (ASIN – B07YZMY4DF)
Compatibility: 2007-2021 Chevy Silverado 1500/GMC Sierra 1500
If you liked our first set of shocks but they were too large for your lift kit, perhaps this option will suit you. You'll again find the same excellent design from Rough Country, just with smaller lift heights in mind. These shocks are fast-cooling so you won't have to worry about overheating issues. Additionally, the products feature 10-stage variable valving for the best quality performance available.
Rough Country 0-4″ N3 Rear Shock Absorbers for 07-21 Chevy/GMC 1500-23141_A
---
4. Fox 2.0 Performance Series Shocks Set for 2020 Jeep Gladiator w/2-3″ Lift (ASIN – B08KGQQ8XL)
Compatibility: 2020 Jeep Gladiator
Another popular manufacturer of shocks that you may have heard of is Fox. Their 2.0 Performance series of shock absorbers are perfect for lifted trucks. This set is specifically made for the Jeep Gladiator, which is one of the most popular recent models out there, especially for lift kit lovers. If you want your Gladiator to have excellent performance on and off the road, and you don't mind spending extra to make sure that's the case, these are the shocks for you. Just remember to look into installation information before attempting to get them on by yourself.
Fox 2.0 Performance Series Shocks Set for 2020 Jeep Gladiator w/2-3″ lift
---
5. Bilstein 5100 Monotube Gas Shocks Set Dodge Ram 2500 3-5″ Lift (ASIN – B07QSF4M42)
Compatibility: 2003-2012 Dodge Ram 2500 4WD
Yet another popular choice for shocks is the manufacturer Bilstein. They make fantastic products, and that includes this set of shocks for older Dodge Ram 2500 trucks. Take a look at the compatibility specs for this product. As long as it is a good fit for your ride, you should feel confident picking these up. With them, you'll get quality performance, and a limited lifetime warranty to help back up all that talk. They're one of the best shocks for lifted trucks out there, and have earned a place on our list.
Bilstein 5100 Monotube Gas Shocks Set for 03-12 Dodge Ram 2500 4WD w/3-5″ lift
---
6. Rancho RS5000X Gas Shocks Dodge Ram 2500 / 3500 4WD 2-3″ Leveling Kit (ASIN – B01993SASC)
Compatibility: 2003-2012 Dodge Ram 2500/3500 4WD
Lastly, we have one more set of shocks to share with you. This time, they come from manufacturer Rancho. Once again they are made for older Ram models, but fit both 2500 and 3500 models with 4WD. Everything you need for installation, as far as hardware is concerned, is included here. When the process is done, you should feel a real positive difference in the way your truck drives. If they are a good fit, these shocks are as good as any others we could recommend, so feel free to install them today!
Rancho RS5000X Gas Shocks set – 03-12 Dodge Ram 2500 / 3500 4WD with 2-3″ leveling kits
---
Best Shocks for Lifted Trucks

Buying Guide
Did you find an option on our list that works for you? We hope so, but it's understandable if that's not the case. Each set of shocks is made for a different vehicle, and there are countless possibilities you could require. In this last section, we want to give you some advice on shopping that could help you find the best shocks for lifted trucks in the future. We'll tell you what to keep an eye out for while you shop, as well as some tips for the installation process. Lastly, we'll leave you off with some details concerning our team right here at Ultimate Rides. Good luck and happy reading!
Factors of Focus: What to Look For in a Set of Shocks
First and foremost, when you are shopping for a set of shocks, you want to watch for a set that is compatible with your truck. This compatibility is often based on the model, year and configuration such as whether it has 2WD or 4WD. When you've determined that a set of shocks is right for your truck, you also want to look at the lift height it's made for. This will ensure you get the best performance and safety results out of the shocks.
When all of that has been figured out, it's finally time to start considering the actual quality of the product. Customer reviews can usually be pretty helpful in this regard. Pay attention to what verified buyers of the product have said. You'll want to find a set of shocks that lasts a long time, provides solid performance, and ideally fits nicely into your budget. If you plan on installing at home, you'll also want to consider ease of installation.
Installing Shocks On Your Truck
Speaking of installation, we have some advice that you may want to consider. First off, think long and hard about whether you want to install these on your own. The process can be quite intensive, especially for folks who don't already know their way around a truck. If you are set on doing this yourself, make sure to educate yourself before getting started. If you are here reading this, that is a good place to begin. However, we aren't focusing on the installation process, so you'll want to dig even further. You should be able to find video tutorials online that can provide you with instruction. If you still aren't sure, don't be afraid to take your vehicle into a professional for installation.
Contact Ultimate Rides for Vehicle Assistance Today
Whether you're looking to buy your next truck, or need a team to customize your current model, Ultimate Rides is the place for you. We are a dealership who specializes in custom used vehicles, and we ship all across the United States and beyond. On top of that, our service center is open to the public. We offer both repairs and maintenance as well as custom modification. We'll install all sorts of accessories on your vehicle, and make sure it is in top shape for you. Give us a call at 815-634-3900 to learn more, or visit our office at 38 W. Division St., Coal City, IL 60416. We hope to see you soon!
---
Two Brothers With a Dream

,

Building The Best Ultimate Rides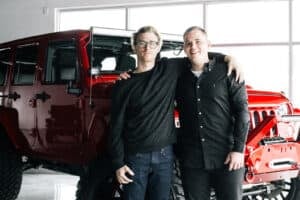 Ultimate Rides consists of two brothers who have been buying and selling custom vehicles for over ten years. Selling lifted trucks by day and writing these awesome reviews by night! They started their Ultimate Rides journey with a third brother Jake, who was a big part of building the business they have today. In 2016 Jake passed away and losing their brother was the hardest thing they ever had to deal with. Even though they had a tragic loss they plan to continue to set a new trend for the auto industry, keeping customers number one. Pushing the envelope on the lifted truck market, these guys love researching and learning about everything in the auto industry!
 — Nick and Alex Bulanda, Founders of Ultimate Rides