Used Lifted Trucks for Sale at Ultimate Rides
Visit Ultimate Rides for the Best Used

Lifted Trucks for Sale
If you're shopping for your next vehicle, Ultimate Rides is here for you. No matter where you are located, we can get one of our vehicles to you. Our easy and secure delivery opens up our stunning inventory to customers anywhere around the world. There's a reason people from all over want to shop with us too. We are completely unlike most local auto dealers you'll find out there. Ultimate Rides specializes in high-quality custom vehicles, and you won't find an inventory like this anywhere else.
We handpick every vehicle in our inventory, and customize most of them right here in our on-site lift center. Our vehicles are all free of rust, and have been inspected to ensure they're in good shape inside and out. We're even out to change the game when it comes to customer service in our industry. Our customers are treated with the respect and kindness that we all deserve.
If all of this information catches your attention, feel free to read through the rest of this guide for more on Ultimate Rides. When you're ready, give our office a call and we'll help you get set up with the vehicle of your dreams.
We Deliver Vehicles

Around the Globe
At Ultimate Rides, we believe everyone deserves to have access to a high-quality custom auto dealer. Many people don't have one of these in their own neighborhood, but with our delivery you can still buy one of these vehicles today. In almost no time, the vehicle will arrive at your home and you'll be prepared to hit the road! You can start the process by taking a look at the inventory here on our website. When you've picked out one or several models that catch your eye, give us a call. Someone from the Ultimate Rides office can provide you with even more details on any of our vehicles. We'll also be able to send you additional photographs if you'd like.
When you've decided for sure what used lifted trucks for sale you wish to buy, we will be able to handle financing and shipping right there over the phone. It'll be up to you if you'd like to pay for shipping separately, or finance the cost alongside your vehicle. This makes it affordable for just about anyone to order one of our rides for delivery. You'll even be able to decide if you want to customize the vehicle even further before we ship it. Once all that is done, we'll send the vehicle out and it won't be long before it arrives. Through this process, customers from all over have the ability to drive an incredible vehicle with their own custom modifications.
Building Your Perfect Ride in the

Lift Center
One of the reasons so many customers buy used lifted trucks for sale from Ultimate Rides is because of our lift center. We have the capabilities to simply modify one of our existing vehicles, or build your dream ride. The lift center was built just a few years ago, and it's packed with state of the art tools, technology and equipment. However, that would mean nothing if it wasn't for our expert staff. We have a team of ASE-certified technicians who are each some of the best at what they do. The incredible inventory of vehicles we offer is thanks to their hard work.
Any time someone buys a vehicle from us, they'll have the option of sending it over to our service center. There we can upgrade it with any number of features. We offer suspension lifts, custom wheels and tires, stereo installation, lighting upgrades and so much more. Plus, you'll have the opportunity to finance the cost of this work if you'd like. That opens up our lift center to even more clients.
If you feel like you're not quite ready to sell your current vehicle, we can still hook you up. Bring your car, truck or SUV to us and we'll be happy to upgrade it however you want. Just get in touch to set up an appointment for your vehicle soon!
Used Lifted Trucks for Sale –

Free of Rust
At Ultimate Rides, the quality of our inventory is of great importance to us. We don't just take in any old vehicles we find. Instead, we have buyers whose job is to specifically seek out vehicles that match our needs. Our inventory consists of vehicles that are rust-free. In order to find these vehicles, our buyers check out the warmer areas of the country to find models that haven't undergone as much wear and tear. Once they get these vehicles back to our headquarters, we inspect them to make sure they each match our standards. As long as they do, they'll likely be customized by the team in our lift center. You can find a great variety of used lifted trucks for sale at Ultimate Rides, and nearly all of them were worked on by our team.
Shopping at other dealerships can often feel like a gamble when it comes to the quality of the vehicles. They may look okay on the outside, but rust can often appear in hard-to-spot places. Additionally, do you know if the vehicle has been inspected to ensure it's engine is in good working order? That's just one of the many things that separates Ultimate Rides from other dealerships out there. We work to provide our customers with a greater degree of quality in our inventory.
An Emphasis on Quality

Customer Service
Yet another thing that makes us different from most other dealerships you've probably worked with in the past is our customer service. The auto sales industry has garnered a pretty negative reputation over the years. We are working hard to change that through our own actions. Every customer who calls us or comes through our doors is treated like a VIP. We believe that buying a vehicle should be no different than any other major purchase, such as a house or an expensive piece of technology.
Our team will do whatever we can to get you all the information you need on one of our vehicles. Additionally, we'll fill you in on multiple options, so you can have a well-rounded search. Unlike many other dealers, our goal is to help you find your preferred vehicle. While others may try to unload whatever vehicle they want to get rid of, we'll take the time to help you comb through all available options to find your preferred choice.
On top of that, we'll go the extra mile to help you find the right vehicle. If it's something that's not currently in our inventory, our people can help you track it down. Just leave a small deposit with us and we'll begin searching. When we find it, we'll let you know and we can arrange pickup or delivery!
Maintenance, Repairs and Detailing by

Ultimate Rides
In addition to offering vehicle modifications, our service center is ready to handle all the other day-to-day duties of a mechanic shop. If you're having issues with your vehicle, bring it to us and we can diagnose and fix the problem. We also offer detailing to get your car, truck or SUV looking clean as can be, as well as standard maintenance procedures like oil changes and tune-ups.
It can sometimes be difficult to find a mechanic used to working on custom vehicles. That is exactly what you'll find when you come to Ultimate Rides. We have a team of experts ready to take on any kind of issue. From engine repairs and transmission replacement to more minor work on suspension or interior electrical issues, we've got your back. Give us a call and we'll be happy to schedule an appointment for your ride. Our prices are fair, we work quick, and we have the best experts around at work in our shop. For those reasons, we think we offer one of the best shops around Chicago and beyond. Check out our customer reviews online if you don't believe us!
What to Know about Driving with

Lifted Suspension
Ever since it first started growing in popularity among civilian drivers in the 80's and 90's, the trend of lifting truck suspension has steadily become more and more mainstream. Over the last decade, there's been a boom in the hobby. These days, you usually can't drive too far without seeing a custom vehicle out on the road. If you're interested in lifted suspension, Ultimate Rides is a good place for you to start your journey. We're experts in this field, and we'd be happy to tell you more about what this change offers in a truck.
If you're into off-road driving, a lift kit can have a major positive effect on performance. Not only will you have a higher vantage point to see from, but your body will be higher up off the ground, avoiding damage from rocks, sharp grass and more. It'll also allow you to install a set of larger wheels and tires, many of which can be very useful for off-road adventuring.
For most people, a new look is the main reason they decide to upgrade to our used lifted trucks for sale. There's no denying that lifting suspension can completely change the look and feel of your truck. As long as you get proper installation, those changes should all be for the better. To learn more about this process, contact the Ultimate Rides office today!
Contact Ultimate Rides Today for

Quality Vehicles and More
Whether you live right in our neighborhood, or halfway around the world, Ultimate Rides is proud and happy to serve you. We offer some of the best used vehicles that money can buy, each one chosen by our staff specifically for a reason. To learn more about our inventory as well as how our lift center works, we encourage you to get in contact with us. Remember that we even offer standard repairs and maintenance for your vehicle! We truly want to change the used auto dealership industry in a positive way.
If you find yourself happy with the experience of shopping with us, remember to leave a good review online and recommend us to a friend! Word of mouth is a great way to spread the word on Ultimate Rides. If you're ever in the Chicago area and want to come visit us, you'll find our office at 38 W. Division St., Coal City, IL 60416. You can also get in touch with us any day of the week at 815-634-3900.
---
Two Brothers With a Dream

,

Building The Best Ultimate Rides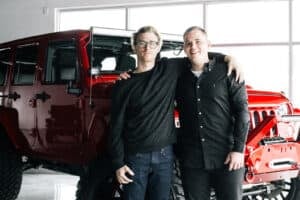 Ultimate Rides consists of two brothers who have been buying and selling custom vehicles for over ten years. Selling lifted trucks by day and writing these awesome reviews by night! They started their Ultimate Rides journey with a third brother Jake, who was a big part of building the business they have today. In 2016 Jake passed away and losing their brother was the hardest thing they ever had to deal with. Even though they had a tragic loss they plan to continue to set a new trend for the auto industry, keeping customers number one. Pushing the envelope on the lifted truck market, these guys love researching and learning about everything in the auto industry!
 — Nick and Alex Bulanda, Founders of Ultimate Rides