New GMC Lifted Trucks for Sale at Ultimate Rides
Find New GMC Lifted Trucks for Sale Today with

Ultimate Rides
Are you looking to buy a new GMC truck with a lift kit? At first, it may feel like your options are quite limited, especially if you don't live near a big city. However, Ultimate Rides is happy to tell you that we offer delivery for drivers across the United States. We're a custom auto dealer located centrally about an hour south of Chicago. We have an expert team of technicians who work hard on our inventory. You'll find vehicles new and old here, and that should include some new GMC lifted trucks for sale.
Check out today's guide to learn a little bit more about Ultimate Rides and what we can do for you. We'll dig into the details of our shipping process so you can decide if it's right for you. Additionally, you can learn more about our lift center, and what makes Ultimate Rides so special when it comes to customer service. If you still have questions by the time we're through, you're always welcome to give our office a call!
Reliable Shipping Available for Customers

Across the Country
Not just any auto dealer is going to offer shipping to drivers all over the United States. It's one of the things that helps set us apart. When you shop with us, drivers anywhere can have access to our top-notch inventory. You can start the process by browsing through our inventory online. If you like one of the vehicles you see, call our office and we can provide more details. Someone from our team will answer any of the questions you might have, and we can provide additional photographs of the vehicle. Once you've decided you want to buy, we'll go through the financing process together right over the phone.
You'll still be able to decide if you want to customize the vehicle before we send it out to you. If you do, just let us know. After that, we'll gather your shipping information. You can decide if you want to pay for the cost of shipping now, or finance it so you can pay it off over time. Either way, we'll get right to work on getting your vehicle ready. Before long, we'll ship it out to you! If you have any questions for how this process works, be sure to let us know.
The Highest

Standards of Quality
At Ultimate Rides, we don't just source our vehicles from anywhere. We bring in only the highest quality used vehicles we can find. Additionally, we offer a number of brand new vehicles for you to select from. While you may want to check out our new GMC lifted trucks for sale, you'll also find that our used models are in fantastic shape. That's because we source our vehicles from areas of the US where the whether is favorable. In these places, like California and Arizona, it's easier to maintain vehicles and keep them looking and running great. Our buyers find these vehicles for sale and bring them back to our HQ to upgrade.
Every vehicle undergoes an inspection to make sure it meets our standards. Whether you're shopping for a new vehicle or a used one, we want you to have access to the best quality possible. It's just another one of the things that makes Ultimate Rides different from your average local auto dealer. You may be paying slightly more for your vehicles from us, but that's because you're getting top-notch quality with custom upgrades and delivery. We'd be happy to give you more details if you reach out to us over the phone at your earliest convenience.
Customize Any Vehicle in the

Service Center
Not every dealership is going to allow you to customized new GMC lifted trucks for sale. That's exactly what you'll have the ability to do when you shop with us. Not only do our vehicles already feature many custom modifications, but our lift center is open to everyone who shops with us. When you choose one of our vehicles, you can tell us what additional modifications you'd like done. Then you'll be able to come pick the vehicle up, or we'll ship it out to you. You'll even have the opportunity to finance the cost of these services if you'd like.
Our service center is also open to the public. Whether you want us to lift your suspension, install custom wheels, or any of the other wonderful services we have to offer, just let us know. We'll find a good time for you to bring your vehicle in for service, and get it back to you as quickly as we're able to.
The Ultimate Rides

Customer Service Philosophy
The customer service experience at Ultimate Rides should be a little different from what you've come to expect from auto sales. That's because we know the reputation our industry has, and we want to change it for the better. It's our goal to help every one of our customers find their perfect vehicle. That's true whether we have it in stock, or if we have to find it or build it for you. Whether you meet with us in our office or you work with us over the phone, you'll receive top-tier care and attention from a member of our team. We'll listen to everything you have to say and do our part to help you find exactly what you need.
If there is a vehicle you want that we don't have in stock, we are able to help you locate it. Just leave a small deposit with us and tell us exactly what you're looking for. Our buyers see countless cars in their travels, and it should just be a matter of time before we find the vehicle you want. That's just one of the many ways in which we'll go above and beyond to assist you.
Driving with a Lift Kit –

What You Should Know
If you've never driven a truck or SUV featuring a lift kit before, it makes sense to have some questions. However, you'll find that there's not very many differences you need to know about. If you install a lift kit yourself at home, your vehicle will need a steering alignment for safety purposes. You also will notice a difference in the point-of-view from behind the wheel. You're higher up, so your vantage point will be a little bit different. It will just be something you'll need to get used to.
After making the switch to a lifted vehicle, most drivers have a hard time ever switching back. If you are a fan of off-road driving, or you live in an area with rough winters, driving with a lift kit can really pay off. For others, it's simply the cool new look that they're after. Either way, you should find your life changes in some positive ways after upgrading your vehicle. If you have any questions about lift kits or suspension, call the Ultimate Rides office.
Ultimate Rides is the Custom Dealership

for You
Do you think we're the right dealership for your needs? We would be happy to help you find your next vehicle, whether it's one of our new GMC lifted trucks for sale or something else entirely. Give us a call today and we can answer your questions about our vehicles and delivery process. We'll also help you get started with a financing plan that works for you. Reach out to 815-634-3900 to speak to a member of our team. If you're in the Chicago area, you can come and visit Ultimate Rides at 38 W. Division St., Coal City, IL 60416. We're ready to set you up with an incredible custom ride today.
---
Two Brothers With a Dream

,

Building The Best Ultimate Rides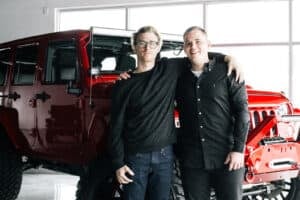 Ultimate Rides consists of two brothers who have been buying and selling custom vehicles for over ten years. Selling lifted trucks by day and writing these awesome reviews by night! They started their Ultimate Rides journey with a third brother Jake, who was a big part of building the business they have today. In 2016 Jake passed away and losing their brother was the hardest thing they ever had to deal with. Even though they had a tragic loss they plan to continue to set a new trend for the auto industry, keeping customers number one. Pushing the envelope on the lifted truck market, these guys love researching and learning about everything in the auto industry!
 — Nick and Alex Bulanda, Founders of Ultimate Rides