Seat Covers for Ford F350 Super Duty (Review & Buying Guide)
Finding Seat Covers for Ford F350

Super Duty Trucks
The Ford F350 Super Duty is one powerful truck. If you are lucky enough to own one, it's your duty to take care of it. One of the more useful accessories you can buy are seat covers. These accessories will help you keep those seats in great shape over the years you own the vehicle. It's incredibly easy for one spill to ruin your interior forever. The right set of seat covers can prevent that, improve your comfort and increase the vehicle's style at the same time!
However, finding the right seat covers for Ford F350 Super Duty trucks isn't always easy. We've already put together a guide on how to find the overall best truck seat covers. Here we are specifically focusing on sets made for the Ford F350 Super Duty. Take a look below and you'll find a list featuring some of our favorite options. Pay close attention to compatibility to ensure it's the right fit for your truck! When we're through, you can read through our buying guide for more details on finding the best seat covers for your situation.
Note: In the list below, the compatibility will refer only to what Ford F350 Super Duty the product fits on. A given set of seat covers may also work with the F150, F250 and other trucks, but we will be ignoring those compatibility details here.
---
1. Covercraft SeatSaver Front Row Custom Fit Seat Cover Bench Seat (ASIN – B004F8ZWQU)
Compatibility: 2011-2016 Ford F350 Super Duty with Front Bench Seat
One of our favorite sets of seat covers for Ford F350 Super Duty drivers is this option from Covercraft. It has a basic but effective design, protecting your seats from spills and all sorts of other damage. This option is for front rows only, and specifically those with the bench seating and not bucket seats. It is resistant to both tearing and punctures, and will defend your seats from stains. As long as this is the right fit for your pickup truck, we are confident that it will do an excellent job protecting your seats.
Covercraft – SS3415PCGY SeatSaver Front Row Custom Fit Seat Cover for Select Ford F-250 Super Duty/Ford F-350 Super Duty Models – Polycotton (Grey)
---
2. Covercraft Carhartt SeatSaver Custom Seat Covers Front Row Bucket Seats (ASIN – B00HESX54Y)
Compatibility: 2010-2016 Ford F350 Super Duty with Front Bucket Seats
Next up, we have another set of covers from Covercraft for front row seats. There are some important differences to note, however. This time, the seat covers feature a Carhartt material, offering even more protection. This material is tough as can be, and will last for a long time. This cover is also meant for bucket seats rather than a bench. Double check the model year compatibility to make sure this is the right fit for your truck. As long as it is, and you like the stay, we'd say you can go ahead and enjoy these seats covers for years to come.
Covercraft Carhartt SeatSaver Custom Seat Covers | SSC2412CAGY | 1st Row Bucket Seats | Compatible with Select Ford F-150/F-250/F-350 Models, Gravel
---
3. Oasis Auto Tailor Fit Faux Leather Seat Covers Full Set (ASIN – B08GWSHZ7M)
Compatibility: 2009-2022 Ford F350 Super Duty
In our third position, we have a full set of faux leather seat covers from Oasis Auto. These covers will fit in a wide range of model years of the vehicle, but you may need to prepare for some trimming in order to get the rear seats to fit correctly depending on your specific model. For most drivers, this shouldn't be a problem, and won't be difficult even if you have to do it. There are many reasons to choose these seat covers, from their comfort to the polished style. If you're a fan, go ahead and pick them up for your vehicle.
Oasis Auto Tailor Fit Seat Covers Compatible with 2009-2022 Ford F-150 F150 F-250 F250 F350 F350 (FF-01 Full Set, Inky)
---
4. Aierxuan Custom Fit Faux Leather Seat Covers Front and Rear (ASIN – B08FM9XD2M)
Compatibility: 2017-2022 Ford F350 Super Duty
This next set of seat covers from Aierxuan actually fit on the F150 as well as the F250 and F350. However, the number of model years of the F350 it fits are somewhat limited. If you drive an F350 Super Duty truck from 2017 through the latest model, you should find this set works for you. It includes both the front and back, and features an elegant style that will be hard to match from other seat covers. The faux leather material is comfortable, and at the same time these covers will protect your actual interior from damage.
Seat Covers for Cars 2009-2022 Ford F-150 Truck Custom Fit 2017-2022 F250 F350 F450, Waterproof Leather Cushion for Truck SUV(Full Set, Black-Red)
---
5. LUCKYMAN CLUB Faux Leather Waterproof Seat Covers (ASIN – B083D92WGC)
Compatibility: 2017-2020 Ford F350 Super Duty
Despite fitting on a limited number of model years of the F350, we thought it was worth including this set from LUCKYMAN CLUB on our list. They're one of the better faux leather seat cover makers out there, and this option is a good pick. The design is pretty basic, but it's stylish enough to fit in just about any kind of truck interior. Additionally, these covers fit tightly on the seats and offer a great level of comfort for you. They're also available at a fair price, so they're a good choice for anyone who drives a truck that fits.
Full Set Seat Covers fit for F150 Crew Cab from 2015 to 2020 and fit for F250 F350 F450 Crew Cab from 2017 to 2020 with Water Proof Faux Leather (Black Full Set)
---
6. Durafit Bench Seat Covers Gray Twill Front Only (ASIN – B07BTLMWY7)
Compatibility: 2002-2010 Ford F350 Super Duty with Bench Seat
We have one last set we want to share with you, from Durafit. This seat cover is for front bench seats in the 2002 through 2010 Ford F350. This is a truck that can run for a while when properly cared for. If you're still driving your old Ford F350 Super Duty, you know what it takes to keep it running, and you probably already know the benefit of interior seat covers. This option is a good choice, offering a basic yet effective design that will keep things clean underneath. What more do you need?
Durafit Seat Covers Made to fit 2002-2010 Ford F250-F550 Super Duty, Front 40/20/40 Split Bench Seat with Molded Headrest, Exact Fit Seat Covers, Durable & Rugged, in Gray Twill Fabric
---
Seat Covers for Ford F350 Super Duty

Buying Guide
Did our list set you up with the right seat covers? We hope so, but our buying guide is here to offer advice if you need to keep looking. In our Factors of Focus section, we'll tell you what points are important to us when considering the best seat covers for Ford F350 Super Duty trucks. After that, we'll dig into the installation and cleaning process before wrapping up with more details on getting in touch with Ultimate Rides.
Factors of Focus: Determining Which Seat Covers are Right for You
We recommend narrowing down your search for seat covers by only considering options that are either specifically made for your truck or feature a universal size. If you want the most sure bet, we'd recommend going with a set made for the F350 specifically. Otherwise you may wind up having to do some trimming in order to get everything to fit. That's not the worst thing in the world, but it is avoidable.
When you've specifically narrowed everything down to products that fit your truck, then you can start thinking about what style seats you want. There are neoprene seats, options made from faux leather, Carhartt material and so much more. Decide what style you like, and then try to find the best quality option out of those preferences. You want something long-lasting, durable and has positive customer reviews. As long as you get all of that, you're in excellent shape!
Installing and Taking Care of Your New Seat Covers
For more seat covers out there, the installation process should only take a few minutes. It's mostly about fitting the covers onto the seats and strapping them in. If you run into problems, consult the included manual or take a look online. You'll most likely be able to find a video that walks you through the entire process. After installation, you'll be good to go! When you eventually need to clean your seat covers, you'll have different options depending on the style. Some seat covers can be washed in the machine, while others need to be spot-cleaned by hand.
Ultimate Rides Offers Custom Trucks, Detailing Nationwide Delivery and More
Here at Ultimate Rides, we have a huge inventory of custom vehicles ready and waiting for you. Best of all, each and every one can be delivered right to your home. You'll also have a chance to customize your next vehicle any way you want before we send it to you. Just get in touch with us to learn more about this process. Someone from our team will be happy to answer your questions! Reach us at 815-634-3900, or visit our office at 38 W. Division St., Coal City, IL 60416.
---
Two Brothers With a Dream

,

Building The Best Ultimate Rides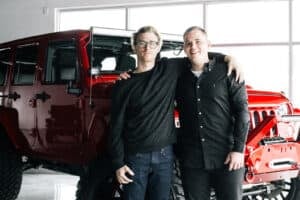 Ultimate Rides consists of two brothers who have been buying and selling custom vehicles for over ten years. Selling lifted trucks by day and writing these awesome reviews by night! They started their Ultimate Rides journey with a third brother Jake, who was a big part of building the business they have today. In 2016 Jake passed away and losing their brother was the hardest thing they ever had to deal with. Even though they had a tragic loss they plan to continue to set a new trend for the auto industry, keeping customers number one. Pushing the envelope on the lifted truck market, these guys love researching and learning about everything in the auto industry!
 — Nick and Alex Bulanda, Founders of Ultimate Rides