Best Seat Covers for Jeep Wrangler JL (Review & Buying Guide)
Choosing the Best Seat Covers for

Jeep Wrangler JL
Seat covers may not be the first vehicle accessory you think of while shopping around, but they can be very useful to have. Whether you have a custom interior like the kind we offer at Ultimate Rides, or you stick with the factory setup, it's worth your time to protect your seats. If you decide to sell your truck down the line, you'll want it to be in great shape. Stains, tears, fraying and other damage can cause the value of your Wrangler to drop. Even if you decide to keep your vehicle, don't you want it to stay looking, feeling and driving great? The right set of seat covers can help you accomplish that.
However, finding the best seat covers for Jeep Wrangler JL models is not always easy. There are tons and tons of products out there. They can vary in quality, so you've got to spend time looking for the right set. A lot of that depends on your individual needs. Are you looking for front seat covers only, or do you want the rear included? What style do you want?
Below you'll find a list featuring some of our favorite choices. After that, continue reading through our buying guide for more assistance on picking out the right set. Remember that this guide is for the Wrangler only. We have a guide on the best truck seat covers if that helps instead. If you have any questions, or want to contact us about our inventory of custom vehicles, feel free to call Ultimate Rides today!
---
1. Rough Country Neoprene Seat Covers First and Second Row (ASIN – B07HYCSPJR)
Compatibility: 2018-2020 Jeep Wrangler Unlimited
At Ultimate Rides, we deal with vehicle accessories every day. One of our favorite manufacturers has to be Rough Country. Their products are high-quality and almost always very affordable. This set of neoprene seats for the Jeep Wrangler JL is an excellent example. These covers are custom designed for this generation of the Wrangler, so they should be a perfect fit. Additionally, the provide fantastic protection for your seats against spills, stains, dirt, water and more. The product even has a one-year warranty from the manufacturer, so you can count on them to work great.
Rough Country Neoprene Seat Covers (fits) 2018-2020 Jeep Wrangler JL 4DR 1st/2nd Row | Water Resistant | 91010 , Black
---
2. Bestop Black Diamond Wrangler Front Seat Covers (ASIN – B07T1DPD2Y)
Compatibility: 2018-2021 Jeep Wrangler 2-Door 
Do you drive the classic two-seat Wrangler? These would be the seat covers for you. They come from another reliable manufacturer, and they're again designed specifically for your vehicle. The covers from Bestop may not be the cheapest option out there. However, you will find that the quality matches the higher price point. You'll get excellent defense from these seat covers, keeping your interior looking and feeling great for years to come. They're also highly durable, and shouldn't be easy to rip or tear. With all that in mind, you can count on these as some of the best seat covers for Jeep Wrangler JL SUVs.
Bestop 2929335 Black Diamond Front Seat Covers – Jeep 2018- Current Wrangler 2-Door; Fit Factory Front Seats
---
3. Oasis Auto Wrangler JL 4 Door Custom Faux Leather Seat Covers (ASIN – B08YKKX181)
Compatibility: 2018-2021 Jeep Wrangler Unlimited
These black and red seat covers come from Oasis Auto, and offer a faux leather style that's quite popular with today's drivers. These seat covers are very comfortable, and also hold up well against liquids of any kind. They aren't difficult to clean or install, and they look great as long as you're a fan of the color scheme. We'd say Oasis Auto is one of the better faux leather seat cover providers out there. They're products usually get great word of mouth from users. For this set of covers, they even offer a 30-day money back guarantee, so you know you'll drive away happy.
Oasis Auto 2018-2022 Wrangler JL 4 Door Custom Leather Seat Covers (W/O Rear Cup Holder, Black&red)
---
4. Smittybilt Front and Rear Tan/Black GEN2 Neoprene Seat Covers (ASIN – B07B3RG374)
Compatibility: 2018-2021 Jeep Wrangler Unlimited
These next seat covers offer up a different aesthetic that may be more appealing if the options so far were not up to your standards. They feature a rugged look that works great inside the Jeep Wrangler. Additionally, you'll find them to fit excellently on the JL. These covers are for front and rear seats, so they're a fantastic value as well. You'll even still be able to access the rear child seat anchors if you need them. There's no doubt these are some of our favorite seat covers, and have earned a place on today's list.
Smittybilt 577125, Front/Rear Tan/Black for 2018+ Jeep JL 4 Door, GEN2 Neoprene Seat Covers
---
5. LUCKYMAN CLUB Gray Faux Leather Front and Rear Seat Covers (ASIN – B08NTZH2WW)
Compatibility: 2018-2021 Jeep Wrangler Unlimited
LUCKYMAN CLUB is another seat cover company that, despite the unusual name, can be relied upon for good products. They offer a range of universal and custom fit seat covers, including this front and rear set for the Wrangler JL. This gray faux leather is different than what you'll usually find for seat covers, and we like the look. If you do too, go ahead and outfit your SUV with these awesome covers to keep your ride protected for the foreseeable future.
LUCKYMAN CLUB 14-MSJ Wrangler Seat Covers 4 Door Full Set, Fit for JK JL 2007-2021 Unlimited X Sahara Sport Rubicon (MSJ-Gray)
---
6. Bestop Black Diamond Rear Seat Covers (ASIN – B07T2F8QZ2)
Compatibility: 2018-2021 Jeep Wrangler Unlimited (No Rear Armrest)
Need a set of rear seat covers to accompany your front set? Check out this option from Bestop, made custom for the Jeep Wrangler JL. These seat covers might not add a ton of style to your ride, but the basic black design ensures they won't take anything away from your vehicle's look. Additionally, the cover will protect from hair, spills, and so much more. Check it out and see if it's the right option for your Wrangler. It's got five-star customer reviews, so that's what you should expect!
Bestop 2929435 Black Diamond Seat Covers, Rear- Jeep 2018-Current Wrangler Unlimited Without Armrest
---
Best Seat Covers for Jeep Wrangler JL

Buying Guide
Did our guide provide you with a set of seat covers that works for your Jeep Wrangler? If you didn't like any of the options we shared, don't be afraid to keep looking. These are just a few of our favorite picks, and there are plenty more fish in the sea. Below you'll find our opinion on the key factors that make up the best seat covers for Jeep Wrangler JL models. After that, you can read more about the installation and cleaning process. Finally, we will finish up by telling you a little bit more about what Ultimate Rides can help you with. Enjoy!
Factors of Focus: Which Set of Covers is Right for You
When searching for seat covers, the most important thing is choosing a set that fits your vehicle. You'll be able to cut down on your available options by limiting your search specifically to the model year of your Nissan Frontier, as well as universal seat covers. Once you do that, then it's time to start thinking about effectiveness, durability and style. With this truck, the vast majority of seat covers out there seem to be made from faux leather. If you look hard enough, however, you can find other options. As for durability and effectiveness, customer reviews are your best friend there. Reading through the product description can also provide a wealth of information. This is how we recommend finding the best seat cover for Nissan Frontier models.
Seat Cover Installation and Maintenance Tips
For more seat covers, the installation process is straightforward and simple. It should just take a few minutes for you to fit everything on. If you run into trouble, take a look online. You will almost always be able to find details from someone else who ran into the same problem. Many seat covers even have video tutorials available online that will show you how to install. As for cleaning, the process differs depending on what kind of cover you have. Many options require spot cleaning by hand, but the process is pretty simple. Other seat covers are machine washable, but rarely can you ever safely put any in the dryer. Instead you'll need to rely on air drying, ideally out in the sun.
Visit or Call Ultimate Rides for Stunning Custom Vehicles and More
Would you like to drive a custom Nissan Frontier? Get in touch with Ultimate Rides and we can help you out. We have a huge inventory ready and waiting, and whatever we don't have we can help you find. Ultimate Rides delivers vehicles across the country, so you won't even have to leave your home. Give us a call at 815-634-3900. If you live around the Chicago area, you can instead find us at 38 W. Division St., Coal City, IL 60416.
---
Two Brothers With a Dream

,

Building The Best Ultimate Rides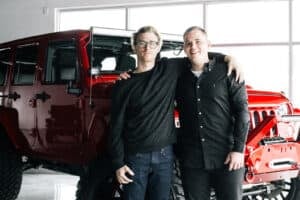 Ultimate Rides consists of two brothers who have been buying and selling custom vehicles for over ten years. Selling lifted trucks by day and writing these awesome reviews by night! They started their Ultimate Rides journey with a third brother Jake, who was a big part of building the business they have today. In 2016 Jake passed away and losing their brother was the hardest thing they ever had to deal with. Even though they had a tragic loss they plan to continue to set a new trend for the auto industry, keeping customers number one. Pushing the envelope on the lifted truck market, these guys love researching and learning about everything in the auto industry!
 — Nick and Alex Bulanda, Founders of Ultimate Rides