Best Seat Covers for GMC Sierra Trucks (Review & Buying Guide)
The Best Seat Covers for

GMC Sierra Drivers
Are you looking for some great accessories for your GMC Sierra? Or maybe you're thinking about buying one soon and doing a little bit of research ahead of time. Either way, you're in the right place. We've put together a guide to help you find the best seat covers for GMC Sierra models. This pickup truck is a fine choice, and driving it can be a rewarding experience. If you decide on the GMC Sierra, we encourage you to think about getting some seat covers to protect your interior.
Over time, whether your seats are cloth or leather, you can expect them to take some damage. However, if they are protected with seat covers, the covers themselves will take that damage instead. This will help you keep your truck looking great inside as well as preserve the vehicle's value.
Below you'll find a list featuring our favorite seat covers for you to choose from. After that, we've written up a buying guide that will help you if you need to keep looking for seat covers, as well as offer advice on installation and more. If you're in the market for a GMC Sierra, or have any questions about accessories or customization, reach out to us at Ultimate Rides soon! We'd love to hear from you. For now, good luck on your search!
Note: The GMC Sierra is a sister vehicle to the Chevy Silverado. In many ways, the trucks are very similar. If you see a cover made for the Silverado, it should also fit on the corresponding model year and trim level for the Sierra. For the sake of simplicity, we won't be mentioning the Silverado in our compatibility notes, as this guide is specifically for Sierra drivers. We also have a guide to help you find the overall best truck seat covers if that would be better for you!
---
1. Rough Country F&R Neoprene Seat Covers (ASIN – B07WNRD3V7)
Compatibility: 2014-2018 GMC Sierra 1500 Crew Cab
These seat covers from Rough Country are labeled as being for the Chevy Silverado. Thankfully, they also fit the GMC Sierra 1500 Crew Cab for the 2014 through 2018 model years. The neoprene seat covers defend your interior from mud, coffee and soda, dog hair and whatever other hazards you can throw at it. At the same time, they improve the comfort of your seats, making them easier to settle into for long stretches of time without issue. We love these seat covers, and we think you will too.
Rough Country Front Neoprene Seat Covers for 14-18 Chevy Silverado 1500-91024, Black
---
2. LUCKYMAN CLUB Waterproof Black Faux Leather Seat Covers Front Only (ASIN – B092DTP986)
Compatibility: 2007-2021 GMC Sierra 1500/2500/3500 Crew Cab and Double Cab
Another set of the best seat covers for GMC Sierra trucks is this pair from LUCKYMAN CLUB. They're for two front seats only, but they fit on a wide range of GMC Sierra models. The faux leather design is waterproof, as well as comfortable and easy to install. The sleek black design also ensures it fits right in no matter what your truck's interior looks like. A few customers have reported having issues getting the covers to fit, so this may vary from model year to model year. You may have to do a little bit of trimming if the cover is too large. If it's too small, a return is unfortunately in your future.
LUCKYMAN CLUB D04-S2 Seat Covers, Fit for 2007-2021 Chevy Silverado GMC Sierra 1500/2500/3500 HD Crew/Double Cab with Water Proof Faux Leather with Center Console Cover(Front Set, Black 2 pcs)
---
3. Covercraft Carhartt SeatSaver Front Row Custom Fit Seat Covers (ASIN – B06Y4Q73K4)
Compatibility: 2017-2019 GMC Sierra 1500/2500/3500 Bench Seat without Center Seat Storage
When it comes to durable fabric, no one does it quite like Carhartt. This set of front row seat covers from Covercraft are made from that exact material. That means they'll be nearly impossible to rip. Additionally, they're easy to install and will fit on any compatible vehicle without a problem. They're even machine washable, making them simple to maintain over time. With all that mind, think for awhile and decide if these could be the right covers for your truck.
Covercraft Carhartt SeatSaver Front Row Custom Fit Seat Cover for Select Chevrolet/GMC Models – Duck Weave (Gravel) – SSC3458CAGY
---
4. Aierxuan Faux Leather Seat Covers Black with Red Accent Full Set (ASIN – B08KG6X651)
Compatibility: 2007-2022 GMC Sierra 1500/2500/3500
Next up, we have another set of faux leather seat cover similar to the ones from LUCKYMAN CLUB. This set, featuring both front and back covers, instead offers a cool red and black design. In terms of quality, the two sets are about equal. They'll offer waterproof coverage as well as plenty of cushioning. There may be some fitment issues now and then, but that's going to happen with any set of covers that will fit on such a wide range of vehicle model years and sizes.
Aierxuan Seat Covers for Cars Full Set Chevy Silverado GMC Sierra Pickup 2007-2022 1500 2500HD 3500HD Crew Double Extended Cab Waterproof Leather Seat Protectors (Full Set, Black-Red)
---
5. Covercraft Carhartt SeatSaver Custom Seat Covers Front Row Bench Seat Gray (ASIN – B06XBDG6BV)
Compatibility: 2017-2019 GMC Sierra 1500/2500/3500 Bench Seat with Center Seat Storage
Here we have a repeat on our list, but it's worth the spot. If the Carhartt material was up your alley but you have the center seat storage in your truck, this is the cover you want. As mentioned before, it offers great protection in the form of Carhartt fabric. These covers are also very easy to install and wash, adding more reasons to add them to your vehicle today.
Covercraft Carhartt SeatSaver Custom Seat Covers | SSC3456CAGY | 1st Row 40/20/40 Bench Seat | Compatible with Select Chevrolet Silverado/GMC Sierra Models, Gravel
---
6. Motor Trend SpillGuard Waterproof Rear Bench Seat Cover (ASIN – B0823GW9ZN)
Compatibility: Universal
Finally, we have a seat cover for rear bench seats that some readers may find useful. It comes from Motor Trend, so you can rely on the brand name if that's important to you. No matter what your thoughts are on that, however, you'll find that this seat cover works great. It doesn't take away any comfort from your back seats, but adds a protective layer that will keep them in phenomenal shape.
Motor Trend SpillGuard Waterproof Rear Bench Car Seat Cover, Gray Stitching – Split Bench Rear Seat Protector with Neoprene Padding, Back Seat Cover for Kids & Dogs, Car Interior Accessories
---
Best Seat Covers for GMC Sierra

Buying Guide
Did our list have an option that works for you? If not, the first section of our buying guide can help. In it, we'll tell you what factors to look out for while you shop so you know you're getting the best seat covers for GMC Sierra trucks. After that, we'll talk more about installing your seat covers, as well as keeping them in good shape. Then we will wrap up by telling you more about Ultimate Rides, including what we can offer you right now.
Factors of Focus: Which Seat Covers are Right for You?
Above anything else, you'll want to make sure the seat covers you buy will fit your truck. If you can, limit your search to options that are either universal or ideally custom made for the GMC Sierra/Chevy Silverado. Most, though not all, seat covers made for the Silverado will also fit on the Sierra. There are exceptions though, so make sure to double check before buying anything. Once you narrow that aspect down, it's time to start thinking about the actual quality of the seat covers. Choose what style you want, from faux leather to neoprene to other options like Carhartt fabric. Then look for signs of durability and effectiveness at keeping your interior protected. Positive customer reviews are always a good sign, but you can also learn a lot by reading the product description. This should help you find the best seat covers for GMC Sierra models right now.
Tips for Installing and Cleaning Seat Covers
The vast majority of seat covers are simple to install. You'll just need to fit them over your seats and attach them. Hopefully the set included instructions you can follow. If you run into problems, head online and look for more information or even a video tutorial to walk you through. Ideally it shouldn't take more than a few minutes to install new seat covers. As for cleaning them, that process depends on what kind of covers you bought. The covers may be machine washable, or you may have to rely on spot washing with a wet rag and a little bit of soap. Either way, it's not hard to take care of your seat covers, so that's a plus!
Ultimate Rides Offers Custom GMC Sierra Trucks and So Much More
Next time you're shopping for a vehicle, Ultimate Rides can hook you up with an incredible custom truck, SUV or car. We have tons of options ready and waiting, and we can also help you find something specific if you need it. Our vehicle delivery is available for customers around the country, so feel free to get in touch with us as soon as you're ready. We are available over the phone at 815-634-3900. You can also visit our office at 38 W. Division St., Coal City, IL 60416 if you're ever in the area.
---
Two Brothers With a Dream

,

Building The Best Ultimate Rides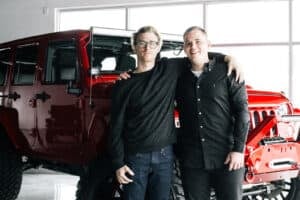 Ultimate Rides consists of two brothers who have been buying and selling custom vehicles for over ten years. Selling lifted trucks by day and writing these awesome reviews by night! They started their Ultimate Rides journey with a third brother Jake, who was a big part of building the business they have today. In 2016 Jake passed away and losing their brother was the hardest thing they ever had to deal with. Even though they had a tragic loss they plan to continue to set a new trend for the auto industry, keeping customers number one. Pushing the envelope on the lifted truck market, these guys love researching and learning about everything in the auto industry!
 — Nick and Alex Bulanda, Founders of Ultimate Rides