Best Seat Covers for Ford Ranger (Review & Buying Guide)
Find the Best Seat Covers for

Ford Ranger
Is the Ford Ranger your pickup truck of choice? It's a versatile truck, especially when you outfit it with the right customizations. If you drive the Ford Ranger, no matter how old or new it is, it will be worth your time to protect the interior of your truck. Not only will this allow you to drive around in a high-quality interior, but it also keeps the value of your vehicle higher over time. Whether you decide to sell or not, this can only benefit you.
One of the most effective ways to protect your truck's interior is with a set of great seat covers. We have probably all been in situations where we spill food, a drink or something else onto a seat. It's a terrible feeling, and many times those stains are difficult or even impossible to get out. A seat cover will ensure that you don't let spills, dog hair and other hazards affect your truck's interior.
Check out the list below to learn about some of the best seat covers for Ford Ranger models. After that, you'll find our buying guide. Here we will provide you with more information on how to choose the right set of covers, as well as tips for installation and more. If you have any questions about customizing your vehicle, or you want to order a custom ride right to your home, get in touch with Ultimate Rides! For now, good luck on your search for seat covers.
---
1. Totally Covers Ford Ranger Custom Fit Front Seat with Center Console Covers (ASIN – B00U9YOXA0)
Compatibility: 2004-2012 Ford Ranger
The Ford Ranger was recently brought back starting in 2019, but before that the most recent generation was this one: from 2004 through 2012. This set of seat covers is made for that era of the Ford Ranger, and it should be an excellent fit. These seat covers provide plenty of comfort for the driver and front passenger. Additionally, they'll ensure any spills or similar damager doesn't make its way onto your actual seats. As long as you drive this generation of the Ford Ranger, and you like the look of these covers, you should find that they're some of the best seat covers for Ford Ranger trucks out there.
Totally Covers Compatible with 2004-2012 Ford Ranger/Mazda B-Series Two-Tone Truck Seat Covers (60/40 Split Bench) w Center Console/Armrest Cover: Black & Charcoal (21 Colors)
---
2. LUCKYMAN CLUB Faux Leather Seat Covers Full Set (ASIN – B07H8XR9V5)
Compatibility: Universal
At Ultimate Rides, we deal with a lot of vehicle accessories, and that includes seat covers. If you want to go with the faux leather style, they're one of the brands we would recommend. Their products are reliable, and this design is quite comfortable. The set is for both the front and back seats, though it is a universal set. That means it is not specifically made for the Ford Ranger. However, you shouldn't have any difficulties getting it to fit. If it doesn't fit like a glove, you may be required to do some trimming in order to get it on correctly. There are guides online that can walk you through this process. The end result will be worth the work, and most drivers won't have to worry about it in the first place!
LUCKYMAN CLUB Car Seat Covers Fit Most Sedan SUV Truck – Fit for Corolla Camry Tacoma RAV4(Black
---
3. Totally Covers Camo Custom Fit Ford Ranger Seat Covers Front Only (ASIN – B00S3QHAH4)
Compatibility: 1998-2003 Ford Ranger, Center Console without Cup Holder
Do you drive a throwback Ford Ranger from the turn of the century? If you do, and you like camo, this is the set of seat covers for you. Whether you have an old hunting truck that you want to outfit, or if this is your primary vehicle, you should find these seat covers do everything you need them to. You won't have to worry about coffee or soda stains on your truck's interior, and you'll have a calming outdoor aesthetic with you at all times. Check out this set of seat covers today!
Totally Covers Compatible with 1998-2003 Ford Ranger/Mazda B-Series Camo Truck Seat Covers (60/40 Split Bench) w Center Console/Armrest Cover: Brown Tree Camouflage w/wo Cup Holders
---
4. Eurow Gray Sheepskin Seat Cover (ASIN – B0161PG4Y8)
Compatibility: Universal, 56″ x 23″
Want to experience the most possible comfort as you drive? Try out these awesome sheepskin covers from Eurow. They're universal but should certainly be large enough to fit your truck's seats. One of our only worries with these seat covers is that they're so nice you won't want to spill anything on them either! They even offer a nice basic style that won't distract from any other elements of your truck. They're a favorite of ours here at Ultimate Rides.
Eurow Sheepskin Seat Cover, 56 by 23 Inches, Gray
---
5. BDK Batman Universal Seat Covers (ASIN – B0799S6VGL)
Compatibility: Universal
Are you a big fan of the Caped Crusader and not ashamed to let the occupants of your vehicle know? Check out this awesome pair of front seat covers. They do everything you would expect, such as protecting your interior from stains and tears. They'll also let you express you superhero fandom anywhere you drive! The reviews for these seat covers are fantastic, and they're available at an amazing price.
Batman Car Seat Covers – 100% Waterproof Front Pair Gray Black Fit Cover – Side Airbag Safe Protection for Car SUV Van Truck
---
6. Motor Trend SpillGuard Waterproof Rear Bench Car Seat Cover (ASIN – B0823GW9ZN)
Compatibility: Universal
Need a seat cover for your rear bench seats? Check out this universal option from Motor Trend. It's waterproof, ensuring kids or any other passengers in the back seat don't accidentally ruin your cloth interior. Additionally, this cover works great to protect against dog hair as well as a variety of other damage. It's easy to clean and install, so there's no reason to pass up this awesome cover.
Motor Trend SpillGuard Waterproof Rear Bench Car Seat Cover, Gray Stitching – Split Bench Rear Seat Protector with Neoprene Padding, Back Seat Cover for Kids & Dogs, Car Interior Accessories
---
Best Seat Covers for Ford Ranger

Buying Guide
If our list didn't offer a seat cover that works for you, you may need to keep looking. Our buying guide will have useful information for you. We'll talk about what qualities make an appealing set of seat covers, helping you decide on the right option. After that, we'll fill you in on the installation process and on how to keep your seat covers clean. Finally, we'll wrap up by telling you what we do here at Ultimate Rides, and what that might mean for you.
Factors of Focus: High-Quality Seat Covers
In order to cut down on the vast number of options available, we recommend narrowing down your search to universal seat covers, or those made specifically for the Ford Ranger if you can find them. Since the Ranger isn't one of the most popular trucks in American, you're more likely to find a good universal set. The real trick is determining what style seat cover you want, and then finding the best option in that category. You'll have plenty of choices, from faux leather to Carhartt cloth to neoprene and everything in between. When you figure out what kind of seat cover you want, then you'll want to take durability into consideration, as well as how well the cover will actually protect your seats. Customer review can be a good resource for this kind of information! This should help you find the best seat covers for Ford Ranger trucks.
Installing and Taking Care of Your New Seat Covers
Once you've purchased a set of seat covers, it'll be time to get them into your pickup. For most covers, this should be very straightforward and only take a few minutes. Simply follow the included directions and you should be golden. If you do run into problems, there's a high chance you can find a video tutorial online that will show you the installation process. This can be very helpful, and should allow you to get it done. After that, you'll need to start thinking about cleaning. Some seat covers are machine washable, but you'll need to let them dry out in the sun. Other seat covers will need to be spot washed, and you'll only really need to wash them when there's a spill or something causing an issue.
Ultimate Rides Offers Custom Vehicles and More Today
If you're in need of an awesome custom vehicle delivered to your door, you're looking in the right place. Ultimate Rides offers a vast inventory of custom trucks, SUVs and cars ready for you today. You'll be able to customize each one the way you want, and we can ship it right out to you. We also offer a variety of other services, such as vehicle repair and detailing. Give us a call at 815-634-3900 to learn more. If you're in our area, you can stop by and see us at 38 W. Division St., Coal City, IL 60416.
---
Two Brothers With a Dream

,

Building The Best Ultimate Rides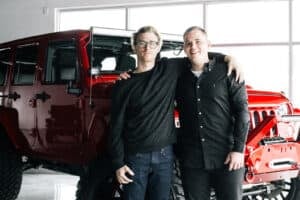 Ultimate Rides consists of two brothers who have been buying and selling custom vehicles for over ten years. Selling lifted trucks by day and writing these awesome reviews by night! They started their Ultimate Rides journey with a third brother Jake, who was a big part of building the business they have today. In 2016 Jake passed away and losing their brother was the hardest thing they ever had to deal with. Even though they had a tragic loss they plan to continue to set a new trend for the auto industry, keeping customers number one. Pushing the envelope on the lifted truck market, these guys love researching and learning about everything in the auto industry!
 — Nick and Alex Bulanda, Founders of Ultimate Rides