Finding Waterproof Truck Seat Covers (Review & Buying Guide)
Choosing a Set of

Waterproof Truck Seat Covers
After you buy a truck, it's important to get it set up with the right accessories and upgrades. That is our passion at Ultimate Rides, but it's important for anyone who owns one of these vehicles. Seat covers are some of the first accessories we would suggest buying. They will help you take care of your truck's interior. On top of that, they can also add some comfort and style to the inside of the vehicle.
If you've spent time shopping for waterproof truck seat covers, you know that there are countless options out there. It is not always simple to find the covers that go with your truck. That's why we've compiled this guide. Check out our list below to see our favorite seat covers to consider. Make sure to pay attention to compatibility before buying a set.
After our list, feel free to read through our buying guide for more information on seat covers. The topic is more complex than you might expect, and we have a lot to say on the subject. If you are in the market for your next vehicle, we encourage you to keep browsing our website, or give the Ultimate Rides office a call. We are confident we can help you find exactly the vehicle that you're looking for.
---
1. Rough Country Water Resistant Neoprene Front Seat Covers (ASIN – B07KYXZNHL)
Compatibility: 2015-2020 Ford F150
Ultimate Rides deals a lot with vehicle accessories, and one of our favorite manufacturers is Rough Country. Their products balance affordability with quality, and these waterproof truck seat covers are some of the best options out there. They are not 100% water-reflecting, as they will absorb some, but they will ensure your seats don't take any of the damage, which is what matters. This pair of front seat covers is quite simple to install, and is easy to wash by hand when the need arises. You'll even have access to a one-year warranty if you find any problems. That's why this seat cover sits at the top of our list.
Rough Country Neoprene Front Seat Covers (fits) 2015-2020 F150 | 1st Row | Water Resistant | Black | 91016
---
2. Rough Country Front and Rear Neoprene Seat Covers (ASIN – B08PPV8SB6)
Compatibility: 2019-2021 Chevy Silverado 1500
Our next set is also from Rough Country, but it's for new Chevy Silverado 1500 trucks. Additionally, this is a full set for the front and back rather than simply for the front seats. Other than that, you can expect the same style, material and level of protection. That's good news, and it's why we strongly recommend these seat covers for Silverado drivers. They'll help you keep your interior looking fine, and they add comfort with the foam padding. What is there not to love about these awesome seat covers from Rough Country?
Rough Country F&R Neoprene Seat Covers for 19-21 Chevy Silverado 1500-91036
---
3. PETICON Waterproof Seat Covers with Side Flaps (ASIN – B08H8B9V4V)
Compatibility: Universal
Some drivers simply need a set of seat covers they can throw on when they have their dog in the vehicle. That is exactly what these can be for you. They're very easy to get on and off, making them perfect for last minute trips with a pup. While they don't offer quite the same level of protection as many other seat covers, they serve a different purpose. They'll help you keep dog hair off your seats, and they're waterproof in case your puppy has an accident. If that's what you need your seat covers for, these are an excellent pick.
Waterproof Front Seat Car Cover 2 Pack, Full Protection Dog Car Seat Cover with Side Flaps, Nonslip Scratchproof Front Seat Cover Fits for Cars, Trucks, SUVs, Jeep
---
4. Aierxuan Ram Truck Custom Fit Faux Leather Seat Covers (ASIN – B08ZSPTLWQ)
Compatibility: 2009-2022 Ram 1500/2500/3500
Up next, we have a full set of black faux leather seat covers for Ram trucks. These covers are stylish and comfort, and do a great job of repelling water and other liquids. The only issue to be aware of is that they are not always easy to install. As long as you're okay with that, these can be a great option. They're pretty easy to keep clean as well, giving you another reason to consider them for your pickup truck. If you drive a Ram and you like how these covers look, they are one of the better options available, especially in this category.
Aierxuan Dodge Ram Car Seat Covers Custom Fit 2009-2022 1500, 2010-2022 2500/3500 Laramie Big Horn Longhorn Crew Quad Regular Cab Waterproof Leather Truck Pickup Cushions (Full Set/Black)
---
5. Motor Trend SpillGuard Waterproof Universal Seat Covers Front and Rear (ASIN – B0823GT5RS)
Compatibility: Universal
These seat covers from Motor Trend are basic but effective, and can be had at a very good price. They won't cover your rear headrests, but apart from that they offer strong coverage over your seats. They should be very easy to install, and to keep clean. These are waterproof truck seat covers, so spillage won't be a problem. All your bases are covered, so these are probably some of the best budget seat covers available today.
Motor Trend SpillGuard Waterproof Car Seat Covers, Front and Rear Full Set – Universal Fit Neoprene Seat Protectors with Extended Bench Side Coverage for Auto, Truck, Van, and SUV
---
6. YIERTAI Toyota Tundra Custom Fit Faux Leather Seat Covers Full Set (ASIN – B093PP7BWP)
Compatibility: 2008-2022 Toyota Tundra
Finally, we have one more set of faux leather seat covers available for a vehicle that can be hard to find accessories for. The Toyota Tundra isn't in the top two or three pickup trucks in America, but there are still plenty of drivers who need accessories. This set should fit on a wide range of Tundra models, and will provide great protection for your interior. At the same time, they're also comfortable to sit in for a few minutes or even a few hours. If you want a faux leather set and these are a good fit, it should be an easy decision for you.
YIERTAI 2008-2022 Toyota Tundra Seat Covers Fit for Crew/Crewmax Double Extended Cab Regular Cab Pickup Trucks Waterproof Faux Leather Full Seat Covers(5 PCS Full Set/Black-Red)
---
Waterproof Truck Seat Covers

Buying Guide
We tried to provide a variety of different seat cover options on our list, sticking to ones we think are the best. Hopefully you found an option that suits your truck as well as your sense of style. Are you wondering what brought us to those seat covers, or do you need advice as you continue your search? The rest of our buying guide should be a help to you. Then we will finish up by telling you what you can fidn at Ultimate Rides.
Factors of Focus: Determining Which Seat Covers are the Best
First things first. When shopping for seat covers, it's important to pick out a set that actually fits your truck. That means you'll want something custom fit for your vehicle or a universal option. However, be aware that even universal options don't fit on everything. If you have problems installing your seat cover, it might not be a bad idea to take it to a professional. They should be able to get the seat covers on without too much of an issue.
Once you narrow down your choices to seat covers that fit your truck, you can start thinking about style. There are a lot of different waterproof materials out there, including faux leather, neoprene, and many others. Figure out what kind you like, and then take a look at quality. Durability is important, and so is the level of coverage the product offers your seats. Customer reviews as well as other sources online can help you if you're not sure what to look for.
Choose Ultimate Rides for Your Next Truck
We are a custom auto dealer with our own shop where we upgrade and fix vehicles. You'll find high-quality custom rides ready for you in all shapes and sizes. Best of all, those vehicles are available for delivery. For residents of the Chicago area, we're also here to help you take care of your current vehicle. Come visit our office at 38 W. Division St., Coal City, IL 60416, or give us a call at 815-634-3900.
---
Two Brothers With a Dream

,

Building The Best Ultimate Rides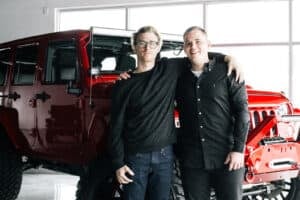 Ultimate Rides consists of two brothers who have been buying and selling custom vehicles for over ten years. Selling lifted trucks by day and writing these awesome reviews by night! They started their Ultimate Rides journey with a third brother Jake, who was a big part of building the business they have today. In 2016 Jake passed away and losing their brother was the hardest thing they ever had to deal with. Even though they had a tragic loss they plan to continue to set a new trend for the auto industry, keeping customers number one. Pushing the envelope on the lifted truck market, these guys love researching and learning about everything in the auto industry!
 — Nick and Alex Bulanda, Founders of Ultimate Rides