Best Heavy Duty Truck Bed Covers (Review & Buying Guide)
Finding the Right Heavy Duty

Truck Bed Covers
Are you currently in the market for a truck bed cover? They are a great choice for any pickup owner. Your truck bed in an area that sees a lot of wear and tear, and the right cover can help it stay in good condition. However, you don't want to just buy any old bed cover out there. It's important to do your research to find the best bed cover for your needs. There are a variety of styles out there, and you've got to make sure you choose the one that fits your truck.
At Ultimate Rides, it's safe to say we know a thing or two about bed covers. We customize trucks day in and day out, and that includes buying and installing accessories like bed covers. In this guide, we are going to help you find the right option for your pickup truck. Start by taking a look at the list we've put together below. It features a few of our favorite heavy duty truck bed covers for you to check out. After that, read through our buying guide for more information on truck covers. Good luck on your search, and make sure to contact us the next time you need to buy a vehicle!
---
1. Retrax PowertraxPRO MX Retractable Truck Bed Tonneau Cover (ASIN – B01KZV3898)
Compatibility: 2017-2022 Ford F250/F350 Super Duty with 6'10" Bed
If you want the best of the best, and don't mind paying for it, the PowertraxPRO MX from Retrax is the cover for you. These heavy duty truck bed covers feature remote power, meaning you can have access to your truck bed with the press of a button. The cover is also highly durable, able to support up to 500 lbs. of weight on top. Buyers will also have a three-year guarantee from Retrax to rely on, and a team of customer service reps there to help you. The cover might be expensive, but there's no denying you get a lot from your investment.
Retrax PowertraxPRO MX Retractable Truck Bed Tonneau Cover | 90383 | Fits 2017 – 2022 Ford F-250/350 Super Duty 6′ 10″ Bed (81.9″)
---
2. UnderCover Lux One-Piece Brilliant Black Truck Bed Tonneau Cover (ASIN – B009FO9B2K)
Compatibility: 2009-2021 Ram 1500 with 5'7″ Bed
Our next heavy duty truck bed covers are made for the Ram 1500. This is a different style than you'll see out there from most bed covers these days. It's a large one-piece cover molded for your vehicle. If you don't need constant easy access to your truck bed, and you like the look this cover offers, we think you'll really like this option. It's stylish and aerodynamic, as well as offering a matching aesthetic with your truck. This cover may not be for everyone, but it offers excellent protection as well as a look you can't find anywhere else.
NOTE: The below picture may be blue, but this cover is in fact BLACK. The picture is simply meant to represent what the cover will look like, not the color.
UnderCover Lux One-Piece Truck Bed Tonneau Cover | UC3086L-PXR | Fits 2009 – 2021 Dodge Ram 1500 (PXR – Brilliant Black) 5′ 7″ Bed (67.4″)
---
3. Roll N Lock M-Series Retractable Truck Bed Tonneau Cover (ASIN – B08777W993)
Compatibility: 2020-2021 Jeep Gladiator with 5′ Bed and Trail Rail System
Here at Ultimate Rides, the Jeep Gladiator is one of our favorite newer vehicles. If you're lucky enough to own one, protecting the truck bed with a cover is the least you can do. This retractable hard cover from Rock N Lock is easy to use, very strong, and leaves plenty of space for cargo. The M-Series of the Rock N Lock covers is easier to use than ever, with a spring-loaded opening and a hinge design that offers frictionless retraction. These covers also have a three-year guarantee from the manufacturer if you do run into any problems. There's no doubt these are some of our favorite bed covers available today.
Roll-N-Lock M-Series Retractable Truck Bed Tonneau Cover | LG496M | Fits 2020-2021 Jeep Gladiator w/o Trail Rail System 5′ Bed (60″)
---
4. Roll N Lock M-Series Retractable Tonneau Cover for Ram Trucks (ASIN – B001TNFD5E)
Compatibility: 2009-2018 Ram 1500/2500/3500, 2019-2020 Ram 1500/2500/3500 Classic, with 5'7″ Bed
Up next, we have the same Rock N Lock M-Series cover, but this time for the last generation of Ram trucks (as well as the newer Classic variant). It's the same great cover as before, but for a whole different selection of pickup trucks. You'll once again find the three-year guarantee from Rock N Lock, as well as quick and easy access to your truck bed. In our opinion, you can't really go wrong with the M-Series, as long as it fits your truck and your budget.
Roll N Lock M-Series Retractable Truck Bed Tonneau Cover | LG447M | Fits 2009 – 2018, 2019/20 Classic Dodge Ram 1500/2500/3500 5′ 7″ Bed (67.4″)
---
5. BAK BAKFlip MX4 Hard Folding Truck Bed Tonneau Cover (ASIN – B07GNLG19C)
Compatibility: 2019-2021 Chevy Silverado/GMC Sierra with 5'10" Bed and Flex MultiPro Tailgate
Another great choice, especially for those who don't want to shell out too much money, is BAK. Their hard covers, including this MX4 for the Silverado and Sierra, are fantastic. They're easy to install, more affordable than the retractable covers, and still provide plenty of protection. At the same time, they're also very easy to get in and out of. You can get this hard cover as of writing for less than $1,000. For everything it offers, in our opinion that is quite a steal. Take a look and decide for yourself if it's the one for you!
BAK BAKFlip MX4 Hard Folding Truck Bed Tonneau Cover | 448130 | Fits 2019 – 2021 Chevy/GMC Silverado/Sierra, works w/ MultiPro/Flex tailgate (Will not fit Carbon Pro Bed) 5′ 10″ Bed (69.9″)
---
6. Gator EFX Hard Tri-Fold Truck Bed Tonneau Cover (ASIN – B08L71GBX7)
Compatibility: 2021 Ford F150
One of the best budget hard covers is the EFX tri-fold cover from Gator. While it won't quite have the same thing to offer as some of the much more expensive covers, it does a hell of a job at protecting your truck and everything inside. It's very easy to install on your truck, and the aluminum panels are powder-coated for UV protection and scratch resistance. Overall, these have to be a contender for those who don't want to break the bank to protect their pickup bed. This option is for the 2021 Ford F150, but there are plenty more out there for other models too.
Gator EFX Hard Tri-Fold Truck Bed Tonneau Cover | GC24029 | Fits 2021 Ford F-150 5′ 7″ Bed (67.1″)
---
Heavy Duty Truck Bed Covers

Buying Guide
Were you able to find an option on our list that fits your truck, taste and budget? If you feel like you should keep searching, the rest of the guide is here to help. In our Factors of Focus section, we'll dive in and tell you what to look out for while you shop. What are the important points a bed cover needs to fulfill? After that, we'll tell you more about Ultimate Rides, including how we can install heavy duty truck bed covers and so much more.
Factors of Focus: Choosing the Right Bed Cover for Your Vehicle
When shopping for a bed cover, the most important thing to find is an option that fits your truck. By keeping your search terms specific to your model, model year and bed size, you'll eliminate the vast majority of options out there. Without doing that, looking for heavy duty truck bed covers can often feel overwhelming. After narrowing down your choices, it's time to figure out what style you want, and see if you can find a good one in your budget range. Bed covers can get quite expensive if you want the best options out there.
No matter how expensive or inexpensive the cover you're looking at is, be sure to read through customer reviews. They can usually provide quite a bit of information on what to expect if you do buy. We'd say the biggest qualities to look out for in a bed cover are: durability, security, and ease of access. Which of these factors is most important to you depends on your own priorities.
Find Custom Upgrades Available for Your Truck Today at Ultimate Rides
If you decide you'd rather not handle installing a bed cover, Ultimate Rides can assist you. We are a custom auto dealership but we also have our own service center on-site that's ready to help. We are located at 38 W. Division St., Coal City, IL 60416. That's about one hour south of Chicago. If you're in driving distance, feel free to call us to set up an appointment. You can reach our office today at 815-634-3900. Remember that we provide quick and affordable delivery for buyers all across the United States, so remember us the next time you shop for a vehicle!
---
Two Brothers With a Dream

,

Building The Best Ultimate Rides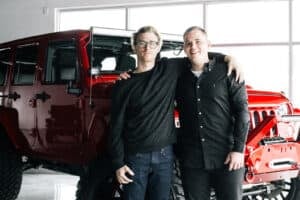 Ultimate Rides consists of two brothers who have been buying and selling custom vehicles for over ten years. Selling lifted trucks by day and writing these awesome reviews by night! They started their Ultimate Rides journey with a third brother Jake, who was a big part of building the business they have today. In 2016 Jake passed away and losing their brother was the hardest thing they ever had to deal with. Even though they had a tragic loss they plan to continue to set a new trend for the auto industry, keeping customers number one. Pushing the envelope on the lifted truck market, these guys love researching and learning about everything in the auto industry!
 — Nick and Alex Bulanda, Founders of Ultimate Rides