Squatted Trucks Available at Ultimate Rides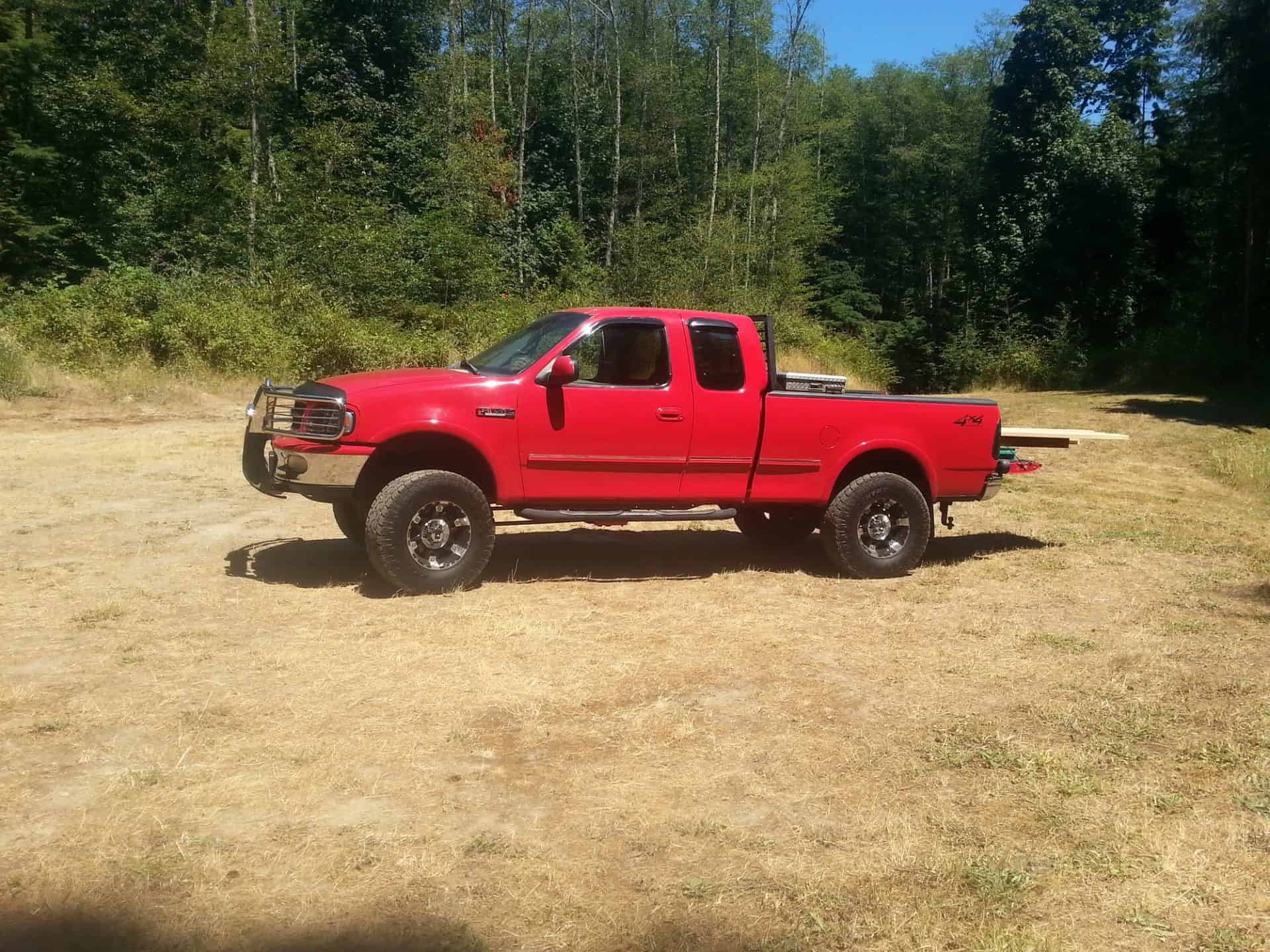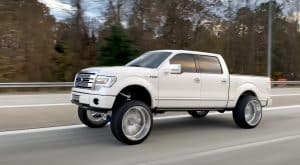 Custom Squatted Trucks

Available Right Now
Are you thinking about buying a squatted truck, or customizing your own vehicle with this setup? Ultimate Rides is an excellent place to choose. Not only do we offer custom vehicles shipped across the country, but we also have a team of expert ASE-certified technicians working on-site to build these vehicles. They're passionate about these vehicles, and we believe you'll feel that in our inventory.
Depending on where you live, we know that it may not be easy finding squatted trucks at your local dealership. It's likely going to be even harder to find them in perfect or near-perfect condition. That's just what you'll find at Ultimate Rides. We have the best custom-built pickup trucks, car and SUVs, as well as renowned customer service and so much more.
We encourage you to read through this guide to learn about Ultimate Rides. Hopefully it will answer any questions you may have for us. By the time you get to the end, it is our hope that you'll know where you want to go for your next pickup truck upgrade.
Customize Any Vehicle in the Lift Center at

Ultimate Rides
Perhaps the biggest thing that sets Ultimate Rides apart from the rest is our inventory. One quick look at our available vehicles and you'll see they're nothing like standard trucks, SUVs or cars. Many of of them feature suspension lift upgrades from our team, as well as other modifications. On top of that, any time you buy a vehicle from us, you'll always be able to customize it in our lift center before we ship it out (or before you pick it up). We'll be able to offer any kind of upgrades that you can think of. On top of that, you'll even be able to choose if you'd like to include the cost of this work in your vehicle financing plan, or take care of it separately.
You'll also have the ability to bring your current vehicle in to us for some upgrades. Just give the Ultimate Rides office a call, and we'll be able to schedule an appointment. Your vehicle will have access to all the same modifications, features and adjustments that our own vehicles do. You can decide exactly what you want done, and our team will make it happen.
There's a vast assortment of different features you could have access to. As mentioned before, we are experts when it comes to suspension. That's why we're always happy to build squatted trucks for our customers. We can also offer stereo installation, LED lighting, custom interiors, running boards, performance chips, and much much more. Ask us today if you'd like more details or to find out what else we can install on your truck.
We Can Build

Your Next Truck
If you're not able to find something in our inventory that suits you, that means we'll just have to build something. It certainly would not be the first time, or the last. Our team can absolutely make your dream truck come to life. That's our specialty, and all you have to do is tell us exactly what you're looking for. We'll track down all the parts we need and get right to work. We believe this process is a collaboration between our technicians and you, and we always want to do our best to make your vision a reality.
As always, you can start by giving us a call. A member of our team will work with you over the phone until we have a solid plan of action. From there, we'll keep you up to date on the progress of your truck. As soon as it's ready you can come pick it up, or we'll go ahead and ship it to your home (more on our shipping shortly). Many customers have utilized Ultimate Rides in the past to start driving their dream vehicle, and you could be next inline. Reach out to our office and we'll get the process underway so you'll be behind the wheel in no time.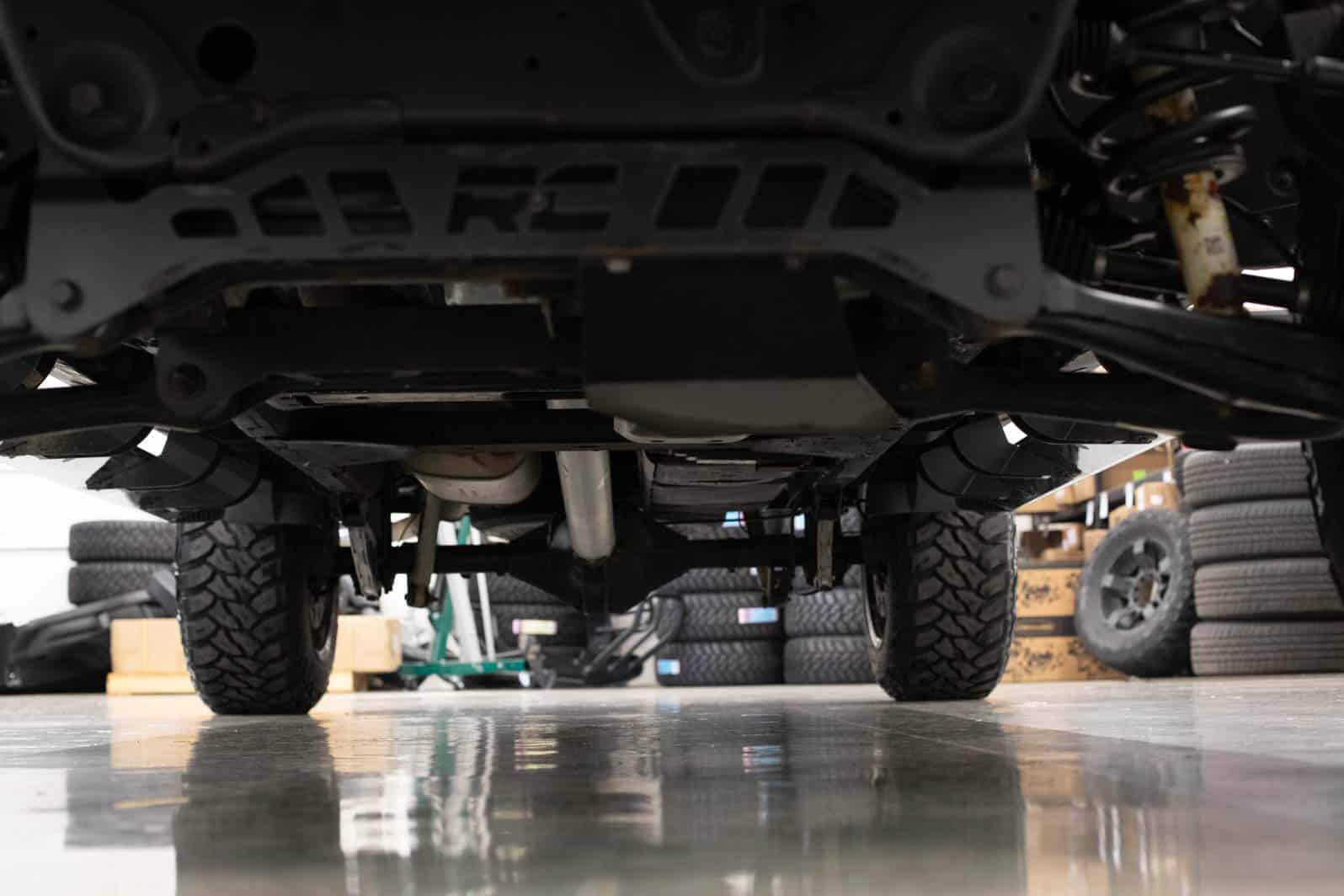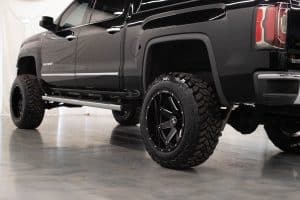 Affordable and Timely Shipping Available Across the

United States
The Ultimate Rides office is located about an hour south of the great city of Chicago. However, despite that, we're able to provide custom vehicles to customers all across the country, and even beyond our borders. In fact, more than half of our business is done with folks outside the Chicago area.
We started this business because we have a passion for custom vehicles, and we know that there are countless others out there just like us. However, many of those people don't have access to these kinds of custom rides in their own neighborhood. With out delivery, they now have that access.
If you're interested in one of our vehicles, or having us build one for you, simply give us a call. We'll work with you over the phone to find the right fit. As soon as you've made your final decision, we can start filling out the financing paperwork. We make the entire process as easy as can be, and we'll start working on your vehicle right away.
For those not receiving any custom modifications, your next ride should arrive in about a week or even less. If we're building it for you, you should expect to add some time onto that. However, you can count on us to do everything we can to get the vehicle to you quickly. To learn more about how this process works, just give Ultimate Rides a call today.
A Better Kind of

Customer Service
The auto sales industry isn't necessarily known for sterling customer service. However, Ultimate Rides is not like your standard dealership. Customer service is a major priority for us. Part of that is because we believe happy customers lead to a successful business. However, there's also a very large part that simply believes that people deserve to be treated well when buying a vehicle. Since when did it become acceptable to treat people like a walking pocketbook? When you shop with us, you can expect better. We are out to change the perception of this business through our actions.
Whether you're speaking with a team member on the phone or sitting in our office, we'll treat you like family. Our goal is to help you get behind the wheel of your perfect vehicle, no matter what it is. You won't find us trying to sell you on something you're not sure you want. Instead, every step of the way we'll be trying to get you closer to your dream ride. If you don't believe us, just take a look at our reviews online from previous customers. We stand by our previous transactions, and we're confident you'll have a great experience when you shop with us. If you agree and are happy with the end result, maybe you'll pass on word about us to your friends and families for the next time they need a vehicle upgrade!
What Exactly Are

Squatted Trucks?
A squatted truck is a vehicle that has had the rear end lower while the front end stays the same or may even be lifted up higher. This was done back in the day so rally truck racers with two-wheel-drive trucks would come down with the rear wheels first. These moving wheels would propel them forward and help avoid a crash. These days, the vast majority of drivers who squat their truck aren't doing it for this reason. Instead, they're doing it because they like the look. If you're one of those folks, we'll be more than happy to get a squat setup for you.
There's a safe way and an unsafe way to go about squatting your pickup truck. You can of course count on us to go with the safe way. You can't make too much of a height difference between the front and rear, as this can cause accidents. Some states are actually even introducing legislation to ban trucks with a height difference of over five inches between the front and rear end. This is definitely something to be aware of as you're planning on squatting a truck. Just keep things to a modest difference and you should be all set.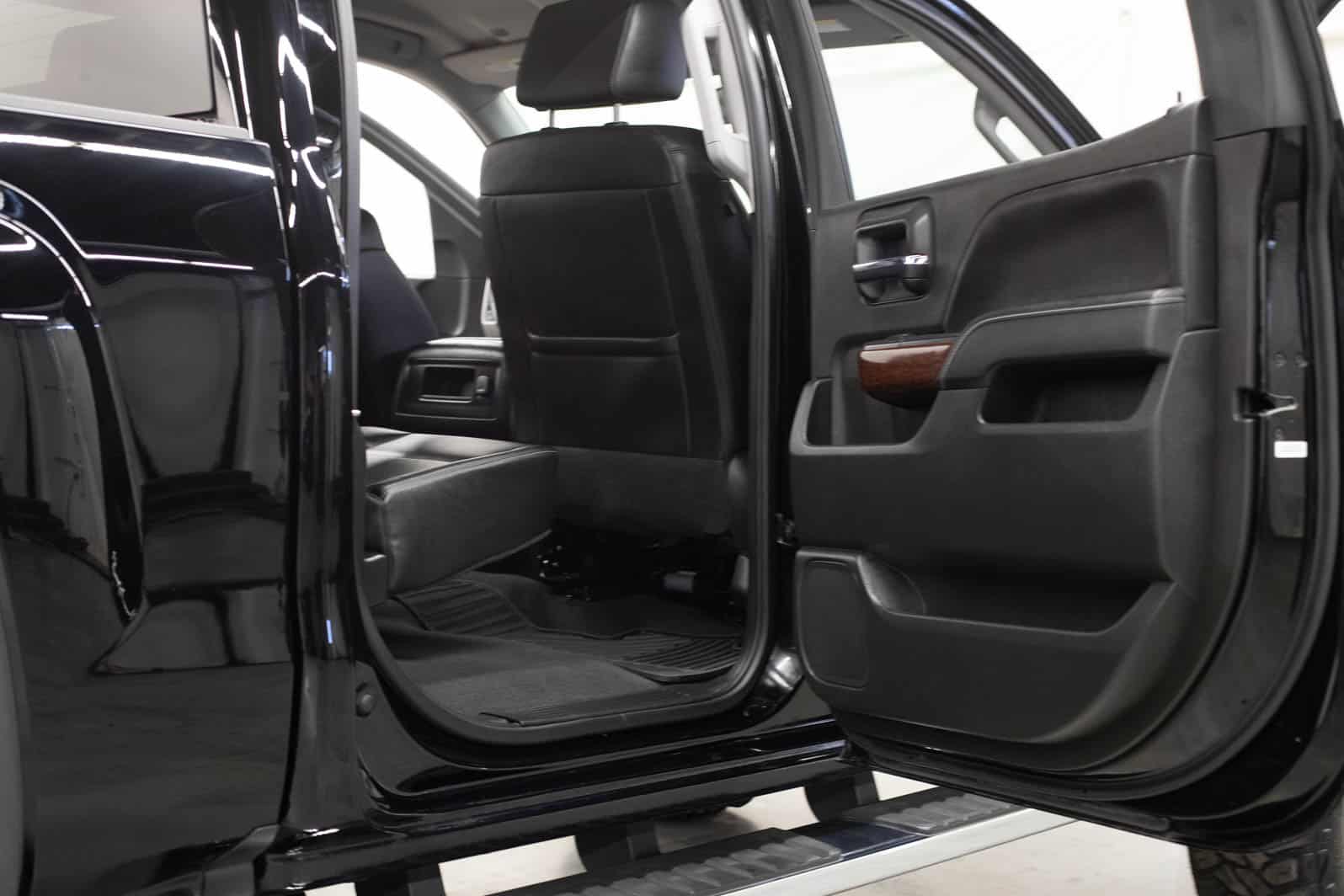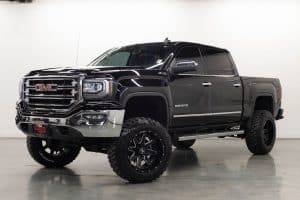 Our Inventory is Filled with

Top-Notch Vehicles
The trucks, SUVs and cars sold at Ultimate Rides aren't the same as those you'd find at any normal dealership. Even beyond our custom modifications, there are some things that make our vehicles special. For one, we only bring in the highest quality rides that we can find. Each and every vehicle at Ultimate Rides is free of rust, and has been inspected to ensure it's up to our standards.
This is only possible because we send our buyers out to different areas of the United States, focusing on places with favorable climates to keep vehicles in good shape. This includes places like Arizona, Nevada and California. Our team picks out the best options they find, paying specific mind to which models suit our inventory. From there, they bring them back to us, and we get them cleaned up and ready for you.
There's never a way to tell with 100% certainty the quality of any vehicle. Anyone who's spent enough time driving knows that just about anything could go wrong without too much warning. However, we do everything in our power to make sure that these vehicles are in top shape. It's important to us that our customers know they're buying quality vehicles from our team. If you buy a custom truck, you want it to last for the foreseeable future without too many issues. We do everything we can to ensure that happens.
Ultimate Rides Can Help You Find a

Specific Model
Is there a certain vehicle that you want to buy, but have had trouble locating? Ultimate Rides can help, even if we don't have it in our inventory. All you'll need to do is leave a small deposit with us, and our team will start searching for the vehicle. As soon as they track one down, we'll buy it and bring it back to our headquarters (which is what the deposit is for). From here, you can pick up the vehicle or have us ship it as it is, or we can offer the same upgrades as ever for the ride.
The amount of time it will take to track down the vehicle depends on how rare it is. Our buyers see a ton of different rides in their search, so for most models it should not take too long. That being said, it's always a gamble on what we find out there, so there's no telling exactly how much time it will take. We'll do our best to keep you updated and to work as quickly as possible to find the right vehicle. This is just one of the ways in which we go the extra mile to ensure our customers are satisfied.
Popular Ways to

Customize a Pickup Truck
There is nearly an endless number of ways in which you can customize your vehicle. There's absolutely no way we could go over everything here; there is just simply not enough space or time. Instead, we'll opt to tell you some of the most popular upgrades people decide to go with.
First and foremost, of course, is a suspension adjustment. Most folks opt for a suspension lift, but we'll be able to squat your truck for you if that is what you prefer. With a suspension adjustment comes the ability to add custom wheels and tires. We have a huge range of size options and styles available, so just let us know what kind you're looking for.
Other highly popular upgrades include running board installation, which helps people climb in and out of the truck, and bull bar installation, which can protect your front end in rough off road situations. For drivers who are looking for a boost in their engine capabilities, we recommend looking into a performance chip. Lastly, if your truck does not already feature a set, LED headlights can really go a long way to improving your visibility at night. If any of these features grab your attention, be sure to tell us!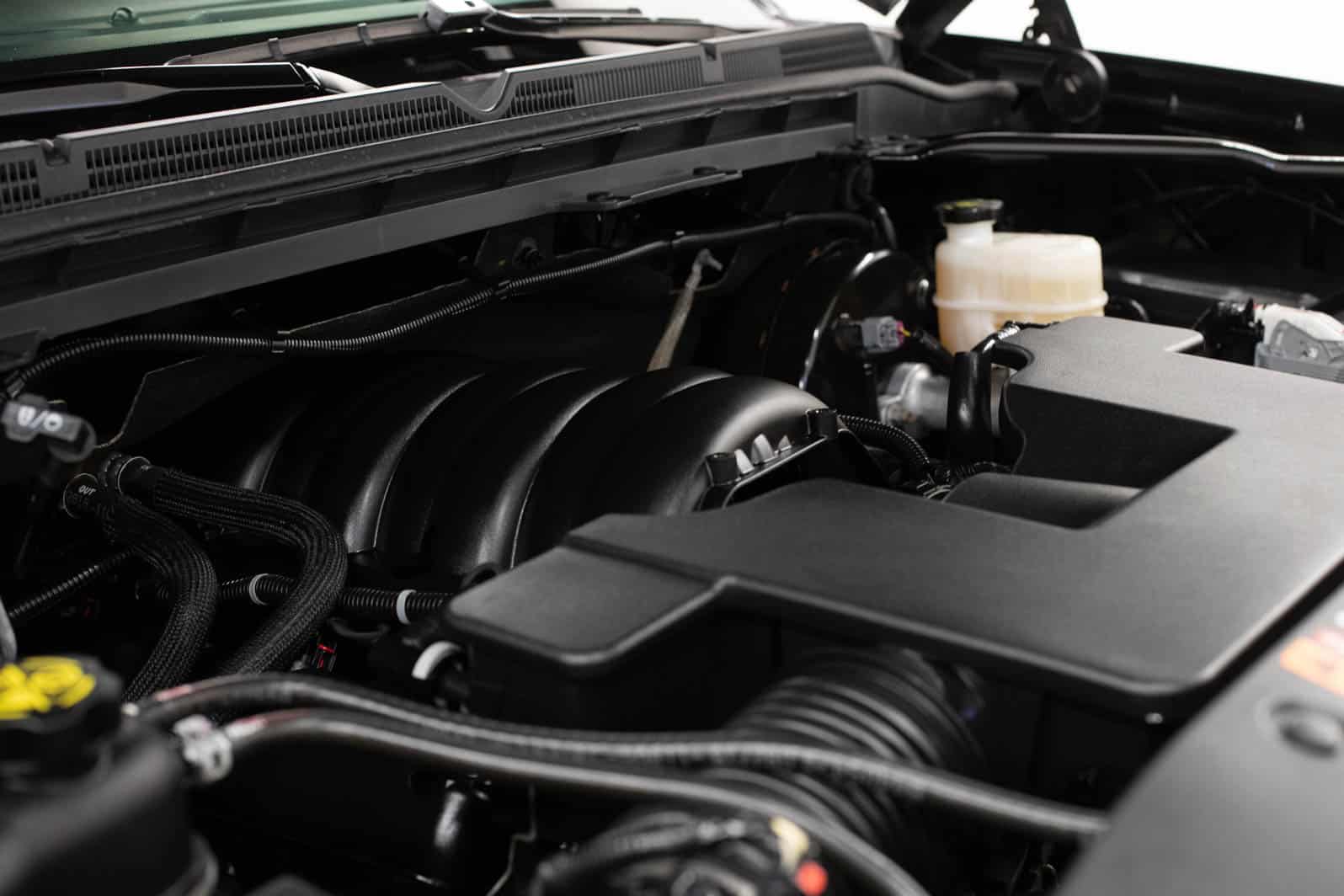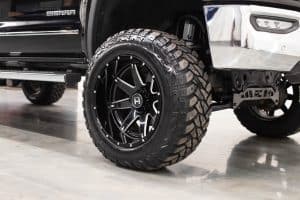 Repair and Maintenance Available

Right Here
Did you know that, on top of everything else, we can also provide maintenance and repairs for your vehicle? It's true, and our team is made up of the absolute best technicians around. No matter what's wrong with your car, truck, or SUV, we're confident that we can handle the problem.
Start by giving us a call. If you know what's wrong with your vehicle, we'll be happy to hear the issues over the phone. We can also provide diagnostic services to see what the trouble is. When you call, we'll set you up with an appointment to bring in your vehicle if you can drive it, or you can have it towed to our headquarters.
From there, we'll take a look and let you know what we find. Our team knows their stuff, and you can count on us even for major repair work. We also offer oil changes, tune-ups and all other types of basic maintenance. We'll even detail your vehicle for you! Just let us know what we can do to help. At Ultimate Rides, we know our customers deserve the best and we're always striving to deliver on that.
Visit or Call Ultimate Rides to

Get Started Now
We are your one-stop-shop to handle any and all vehicle-related needs. Whether you're interested in our squatted trucks, or you simply need someone to take care of your truck, we'll be here. As a family-run business, our customers are incredibly important to us. We'll go above and beyond to ensure you have a great experience at Ultimate Rides. Our trucks can be shipped all across the country, and that means we can help you anywhere you live.
Give us a call at 815-634-3900 if you'd like to speak with someone from our team. We'll answer all of your questions and help set you up with the truck, SUV or car of your dreams. Additionally, if you ever find yourself in the Chicago area, you can visit our office at 38 W. Division St., Coal City, IL 60416. That's about one hour south of the city!
Frequently Asked

Questions
In our final section, we'd like to answer some of the most common questions that we hear from our readers. Take a look and see if we can cap off this guide by addressing any concerns that you may have left. If you still have questions for us, be sure to call the Ultimate Rides office!
Q: Why are squatted trucks so controversial?
A: There are some out there who believe that squatting a truck looks ridiculous. If you take the squat to an extreme, it certainly can, but that's the point of going that far. Additionally, there can be some safety concerns if you drop the read end too low compared to the front. However, if you keep a modest 1-3 inch squat, you'll have a great look and won't run into any obvious safety problems.
Q: How long can I expect Ultimate Rides' vehicle shipping to take?
A: If you're simply ordering one of our vehicles as it is without custom modification, your vehicle should arrive in a week or less. On the other hand, if you do opt for custom work, it can add on time. Our team works quickly, but safety and quality always come first. Someone from Ultimate Rides should be able to provide a better estimated time for your vehicle's arrival depending on how much work must be done on our end before we ship it out.
Q: Do squatted trucks utilize body lift kits or suspension lift?
A: Squatted trucks that are installed the correct way will utilize a suspension lift. A body lift kit utilizes blocks or something similar to raise up the vehicle. It would be impossible to use one to lower one end to the ground, as that can only be accomplished through suspension. One could theoretically raise their front end with a body lift kit and leave the back end normal, but we don't necessarily recommend this.
---
Two Brothers With a Dream

,

Building The Best Ultimate Rides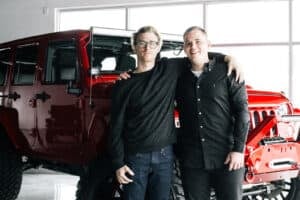 Ultimate Rides consists of two brothers who have been buying and selling custom vehicles for over ten years. Selling lifted trucks by day and writing these awesome reviews by night! They started their Ultimate Rides journey with a third brother Jake, who was a big part of building the business they have today. In 2016 Jake passed away and losing their brother was the hardest thing they ever had to deal with. Even though they had a tragic loss they plan to continue to set a new trend for the auto industry, keeping customers number one. Pushing the envelope on the lifted truck market, these guys love researching and learning about everything in the auto industry!
 — Nick and Alex Bulanda, Founders of Ultimate Rides