What You Should Know about Daily Driving a Lifted Truck
Daily Driving a Lifted Truck:

8 Things You Should Know
Lifted trucks are great vehicles, even for daily use. However, if you are thinking about buying a lifted truck or upgrading your current vehicle, there are some important things you should be aware of, both good and bad. At Ultimate Rides, the majority of our inventory consists of trucks with suspension lifts. That puts us in a position to know a thing or two about these vehicles.
Below we'll tell you what we thing are the eight most important things to remember. If you're thinking about daily driving a lifted truck, it's worth your time to read through each point and keep it in mind. We'll be going over the good and the bad. That means that by the end, you should have a well-rounded point of view to decide from.
After these points, stick around to learn more about Ultimate Rides. No matter where you live, we can help you into a lifted truck. You'll even have a chance to customize it however you want before we send it out.
1. Better Visibility at a Distance
A suspension lift (or a lift kit) will raise up the height of your vehicle. That will change your perspective in two important ways. First, it'll make it easier to see over vehicles and other obstacles around you. This can make you steer clear of accidents with greater ease, as well as let you stay more aware of the road around you. This does have a drawback, though. The more you raise your point of view, the harder it will become to see things close up to your truck. That includes curbs, smaller vehicles, and even pedestrians. This means you have to stay more aware of your surroundings at all times. A 360-degree camera system can help take care of this problem, available in many newer truck models today.
2. Your Truck Will Look Great
The most popular reason for daily driving a lifted truck is the awesome look. While there are other added benefits, this is the main reason why so many people choose to upgrade. Some drivers prefer a modest lift, while others will want to go huge. Whatever you decide, the best part is being able to customize your truck just the way you want it. Take your time choosing the right style lift for your needs. If you need assistance, feel free to get in touch with our team and we'll help you go over all the available options. It's important for you to get the style you're going for, and you've got to choose the right kit to get you there.
3. Ready for Off Road Action
One of the biggest benefits you'll gain from lifting your truck is more ground clearance. This can help you navigate rough terrain, avoiding obstacles such as rocks or grass that can scratch up your exterior. It's important to outfit your vehicle with the right tires, which Ultimate Rides can help you do. Once you take care of that, your truck can be ready to handle mud, sand, snow, dirt, grass, rock and just about any other terrain type you can think of. Ask us what other upgrades we recommend for off road action if you're looking to get ready for adventure.
4. Better Handling in Snow
Speaking of snow, it's something that can become an issue on the road as well as off of it. With a suspension lift (and the right setup), you should have an easier time navigating snow on the roads. While other drivers become stuck or find themselves sliding around, you should be able to drive through with ease. Just remember to take it slow and you'll find you can maintain more control!
5. Driving It Will Feel Different
If you've never driven a lifted truck before, it will likely take you a little bit of time to get used to it. It's hard to put into words, but these trucks just drive different. While there are some drivers who don't like it, most people have no issue with it once they're used to the changes. As long as you go with reliable professional installation, you shouldn't expect any downsides. Just be aware that it won't feel quite the same as your old truck.
6. Your Truck Will Be Top-Heavy
One of the big differences that you should be aware of in terms of safety is that the truck will become more top-heavy. That means you should start taking your turns slower than you did before. Raising the center of gravity means it can become easier to flip your truck. As long as you take turns and inclines/declines at a safe speed, you should have nothing to worry about. It's just important to be aware of, allowing you to make some changes to the way you drive to account for the difference.
7. You May Have to Spend More to Avoid Common Issues
While there are plenty of lift kits you can install at home with relative ease, the end result may not be up to your standards. There are lots of common issues that can crop up in cheaper kits with at-home installation. If you want to avoid rubbing as you turn, stiff handling, bouncy suspension and other issues, it's important to spend the money to get a high-quality suspension upgrade. While the process won't be cheap, it's how you'll get the best results at the end. It can also help you save money in repairs later on.
8. You Will Spend More on Gas
One unfortunate reality of daily driving a lifted truck is the extra money spent at the tank. While there are ways to mitigate this damage, such as using the right set of tires, you're undoubtedly going to end up spending more. Most drivers find the difference in cost worth all the benefits. That being said, it is something to keep in consideration as you're making your choice. Drivers looking to save in fuel may want to second-guess their decision to drive a lifted truck each day.
---
Choose Ultimate Rides for

Your Next Vehicle, Upgrades and Repairs
Looking for a place to buy a lifted truck and have it delivered straight to your home? You're on the right website. We've got our own lift center available here. Not only do most of our vehicles receive custom modifications there, but it's also open to the public. We'll ship our vehicles anywhere across the country, so get in touch with us today to find one of your own. For now, learn about everything we can do to help!
Upgrades Available in the Lift Center
Here at Ultimate Rides, we can build a vehicle for you exactly the way you envision it. That includes a suspension lift as well as plenty of other upgrades. A quick look at our inventory will reveal that most of our rides already include a number of customizations. Any time you buy one of our vehicles, you'll have a chance to add on more of your own. Get in touch with us and we'll tell you everything we can do for your vehicle right here in our lift center.
Top-Notch Customer Service and Reliable Delivery
Ultimate Rides is about more than just high-quality custom vehicles. We also believe it's important to treat every customer right. We're a family business, and our goal is to help every customer find the vehicle of their dreams. We'll do that however we can. You'll have access to our vast inventory, and if there's something specific you want our team can also help you track it down. Once you're set up with the right vehicle, we can take care of the financing process over the phone and arrange for affordable shipping. In a week or less, we'll have this amazing vehicle over to you.
Ultimate Rides Makes Daily Driving a Lifted Truck Easier
If this sounds like the right place for you to buy your next vehicle, we encourage you to call our office. Someone from the Ultimate Rides team will help you find exactly what you're looking for. Give us a call at 815-634-3900. If you're in the Chicago area, you can also come and visit us at 38 W. Division St., Coal City, IL 60416.
---
Two Brothers With a Dream

,

Building The Best Ultimate Rides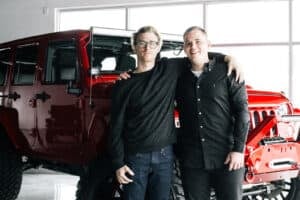 Ultimate Rides consists of two brothers who have been buying and selling custom vehicles for over ten years. Selling lifted trucks by day and writing these awesome reviews by night! They started their Ultimate Rides journey with a third brother Jake, who was a big part of building the business they have today. In 2016 Jake passed away and losing their brother was the hardest thing they ever had to deal with. Even though they had a tragic loss they plan to continue to set a new trend for the auto industry, keeping customers number one. Pushing the envelope on the lifted truck market, these guys love researching and learning about everything in the auto industry!
 — Nick and Alex Bulanda, Founders of Ultimate Rides