Best Lifted Truck Tires (Review & Buying Guide)
Choosing the Best
Lifted Truck Tires
Once you decide to go with a lift for your truck, it's also time to pick out a new set of tires. The decision isn't always an easy one. There are countless options available today, each one offering something a little bit different. The key to choosing the best lifted truck tires is knowing what your own needs are. When your truck has a lift, whether it's a suspension lift or a body lift, those needs will change.
In this guide, you'll be able to figure out some of the best options on the market, as well as learn how to assess your own tire needs. We'll also tell you about how Ultimate Rides could be able to help you into your dream pickup truck today! Read through this guide and be sure to get in touch with us if you believe we can help.
---
1. Cooper Evolution M/T All-Season Radial Tire
Specs: 35X12.50R20LT 121Q
Cooper is a brand name that just about everyone can recognize. While that doesn't always mean it's the best quality, in this case we think it's true. This tire is rated for mud and snow, and it's easily studdable if you know you'll be dealing with bad weather. The tread pattern will give you strong traction no matter the situation. For a set of mud tires, these suckers are also surprisingly quiet on the road. You'll even be able to tackle a variety of off-road situations without too much trouble. For all that, we think it's safe to call these some of the best lifted truck tires you can buy today.
Cooper Evolution M/T All-Season 35X12.50R20LT 121Q Tire
---
2. NITTO Ridge Grappler All-Season Radial Tire
Specs: 35×12.50R20LT 125Q
Our next tires may not be cheap, but you'll be able to rely on them year-round. They offer excellent traction both on the road and in the mud, and once again they won't be too loud out on the highway. If you want a tire that can handle tough situations as well as everyday commutes, these are a great pick. They're great on mileage as well, so hopefully it'll be quite awhile before it's time to upgrade again. When you do have to upgrade, we won't be surprised if you want another set of the NITTO Ridge Grappler.
NITTO Ridge Grappler All_Season Radial Tire-35×12.50R20LT F 125Q
---
3. RBP REPULSOR All-Terrain Radial Tire
Specs: 35X12.50R24 113Q
Here we have the REPULSOR all-terrain tire from RBP. These tires are quite good for the price, offering plenty of durability and performance. While they aren't the quietest all-terrain tires out there, you won't find them to be unbearable on the highway. The big thing that these tires offer is versatility. Whether you're up in rocky mountains or down in sandy dunes, in the midst of the city or deep into the country, you can count on these tires. Make sure to double check the size of your rims to make sure they fit these tires, however. They're made for a larger set of rims than many are used to.
RBP REPULSOR All-Terrain Radial Tire – 35X12.50R24 113Q
---
4. Yokohama GEOLANDAR MT G003 Mud Terrain Radial Tire
Specs: 35X12.50R20 121Q
There's nothing wrong with a high-quality set of Japanese mud tires, and that's exactly what you'll get with this option from Yokohama. There are many things to love about this tire. It's got a great tread design to handle mud as well as the road. They'll last quite a long time without any issues. They even offer excellent balance. However, one thing to be aware of is that the tires can be noisy. This doesn't bother everyone, but there are definitely drivers out there who will find this to be an issue. As long as you're aware of that, go ahead and consider these tires for your lifted truck.
Yokohama GEOLANDAR MT G003 Mud Terrain Radial Tire-35X12.50R20 121Q 10-ply
---
5. Nitto Mud Grappler All-Terrain Radial Tire
Specs: 35X12.50R20/10 121Q
Our next tire is another model that comes from manufacturer Nitto. This time, it's the Mud Grappler all-terrain tire. It has excellent customer reviews, and features a tread pattern designed for a huge variety of conditions. It'll handle wet roads better than most other tires, and you'll be able to take your truck just about anywhere without too much trouble. These tires also have an excellent tread life, hopefully ensuring you won't have to buy a new set for a long time. While the tires aren't cheap, they are certainly one of the better options you can spend your money on right now. We'd install them on our truck, that's for sure!
---
6. Travelstar EcoPath M/T All- Terrain Radial Tire
Specs: 35X12.50R20 121Q
The final option we want to share on our list is more affordable than most of our other picks. This makes it quite a good choice for drivers who are on something of a budget. While the tires do cost less, you won't have to lower your expectations when it comes to quality. It's a great choice on the road and off of it. The tread pattern will offer strong traction no matter where you are, and the tire should last for upwards of 50,000 miles or maybe even more. If these tires are the right fit for your truck, you could absolutely do a whole lot worse. Check them out and see if they're right for your driving needs.
Travelstar EcoPath M/T All- Terrain Radial Tire-35X12.50R20 121Q 10-ply
---
Best Lifted Truck Tires
Buying Guide
Your truck's tires will have quite an effect on how you drive. It'll influence your gas mileage, how your vehicle handles in rough conditions, off-road capability and so much more. That's why choosing the best lifted truck tires is such an important decision. The items here on our list are some of our favorites you can buy in stores today. However, it would be impossible to say that these are the only tires worth your time. Check out our Factors of Focus section to learn what goes into our thought process for choosing the best tires. This should help you make your own decision on which tires are right for your truck.
After that, stick around to learn about Ultimate Rides, and how we can set you up with your perfect vehicle. We build custom trucks and deliver them all across the country, so we're incredibly confident we can help you find what it is you're looking for.
Factors of Focus: Which Tires are
Right for You?
When shopping for tires, it's important to think about what kind of driving you'll be doing. Do you spend most of your time driving on city roads? Will you be spending lots of time driving across the country on the highway? Maybe you need something equipped for off-road action. No matter what the situation is, there's a set of tires to help.
The first thing to pay attention to is size. Depending on how high your lift is, it will influence the size tires you need. For our money, the best tire size to go with is 35 inches, but that can differ from situation to situation. After you figure out what size you want, start looking at the tread pattern. This will determine what kind of tire it is, or what kind of situations it's meant to handle. Customer reviews as well as professional reviews can help you figure out the best lifted truck tires for your vehicle. Feel free to contact us if you have questions!
Start Driving Your Dream Truck – Shop at
 Ultimate Rides
There's no other auto dealership out there quite like Ultimate Rides. In our inventory, you'll find only rust-free vehicles, most of them featuring custom upgrades. We specialize in suspension lifts, but there's no limit to what we can offer. Any time you buy one of our vehicles, you can choose to upgrade it in our lift center. From there, we can ship the vehicle to you anywhere across the United States. It'll arrive less than a week after it's ready. On top of that, at Ultimate Rides we pride ourselves on offering incredible customer service. Get in touch with us and we promise to help you find your perfect ride.
If you live in the Chicago area, we encourage you to come visit our office. We're located at 38 W. Division St., Coal City, IL 60416. That's only an hour south of the city! For most drivers, you can feel free to give us a call. Reach out to 815-634-3900 and you can speak with a member of the Ultimate Rides team today.
---
Two Brothers With a Dream

,

Building The Best Ultimate Rides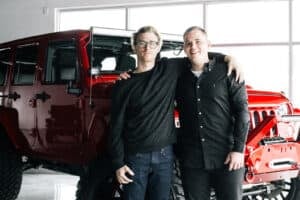 Ultimate Rides consists of two brothers who have been buying and selling custom vehicles for over ten years. Selling lifted trucks by day and writing these awesome reviews by night! They started their Ultimate Rides journey with a third brother Jake, who was a big part of building the business they have today. In 2016 Jake passed away and losing their brother was the hardest thing they ever had to deal with. Even though they had a tragic loss they plan to continue to set a new trend for the auto industry, keeping customers number one. Pushing the envelope on the lifted truck market, these guys love researching and learning about everything in the auto industry!
 — Nick and Alex Bulanda, Founders of Ultimate Rides