Best F150 Bed Mat (Review & Buying Guide)
Find the Best F150 Bed Mat
Available Today
Whether you use your truck for work or everyday use, taking good care of it is always going to be important. There are a number of accessories that you can buy that make the process just a little easier. One of those accessories is a bed mat. These mats simply lay in your truck bed, protecting the surface from damage over time.
If you've spent any time shopping for your own bed mat, you've probably seen that there are countless products available. That can make it somewhat difficult to find the right option for your specific truck and needs. With that in mind, we've put together a guide that should help. Take a look below and you'll find a list featuring our picks for the best F150 bed mat money can buy.
After our list, you can stick around and read through the buying guide. Here we'll tell you what thought process went into choosing our list, and provide some more details on picking out the right bed mat for your situation. Finally, we'll finish up by telling you more about what Ultimate Rides does, and how we might be able to help you!
---
1. Dee Zee DZ87005 Heavyweight Bed Mat
Compatibility: 2015-2018 Ford F150 5.5ft Bed
Our pick for the best F150 bed mat has to go to this option from Dee Zee. Not only is it affordable, but it offers a high-quality compound rubber mat that will do the job in protecting your truck bed. It's got a non-slip surface that ensures it won't move around, and it'll stop other cargo from sliding around your truck bed as well. Installation could not be easier, and it's incredibly easy to keep this mat clean with a quick sweep and a wipe-down if it's still not right. The worst thing you have to worry about is that you may need to do just a little bit of trimming to get things exactly right, depending on the model year. Other than that, we'd say this is just about the perfect bed mat for the selected model years.
Dee Zee DZ87005 Heavyweight Bed Mat , Black
---
2. Westin 50-6355 Black Rubber Truck Bed Mat
Compatibility: 2015-2021 Ford F150 5.5ft Bed
Westin is a company that has a hand in a lot of different vehicle accessories. Their bed mats are some of the most reliable choices out there. They aren't flashy, but the basic design is perfectly fine as long as they get the job done. This mat certainly does. It fits on the latest generation of Ford F150 models, and it couldn't be easier to install it in your truck bed. It's a heavyweight rubber material that won't move around, and it'll protect your bed in the long run. You can't go wrong with Westin truck bed mats.
Westin 50-6355 Black Rubber Truck Bed Mat fits 2015-2021 F-150 (5.5ft Bed)
---
3. Rough Country Rubber Bed Mat
Compatibility: 2015-2021 Ford F150 5.5Ft Bed
Here at Ultimate Rides, it's safe to say Rough Country is one of our preferred accessory brands. In recent years, the company has driven their way to the head of the pack when it comes to accessory manufacturers. Their products are stylish, reliable, and usually still quite affordable. This bed mat is an excellent example of all that. You can get it for just over $100, it's highly durable, made in the United States, and utilizes recycled rubber to be better for the environment. As long as you're a fan of the Rough Country style, this is a great choice for any F150 driver with the right fit.
Rough Country Rubber Bed Mat for 15-21 F150 | 5.5 FT Bed – RCM671
---
4. BedRug IMPACT Bed Mat
Compatibility: 2015-2021 Ford F150 5.5Ft Bed
Our next bed mat is sort of a hybrid between a bed mat and a bed liner. It's certainly not as intensive to install as a bed liner, so it leans more towards being a mat. However, it definitely has a different texture and style than your typical bed mat. This rug-like material is resistant to stains, and makes it less of a pain on your knees to climb into your truck bed. The surface is also anti-skid, helping ensure your items don't slide around much if at all while you're on the road. As long as you dig the style of this "BedRug" feel free to install it in the back of your pickup truck today!
BedRug IMPACT Mat IMQ15SCS fits 15+ F-150 5'5″ BED , Gray
---
5. Husky Liners 16008 Heavy Duty Bed Mat
Compatibility: 2015-2019 Ford F150 5.5Ft Bed
Here we have a bed mat from Husky Liners that goes back to the standard style you'd expect to find. However, it's still a top-quality option. The material used in this bed mat is different than what you'd usually see, making it stand out despite the same basic style. It's heavy-duty protection and still offers comfort if you have to climb in the back. The product even has an anti-moisture design that helps keep your items dry. With all this available at great price, what's not to love?
Husky Liners – 16008 Heavy Duty Bed Mat Fits 2015-2019 Ford F-150 5.8′ Bed Black
---
6. SMARTLINER K0167 Truck Rugged Rubber Bed Liner Mat
Compatibility: 2015-2022 Ford F150 5.5Ft Bed
Lastly, we have a final bed mat to share with our readers. It comes from SMARTLINER, and it fits on the latest F150 models as well as trucks going a few years back. The product features a lifetime limited warranty, so you should be satisfied with everything available here, as the company stands behind it. The textured surface offers a softness for your cargo, a non-slip surface, and protection for your vehicle. Overall, it offers the same advantages as the other mats on our list, just with a different style to consider.
SMARTLINER K0167 Truck Rugged Rubber Bed Liner Mat for 2015-2022 Ford F150 SuperCrew Cab F-150
---
Best F150 Bed Mat
Buying Guide
There are many reasons why a truck owner would want to install a bed mat. Not only will they help keep your truck bed in better condition, but they're also easier to sweep out and clean than a standard truck bed or even a liner. They're also almost always more affordable compared to a reliable bed liner. You can also count on them being easy to install in almost every case.
We hope that our list was able to provide you with a bed mat that's right for your truck and what you plan on using it for. In our next section, we'll start getting into the details of what made those items stand out. If you weren't able to find a match on our list, those factors should help you in your future search for a bed mat! After that, we'll get into the details of what exactly we do at Ultimate Rides. The next time you want to find your next truck, or upgrade your current one, we'll be here for you.
Factors of Focus: Choosing the Bed Mat
for You
When it's time to choose the best F150 bed mat, whether it's for a customer or for one of our own trucks, the size and compatibility of the mat should always be the first consideration. You have to choose a bed mat that not only fits your truck's model and model year, but your bed size. Once you narrow down all the options to fit those specific parameters, the search becomes easier.
From there, it's time to start really thinking about the style you want. Some bed mats start to veer into bed liner territory, making them more durable but expensive and difficult to install alone. Other bed mats offer super easy installation and still provide great coverage, but won't offer the same quality as something more expensive. It's up to you to determine the right balance.
Lastly, you've got to look at quality. As with most products, the more expensive it is, you can typically expect a higher quality product. This isn't always the case, though. That's why it's important to read through reviews, both from experts and customers, before you make a final purchase.
Find Your Next Custom Truck with
Ultimate Rides
If you decide you'd rather let someone else take care of your truck upgrades, or you want to buy a new vehicle altogether, check out Ultimate Rides. We're a custom auto dealership based outside of Chicago, IL that provides delivery nationwide. We have a huge stock of custom pickup trucks ready and waiting for you to order. Additionally, we have the option of customizing any truck you see in our inventory exactly the way you want it. Ultimate Rides can even help you track down a specific vehicle, as our buyers look at trucks from all across the country.
Does this sound like something you might be interested in? Give Ultimate Rides a call today at 815-634-3900. A member of our team will offer more information and walk you through the buying process. If you find yourself in the Chicago area, you can visit us about one hour south of the city at 38 W. Division St., Coal City, IL 60416. Talk to you soon!
---
Two Brothers With a Dream

,

Building The Best Ultimate Rides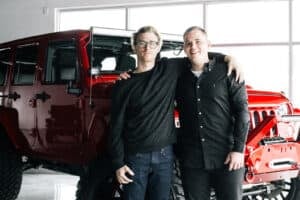 Ultimate Rides consists of two brothers who have been buying and selling custom vehicles for over ten years. Selling lifted trucks by day and writing these awesome reviews by night! They started their Ultimate Rides journey with a third brother Jake, who was a big part of building the business they have today. In 2016 Jake passed away and losing their brother was the hardest thing they ever had to deal with. Even though they had a tragic loss they plan to continue to set a new trend for the auto industry, keeping customers number one. Pushing the envelope on the lifted truck market, these guys love researching and learning about everything in the auto industry!
 — Nick and Alex Bulanda, Founders of Ultimate Rides