Choosing the Best Tuner for Ram 1500 (Review & Buying Guide)
Shopping for the Best Tuner for
Ram 1500
Performance tuners are simply awesome. If you've ever been able to use one in a previous truck or one that belongs to someone you know, you're already aware of the difference it can make. These devices can increase the available horsepower for your Ram 1500, letting you turn things up when the situation calls for it. Additionally, you can use them to get rid of annoying features you don't want, like auto stop/start for your engine or a fuel management system. With the right setup, you'll have total control over many different aspects of your truck's performance.
However, how do you go about finding the right tuner for your vehicle? There are tons of options available, and it's not always clear what products work with what trucks. That's why we've put this guide together. Below you'll find a list with some of our picks as the best tuner for Ram 1500. Each one will offer as much detail as we could find on compatibility, along with a short review featuring our impressions. After that, stick around for our buying guide and you'll be able to read more information on choosing your next tuner. Good luck, and remember to contact Ultimate Rides for vehicle upgrades, custom trucks and more.
---
1. Pedal Commander PC78 Throttle Response Controller
Compatibility: 2019-2022 Ram 1500 with 3.0L – 6.2L Gas and Diesel Engines (Does Not Work on Classic Body Style)
If you drive a newer Ram 1500 truck, this is probably going to be the best option for you. It comes from Pedal Commander, a trusted source of performance tuners for pickup trucks. The primary use of this accessory is to reduce the delay between your pedal and the throttle, giving you faster acceleration. However, it also offers a huge range of additional features. There are four different driving modes, with 36 overall settings for you to toy around with until you find the right configuration.
This controller features an app that goes with the device, giving you control from the convenience of your phone. On top of that, you'll even find a mode that offers slightly better gas mileage, helping you save money at the pump. That means that over time, this thing will pay for itself! Plus Pedal Commander is known for reliable customer service, so you should be able to trust this product or get an exchange/refund if there is a problem.
Pedal Commander – PC78 for RAM 1500 New Body Style (2019+) (5th Gen) Fits: Tradesman, Big Horn, Rebel, Laramie, & All Other Models (3.0L 3.6L 5.7L 6.2L) Gas & Diesel | Throttle Response Controller
---
2. Pedal Commander PC31 Throttle Response Controller
Compatibility: 2007-2018 Ram 1500, 2500 and 3500 with 3.0L – 6.7L Gas and Diesel Engines
Our next product is nearly the same as our first suggestion, but suited for a different generation of Ram 1500 trucks. Take a look and there's a very good chance that if the last option didn't fit your vehicle, this one will. Apart from the change in compatibility, you'll find all the same features here. It'll be a strong boost for your truck's performance, and while it's not exactly inexpensive, you shouldn't have to break your piggy bank in order to afford one. If all of that sounds like a good pick for you, go ahead and feel confident ordering this Pedal Commander unit for your truck.
Pedal Commander – PC31 for Dodge RAM pickup (2007-2018) 1500, 2500, and 3500 (3.0L 3.6L 5.7L 6.4L 6.7L Gas & Diesel) (Not compatible w/ 2011-2012 HO) | Throttle Response Controller
---
3. Bully Dog 40417 GT Platinum Tuner
Compatibility: 2003-2013 Ram 1500
Looking for a tuner for an older Ram 1500? Check out this product from Bully Dog. It'll provide enhanced fuel economy, along with giving you up to 10 different configurations to tweak your vehicle's performance. You'll also be able to see a number of different performance parameters via the monitor. Last but not least, you'll be able to read and clear engine codes if something happens to go wrong on your truck. With all those benefits, you'll have to pay a little bit more for this tuner. Since tuners for older trucks can be hard to find, we'd say this is a strong contender as best tuner for Ram 1500 models of the era.
Bully Dog 40417 GT Platinum Tuner for Gas Applications
---
4. ACCEL 49505 SuperTuner
Compatibility: 1999-2010 Ram 1500 with 3.9L – 5.9L Gas and Diesel Engines
Here's another choice for drivers having a tough time finding the right tuner. It covers a wide range of Ram 1500 models from 1999 through 2010, rewarding drivers who've kept their vehicle in great shape for such a long time. It'll give you control over your vehicle's fuel management system, and offer a definite boost in horsepower which varies based on the type of engine. If all that sounds like exactly what you need for your Ram 1500, this is the tuner for you.
ACCEL 49505 SuperTuner – Handheld Computer Programmer
---
5. SCT Performance 40490 BDX Performance Tuner
Compatibility: Model Specific, Check Website
Our next tuner comes from SCT Performance, and it won't fit on all Ram 1500 models. In order to find out if this kit works with your truck, check their website. However, you'll likely get the best price by using our guide here. If it does fit your truck, you should love this performance tuner. It offers 20 custom tuning slots, allowing you to try out different setups until you find the one that works for you. It's easy to read, provides plenty of useful information, and offers tangible performance upgrades for your Ram 1500. It's not the cheapest option out there, but it's definitely one of the best.
SCT Performance – 40490 – BDX Performance Tuner and Monitor – Diagnostic Preloaded and Custom Tuning
---
Best Tuner for Ram 1500
Buying Guide
Did our list provide an excellent performance tuner for your truck? Either way, our buying guide should provide plenty of useful information for the future. Take a look and learn about some of the important elements to think about as you shop for the best tuner for Ram 1500 models. Then spend some time learning about what we do here at Ultimate Rides!
Factors of Focus:
Quality and Capabilities
When you start searching for a tuner, the first thing to do is narrow down your search to products that fit your truck. That means make, model, model year, trim level and engine configuration. There are a number of ways to do this, including a tool recently introduced by Amazon that lets you enter your vehicle information. Take advantage of these tools along with our buying guide to choose a suitable tuner.
Additionally, you'll want to think about what exactly you want out of your performance tuner. Are you simply looking for more horsepower, or do you have some extra focus to consider? This will strongly influence which is the best tuner for Ram 1500 drivers. Take a close look at what each tuner does before making your final decision.
Find Your Next Custom Truck with
Ultimate Rides
Ever wanted to design your own truck? That's what we're here to help you do at Ultimate Rides. Our goal is to set you up with your dream pickup, whether it's a Ram 1500 or something else entirely. We have our own custom service center on-site, staffed with a team of expert technicians ready to bring your dream to life. Take a look at the trucks in our inventory, or you can have us truck down something specific for you. From there, our technicians will be able to add on any accessories, adjustments or modifications you'd like. Plus it's all available with financing.
Fast Shipping and Excellent
Customer Service
Custom pickup trucks are more popular right now than ever before. There are a number of reasons for that, but what's important is this: at Ultimate Rides, we believe everyone should have access to this kind of truck. That's why we offer shipping for drivers across the USA. Give our office a call and we'll take care of the whole process over the phone. We'll match you up with the right vehicle, whatever it is you're looking for. A member of our team can arrange financing and shipping details with you. That includes offering financing for the cost of delivery if you desire. From there, it won't be long before your new truck is on it's way to your home.
Buying a vehicle shouldn't be a stressful experience. At Ultimate Rides, we want every customer to have a positive time shopping for a truck. Customer service is incredibly important to us, and you should have a great time when you choose Ultimate Rides. Whether you shop with us over the phone or in-person, a member of our team will take great care of you, helping you find exactly what you're looking for.
When you're ready to call us, reach out to 815-634-3900, or stop in the Ultimate Rides office at 38 W. Division St., Coal City, IL 60416. That's about one hour south of Chicago, making us centrally located near the heart of the Midwest.
---
Two Brothers With a Dream

,

Building The Best Ultimate Rides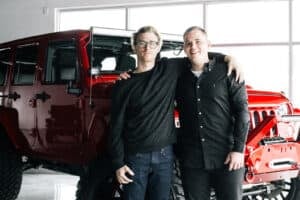 Ultimate Rides consists of two brothers who have been buying and selling custom vehicles for over ten years. Selling lifted trucks by day and writing these awesome reviews by night! They started their Ultimate Rides journey with a third brother Jake, who was a big part of building the business they have today. In 2016 Jake passed away and losing their brother was the hardest thing they ever had to deal with. Even though they had a tragic loss they plan to continue to set a new trend for the auto industry, keeping customers number one. Pushing the envelope on the lifted truck market, these guys love researching and learning about everything in the auto industry!
 — Nick and Alex Bulanda, Founders of Ultimate Rides