Lifted Dodge Ram for Sale with Shipping
Lifted Dodge Ram for Sale from
Ultimate Rides
When the time comes to start shopping for your next truck, Ultimate Rides can provide exactly what you're looking for. We have an inventory full of exciting vehicles, including the lifted Dodge Ram for sale. Every vehicle is available with any custom modifications you can think of, as well as nation-wide shipping. At Ultimate Rides, we're out to change the shape of the auto sales industry. We're determined to prove that through our actions. We offer the best quality custom vehicles, with reliable customer service and delivery. Learn just a little bit more about us today, and be sure to get in touch if you like what you read.
Simple, Affordable Shipping
Available to All
Though Ultimate Rides is located in the Chicago area, more than half of all our sales are with people outside the region. That's because we offer shipping for each and every one of our vehicles, anywhere across the United States. Begin by browsing through our current vehicles. If you'd like, you can give us a call and we'll talk you through the options. A member of our team is waiting to answer any questions you might have. When you make a final decision, we'll be here to go through financing over the phone as well. The entire process is safe and secure for your information, and won't take up too much of your time.
You'll be able to choose if you'd rather cover the cost of shipping now, or include it with your vehicle financing deal. This makes delivery much more affordable for lots of folks. Once all of that is taken care of, and your vehicle is ready, it should be a week or less before it arrives at your home. We strongly believe that everyone should have access to high-quality custom vehicles, and that's why we're so proud to offer shipping to all of our customers. We're the best place to find a lifted Dodge Ram for sale, no matter where you live!
Custom-Built in the
Lift Center
The vehicles you'll find at Ultimate Rides aren't just any old custom trucks brought in off the street. No, this inventory features custom modifications from our very own technicians right here at Ultimate Rides. We're incredibly proud of their work and always eager to show it off, as you can tell by the pictures on this page. This is all possible through our new state of the art on-site lift center, which we built just a few years ago. It features the latest and greatest equipment, but none of that would matter if it weren't for our incredible team.
Any time you buy one of our vehicles at Ultimate Rides, you'll be able to customize it further in our lift center. Our team is capable of just about anything, from adjusting the height of your suspension lift to installing custom wheels and tires, and so much more. We can completely change up the interior of the vehicle, install any accessories you can think of, and even increase performance. Just get in touch with our team and we can discuss the many options.
Just like our shipping, you'll be able to finance the cost of these services, including them with your monthly vehicle payment. For just a few extra dollars a month, you could add some amazing customizations to your next pickup truck. Call us today to learn more!
Customer Service is a
Huge Priority
It's no secret that customer service has fallen to the wayside in the auto sales industry. At Ultimate Rides, we're bringing it back in a big way. We are a family business, and our customers are incredibly important to us. Every person who comes through our doors or call us is treated like a VIP. Our team's goal is to help you find your perfect vehicle, however we can. We'll start by sharing our inventory with you and discussing customization options, but it doesn't stop there. If we don't have the right vehicle in our inventory for you, our team will track one down. With just a small deposit to help cover our purchase, we'll get the vehicle back to our HQ and get it ready for you.
That's not all our customer service can do for you. Give us a call today and we'll be happy to get into more detail on our available vehicles and modifications. We'll help you build your dream truck from the ground-up if that's what you want. Reach out today to make it happen!
The Place to Find a Rust-Free Lifted Dodge
Ram for Sale
We've talked a little bit about how special the Ultimate Rides inventory is, but less us tell you why that's the case. We believe our customers deserve the absolute best, so we go out of our way to find rust-free vehicles. This is especially difficult considering we live in snowy Chicago. Because of this, we send our buyers out to warmer areas of the United States to track down vehicles. They bring back the best options they find that suit our inventory. From there, we inspect them to ensure their quality, and then outfit the vehicles with custom upgrades like suspension lifts, LED headlights and running boards.
Our team works very hard to ensure our vehicles aren't the same as what you'll find at a standard local auto dealer. Because of this, our prices might be higher than what you'll find at your town's used dealership. Just know that the vehicles include custom upgrades, and are of the highest quality. We promise that our prices are fair, and a great deal of consideration goes into the decision. We are bent on delivering the best possible prices and vehicles!
Our Lift Center is
Open to the Public
If you decide now isn't the right time to upgrade into a lifted Dodge Ram for sale, that's perfectly okay. Our lift center can still help you out! All of the same custom upgrades offered for our inventory are also available for your vehicle. Call us to schedule an appointment, and we can go over everything with you. Our team works hard, and they'll be sure to get your ride back to you in a timely manner. Whether you simply want a suspension lift, or you're looking for a completely re-design of your vehicle, Ultimate Rides can help. Call us today and we'll fit you in as soon as possible!
Trustworthy Repairs, Maintenance
and More
We're very aware of how difficult it can be to find a team you can trust to work on your vehicle. If you live within driving (or towing) distance of Ultimate Rides, we can serve that role. Our team is ASE-certified, with tons of experience and a passion for working on vehicles. We're able to tackle problems both large and small, and we'll even cover basic maintenance such as a tune-up or oil change. Just like with our custom work, we'll get your car, truck or SUV back to you as quickly as possible. At the same time, we do everything with great care, ensuring your ride is in good hands. We even offer detailing, so if you need to get your vehicle looking great, be sure to call Ultimate Rides!
Contact Ultimate Rides for
Additional Details
Does it sound like we may be the right place for you to find your next vehicle? We've heard from so many customers looking for a lifted Dodge Ram for sale who have stumbled upon our business with great success. Take a look at some of our customer reviews online if you'd like to see what we mean. We prioritize our customers over everything, so we'll work incredibly hard to make sure you're happy. Just give us a call at 815-634-3900 to find out more about any one of our vehicles. If you live in or are visiting the Chicago area, you can come and find our office at 38 W. Division St., Coal City, IL 60416. A member of our team will sit down with you and help you find the right vehicle today, so what are you waiting for?
---
Two Brothers With a Dream

,

Building The Best Ultimate Rides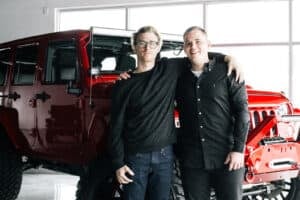 Ultimate Rides consists of two brothers who have been buying and selling custom vehicles for over ten years. Selling lifted trucks by day and writing these awesome reviews by night! They started their Ultimate Rides journey with a third brother Jake, who was a big part of building the business they have today. In 2016 Jake passed away and losing their brother was the hardest thing they ever had to deal with. Even though they had a tragic loss they plan to continue to set a new trend for the auto industry, keeping customers number one. Pushing the envelope on the lifted truck market, these guys love researching and learning about everything in the auto industry!
 — Nick and Alex Bulanda, Founders of Ultimate Rides