Get a Jacked Up Jeep for Sale from Ultimate Rides
Visit Ultimate Rides to Find a Jacked Up
Jeep for Sale
Are you a Jeep lover? If so, you'd fit right in at Ultimate Rides. We have a team here that's truly passionate about vehicles, including all different varieties of Jeep. We also happen to be an auto dealer offering custom vehicles with shipping all across the country. If you've been searching to find a jacked up Jeep for sale, you have definitely come to the right place.
Take a look at our inventory to see what options are currently ready for you. Don't give up hope if we don't have the right Jeep for you at this moment. Our team is also capable of tracking down specific vehicles for our customers. These are just a few of the many reasons to shop with Ultimate Rides. In today's guide, we'll tell you all about our business. We give our customers the opportunity to customize their vehicle before we ship it out, and it's all available with financing. On top of that, we're proud to provide industry-leading customer service to you. Give us a call to begin, or continue reading if you'd like to find out what else to expect when you buy through us.
Custom Vehicles Built in the Ultimate Rides
Lift Center
The vehicles you'll find for sale at Ultimate Rides aren't just any standard Jeeps. Our team works hard to customize our rides with suspension lifts, LED lighting upgrades, custom paint jobs, running boards, new interiors, performance chip installation, and so much more. Ask us about a specific vehicle to find out what upgrades it may be sporting as we speak.
Additionally, our customers always have the option to change their vehicle up before we send it out. Let us know what kind of adjustments you're looking to have made. Our team can handle anything you have in your head. We're ASE-certified, and truly care about these vehicles. When you decide to have some of this work done, you'll be able to choose if you'd rather cover the cost now or include it in your financing plan. If you do finance it, you'll be able to pay a few dollars more each month to cover these awesome enhancements.
There's almost no limit to what we can create for you. If you have an idea in your head, our team will make it a reality. Just give us a call and we can kick the process off today with a jacked up Jeep for sale!
Customer Service That's
Looking Out for You
At Ultimate Rides, there are very few things more important to us than our vehicles, but our customers are one of those things. We're very aware that our industry doesn't have the greatest reputation for treating customers right. That is something that we're looking to change through our actions. Whether you shop with us in-person or over the phone, we'll treat you just like a VIP. Our team is ready to answer all your questions, and it's our goal to line you up with your perfect vehicle.
If that means we have to go above and beyond to make that happen, we'll do so. At Ultimate Rides, we'll even search for a specific make and model until we find the right vehicle for you. Tell us what you're looking to drive and, with a small deposit, we'll have our buyers keep their eyes peeled until they locate the correct model. That is just one of the many ways in which we'll go the extra mile to make sure you're satisfied. If you want a jacked up Jeep for sale with smooth and easy customer service, we're your auto dealer.
Easy and Affordable
Vehicle Shipping
One of the biggest reasons so many customers from across the country shop with us is our simple shipping. Wherever you live, you can order a vehicle from us and we'll bring it straight to your home. It's available for any one of our vehicles, so take your pick! We make sure that the buying process can easily be completed over the phone. Your information will be secure, and we can make sure to set you up with the ideal Jeep.
Give us a call and we can begin today! A member of our team will go over our current inventory with you. We can either help you find the right option there, or we'll track one down for you. You'll still have an opportunity to customize the vehicle, and we'll ship it out as soon as it's right. Once again you can choose if you'd prefer to cover shipping now or finance the cost with your vehicle. Either way, our team will get to work right away. Before you know it, your next Jeep will arrive!
Rust-Free Jacked Up Jeep for Sale
Right Here
Something else that you should know about the Ultimate Rides inventory is that it's rust-free. Yep, it's true. That means you won't find any secret rust buckets waiting for you here. While that may be common at typical auto dealers, we have a higher standard of quality. The vehicles at Ultimate Rides might cost a little bit more than your local dealer. However, you'll be getting top-quality custom rides here.
Our buyers are sent out to the warmest areas of our country. In these regions, it's often much easier to keep a vehicle in good shape. Our team finds that options that best suit our inventory and we bring them back to our service center. There, each vehicle undergoes an inspection to make sure it meets our standards. If it does, we customize it with upgrades like a suspension lift or running boards. After that, we list it in our inventory for you!
Our Lift Center is
Open to You
The Ultimate Rides lift center is available to more than just customers who buy our vehicles. If you live within driving distance of our headquarters, you can feel free to make an appointment with us. We'll be able to upgrade your current vehicle, Jeep or otherwise, with whatever upgrades you can think of. Give us a call today and you can speak with a member of our team. We'll go over the available options with you until we find the right fit. When the time comes, you can bring your vehicle to us and we'll get it back to you as quickly as we can, with all the upgrades you asked for!
Vehicle Maintenance and Repair
Available Today
Are you currently having trouble with your Jeep, or are you looking for a place to handle all your maintenance needs? Look no further than Ultimate Rides! Our talented team can help with whatever problem you're running into, from minor annoyances to major engine and transmission issues. We'll also be happy to provide oil changes, tune-ups, tire rotation and more. Ultimate Rides can even offer detailing for your vehicle, whether it's a special occasion or not.
As we mentioned before, our team is highly-experienced, with ASE certification and tons of training. On top of that, they also care about their work, which is the most important step. You can rely on our team to take excellent care of your vehicle, and we'll get it back to you even better than it came in.
Visit or Call Ultimate Rides for
More Information
Do you feel as though we might be the right auto dealer for you? Whether you're in the market for a new custom Jeep or simply need someone to repair your old ride, you can count on Ultimate Rides for whatever you need. Give us a call today at 815-634-3900 if you have any questions, or if you're ready to buy your next vehicle with shipping. On the other hand, if you live in the Chicago area, you can also come and see us in-person by visiting our office. We are located at 38 W. Division St., Coal City, IL 60416, and someone from our team will be happy to sit down with you and go over all available options.
---
Two Brothers With a Dream

,

Building The Best Ultimate Rides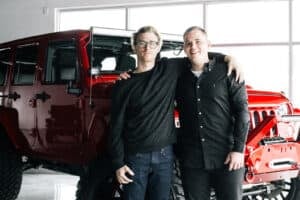 Ultimate Rides consists of two brothers who have been buying and selling custom vehicles for over ten years. Selling lifted trucks by day and writing these awesome reviews by night! They started their Ultimate Rides journey with a third brother Jake, who was a big part of building the business they have today. In 2016 Jake passed away and losing their brother was the hardest thing they ever had to deal with. Even though they had a tragic loss they plan to continue to set a new trend for the auto industry, keeping customers number one. Pushing the envelope on the lifted truck market, these guys love researching and learning about everything in the auto industry!
 — Nick and Alex Bulanda, Founders of Ultimate Rides