Used GMC Lifted Trucks for Sale | Lifted Truck Experts
High-Quality Used GMC Lifted Trucks
for Sale
Are you the type of person that dreads having to shop for a vehicle? That doesn't have to be the case if you choose Ultimate Rides. We are a family business that puts on emphasis on quality, honesty and awesome customization. Check out our inventory to see if you can find any used GMC lifted trucks for sale, such as the popular GMC Sierra. We're always getting new vehicles in, and sometimes things move fast. However, our team is dead-set on helping you find what you need, and that includes vehicles not in our inventory. Our stock moves quick, so there's no telling what you could find on a given day. Still, you can count on us to go out of our way to help. We're proud of the work our sales staff accomplishes, and are always happy to share details with you.
Spend some time learning about Ultimate Rides through today's short guide. We'll tell you about our vehicles, our lift center service, the quality of our customer service and much more. From there, you can decide if you'd like to give us a call to hear even more or to get started with buying your next vehicle. We have tons of options ready today, from GMC as well as many other manufacturers, and the possibilities are endless when it comes to our lift center. Check it out and let us know if we can help!
Rust-Free is the
Way to Be!
At other auto dealers, there's a good chance you'll find at least some rust hidden on a number of the vehicles in their inventory. However, at Ultimate Rides, we go out of our way to ensure this isn't the case. In addition to offering a number of vehicles with low mileage, our team goes out of the way to provide an inventory full of rust-free trucks. We source our vehicles from warmer areas of the country, where it's easier to maintain them over time. Our buyers inspect each vehicle to ensure it meets our standards, then we bring it back to our headquarters and give it another inspection just to make sure.
The quality of our vehicles is incredibly important to us. We want our customers to know exactly what they're buying. While our trucks, SUVs and cars might be more costly than those at your local auto dealer, you're getting top notch new and used custom vehicles. That includes used GMC lifted trucks for sale and much more. Contact us for more details on the Ultimate Rides inventory, where lifted GMCs and more are waiting for you.
Ultimate Rides Lift Center –
Customize Your Lifted Truck
It's more than a lack of rust that makes our vehicles unique. Ultimate Rides has a custom lift center on-site, where our staff works hard to outfit these vehicles with all manner of upgrades. We'll work on GMC vehicles as well as anything else you'll find in our inventory. The majority of our trucks already feature lifts, and that's only the beginning. A lifted GMC Sierra is a popular pick among our customers, and we'll be able to help you make even more changes to the truck. Buyers will have the opportunity to customize any vehicle in our inventory before we ship it out or they pick it up.
Our services range from lift kit installation and adjustment to new tires and wheels, running boards, performance chips and so much more. Though the favorite color for many drivers is a stoic black, we're always happy to provide a new paint job as well. The lift center is even open to the public for maintenance service and repairs. You'll even be able to choose to finance the cost of these upgrades, including them in your monthly payment. At Ultimate Rides, we want to make it easy to start driving your dream truck.
Easy, Quick and Affordable
Vehicle Shipping
Wherever you live, the Ultimate Rides inventory is open to you. Our vehicles, including lifted GMCs, can be customized and shipped out across the country. To learn more or get the process under way, just give our office a call. As long as we're open, a member of our team will be there to assist you. We'll walk you through our inventory until you find the right vehicle. Once you decide for sure, we can start taking care of financing there over the phone. All of our lifted GMC trucks can be shipped out, and you'll still have the ability to customize the vehicle however you see fit.
Once all of that is taken care of, we'll get into the actual shipping details. As with our custom service, you can choose if you'd like to include your shipping costs in the financing deal. This can make shipping easily within budget for many drivers, and there's not a more convenient way to buy a custom pickup truck. If there's anything else we can do to enlighten you, please give us a call soon.
Customer Service Looking Out
for You
In many aspects of the auto industry, customer service has fallen to the wayside. Here at Ultimate Rides, we're bringing it back in a strong way. Each customer who calls us or comes into our office is treated like a VIP. We won't try to push anything on you. Instead, our sales team is friendly and helpful. Our goal is to help you find or build your perfect vehicle, whether that's a lifted GMC truck or something different. We truly believe that the key to success is by making sure our customers have the absolute best experience possible. Not only do we believe that will help bring back repeat customers over the years, but the hope is that you'll spread the word around to friends and family!
We want to do right by each and every one who buys a vehicle from us. That's why quality is so important. It also comes down to treating our customers with respect. The team of sales professionals at Ultimate Rides works incredibly hard on your behalf, and we'll do whatever we can to help you start driving something special. Give us a shot and we're confident you'll be happy with the final results. Our team can even seek out specific vehicles for you. Just let us know if there's something you're looking for and you don't see it in our inventory. From there, we'll provide you with more details on how we can help.
GMC Sierra
Overview
The most popular truck from GMC would have to be the Sierra. The vehicle shares a great many similarities with the Chevy Silverado, and can even be considered sister vehicles. Depending on the model year and trim level you select, this truck could cost more or less than the Chevy Silverado, as well as providing a different selection of features. The key is to search around until you find the model that offers everything you need in a pickup truck. In recent years, these GMC trucks have earned a reputation for excellent versatility along with impressive towing capabilities. The new models usually don't offer quite the same level of features as some competing models, but if performance and utility are your primary needs, we think you'll be very happy with what these trucks have to offer.
Keep in mind that you can also shop around to find older models of the GMC Sierra at great prices, and we'll have the ability to install any features you feel are lacking. Let us know if you're interested and we'll fill you in on all the models we have currently available, as well as any potential upgrades you might want.
Contact Ultimate Rides for
Sales Assistance Today
Do you feel that your next truck could be waiting for you at Ultimate Rides? From the beloved Sierra to the variety of other trucks and SUVs offered by GMC, you could find a wide range of options waiting for you. In addition to those used GMC lifted trucks for sale, we have plenty of other vehicles ready, including brand new models, all found at a fair price. To find out more about any vehicle or service we offer, give our office a call today at 815-634-3900. A member of our sales staff will be standing by to help you find the exact vehicle you're looking for, and help you purchase it once you make a final decision. Those of you who live in the greater Chicago area, or if you're passing through, can also visit us at 38 W. Division St., Coal City, IL 60416. That's only an hour south of the city, and we can offer vehicles both new and used, custom upgrades, repairs and so much more. Reach out and we'll help you get started!
---
Two Brothers With a Dream

,

Building The Best Ultimate Rides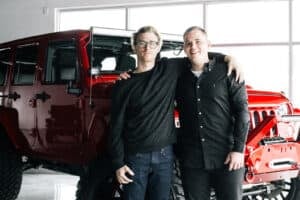 Ultimate Rides consists of two brothers who have been buying and selling custom vehicles for over ten years. Selling lifted trucks by day and writing these awesome reviews by night! They started their Ultimate Rides journey with a third brother Jake, who was a big part of building the business they have today. In 2016 Jake passed away and losing their brother was the hardest thing they ever had to deal with. Even though they had a tragic loss they plan to continue to set a new trend for the auto industry, keeping customers number one. Pushing the envelope on the lifted truck market, these guys love researching and learning about everything in the auto industry!
 — Nick and Alex Bulanda, Founders of Ultimate Rides