GMC Lifted Trucks for Sale at Ultimate Rides
Find GMC Lifted Trucks for Sale at
Ultimate Rides
Buying a truck has become an overcomplicated process over the years. If you want to enjoy the experience of buying your next vehicle, we encourage you to learn about Ultimate Rides. We offer a wide inventory of GMC lifted trucks for sale, along with a variety of other options. All of our vehicles have the ability to be further customized, and you can come pick it up from us or we'll ship it straight out to you. Our customer service team works incredibly hard to make sure you're satisfied, and we're serious about that. Last but not least, we make sure every vehicle in our inventory is free of rust and clean for you. Take a look at what we have to offer, and feel free to get in touch with a member of our staff today!
Customize Any Truck in the
Lift Center
One of the things that makes the vehicles from Ultimate Rides special is our custom lift center. Just about every vehicle in our inventory comes through here for some upgrades. A suspension lift is just one of the many modifications or accessories we can offer. From running boards to custom stereos to LED lighting to brand new interior trims, our team can do it all. Give us a call and we can talk in more detail depending on what you're looking for. Additionally, you will have the ability to include the cost of these upgrades in your vehicle financing deal. This makes it more affordable for most drivers, allowing you to pay off the work piece by piece over time right alongside your new truck.
You can even bring your current vehicle to us from some upgrades! All of the same services you can choose with our inventory is available to the public. Contact our office and we can set up an appointment for you to come in. We're located outside of Chicago, making us centrally available for a good portion of the United States. Many customers even find we're worth a long trip because of the talent our technicians have to offer.
Customer Service You Can
Count On
Every customer who buys a vehicle from Ultimate Rides is treated like a VIP. We have a team dedicated to customer service, and they take their job very seriously. If you're looking for New GMC lifted trucks for sale, we can help you find them. On top of that, our team will be able to help you bring your dream truck to life. Our staff is respectful, and will go out of their way to help you understand your financing deal and more. We'll even go above and beyond to track down a specific vehicle for you, even if we don't have it currently in our inventory. Get in touch with us today and we can tell you just how we'll be able to help.
Ultimate Rides Reliable
Vehicle Shipping
If you live outside the Chicago area, there's a good chance you'll be interested in our delivery service. Wherever you live, we're confident we can get one of our trucks to you in a timely manner. Just give us a call and we can begin. We'll share information on our vehicles and help you figure out which is right for you. Once you decide, we can take care of financing right there over the phone. After that, we'll gather you delivery information and our team will get right to work.
Just like with our vehicle upgrades, you'll have an opportunity to finance the cost of shipping. You could also decide to pay it off now if you'd rather keep your monthly payment as low as possible. Whatever you decide, our team will be ready to help! Prior customers have excellent things to say about our delivery, and we can't wait to get started on your vehicle.
Rust-Free Trucks Hand-Picked by
Our Team
You won't find just any old GMC lifted trucks for sale at Ultimate Rides. Each one of our vehicles was chosen by a member of our buying team. They know exactly what to look for, and we send them out to areas of the country where it's easier to find high-quality used vehicles. Places like California and Arizona have weather that makes it much easier to maintain your vehicle, so that's where we look. On top of that, our vehicles are all rust-free. Once we get the vehicles back to our shop, we inspect each one to ensure they meet all of those standards.
At Ultimate Rides, we care greatly about the product we put out. That's true for a variety of reasons. We are a family business, and we take that very seriously. We want every customer to drive away totally happy with their experience, and that stretches from customer service to the quality of our inventory. If there's anything else you'd like to know about the GMC lifted trucks for sale here, simply let us know.
Final
Words
Do you feel like Ultimate Rides is the right place to find your next vehicle? We are confident we can help you find or build the perfect truck. Speak with a member of our team over the phone today to get the process started, or to ask us some questions. We're available at 815-634-3900. If you live in or are visiting the Chicago area, you can also come see us. Our office is in Coal City, about one hour south of the city. You'll find us at 38 W. Division St., Coal City, IL 60416. Hopefully we see you soon!
---
Two Brothers With a Dream

,

Building The Best Ultimate Rides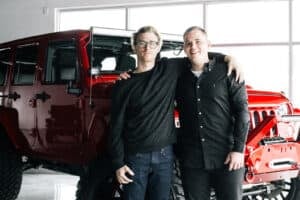 Ultimate Rides consists of two brothers who have been buying and selling custom vehicles for over ten years. Selling lifted trucks by day and writing these awesome reviews by night! They started their Ultimate Rides journey with a third brother Jake, who was a big part of building the business they have today. In 2016 Jake passed away and losing their brother was the hardest thing they ever had to deal with. Even though they had a tragic loss they plan to continue to set a new trend for the auto industry, keeping customers number one. Pushing the envelope on the lifted truck market, these guys love researching and learning about everything in the auto industry!
 — Nick and Alex Bulanda, Founders of Ultimate Rides