Are Lifted Trucks Safer? Your Questions Answered!
Are Lifted Trucks Safer?
Frequently Asked Questions
Are you trying to find out are lifted trucks safer than your average everyday pickup? Here at Ultimate Rides, we have a staff of experts who have a passion for these vehicles. We're an auto dealership that ships custom trucks around the United States, and there's a custom lift center on-site where we can provide these upgrades. With all of that in mind, take a look at the questions below to see if you learn more, and contact us with any further concerns!
Q: Are lifted trucks safer than standard trucks?
A: In some ways they are, and in some ways they are not. As always, the most important influence on safety is through the driver. When you start driving a lifted truck, you'll notice you're higher up. This allows you to see over most other vehicles on the road, which can help with safety. Additionally, in many situations, a lifted truck can be very stable.
However, it's important to remember that you now have a higher center of gravity, meaning it's easier to tip over during turns. Make sure to take those turns slowly, and watch out for anything that's very near to your vehicle, as it can sometimes be difficult to see things up-close. Overall, are lifted trucks safer? It totally depends on the driver, as there are both pros and cons.
Q: What are the different kinds of lift kits available?
A: The two most common and broad kinds of lift kits out there are spacer kits and suspension lifts. Spacer kits use blocks, springs or something else to raise up the body of your vehicle, whether it's a car, SUV or truck. On the other hand, suspension lifts actually require altering your suspension to raise up the vehicle. These are more expensive but offer a high-quality ride.
Q: Can I install my own lift kit at home?
A: This all depends on the type of lift kit you choose and your personal experience level. While it may be possible to install some more basic lift kits at home, even those require the right set of tools and a good degree of research if you want it done safely. If you are keen to install your own lift kit, we highly encourage you to do your research to ensure you know exactly what you're doing. If not, you could be putting your safety and the safety of your passengers and others on the road at stake.
Q: Does a lift kit affect vehicle performance?
A: Lift kits can have a strongly positive effect on off-road performance, helping you maneuver through rough terrain and more. Additionally, with the right tires, you can find your truck performs better on the road and in poor weather conditions. If you're looking to achieve a certain setup, be sure to get in touch with trustworthy professionals and let them know what you need done.
Q: Do lift kits require extra maintenance?
A: There may be some light maintenance required, but nothing too intensive. It mostly consists of checking the tightness of bolts and making sure everything is still in good working order. Your standard team of mechanics should be able to complete it right alongside your other standard maintenance procedures.
Q: How long does it take to install a lift kit at home?
A: This all depends on your experience level, how much time you've put into research and practice, and what kind of kit/vehicle you're working with. Some vehicles and kits are more difficult to install than others. For a basic kit with the right level of experience, it should only take a few hours. More extensive kits could eat up a whole afternoon, however. Do some research to find out what you're dealing with long before you get started. Then you'll know what to expect!
Q: What other upgrades can provide quality off-road performance?
A: Alongside a lift kit, we recommend getting a new set of wheels along with some performance tires. Depending on what situations you need to tackle, a team of professional will be able to offer more specific recommendations. This could include a performance chip that gives you more control over your engine, or a transfer case upgrade. Consult with our team and we'll be happy to tell you more!
Q: Is it possible to upgrade an older truck with a lift kit?
A: That should be no problem! The only trick there is finding a kit that matches your truck. You'll need to carefully select your chosen lift kit, as they are designed to work with certain ranges of vehicles. Search until you locate one that fits your make, model, model year, trim level and even other configurations such as 2WD or 4WD. Once you do, then consider quality and see if the kit lives up to your expectations and falls within your budget.
Do you have any other questions about suspension lifts or lift kits in general? Our staff at Ultimate Rides is waiting to assist you. In addition to selling vehicles, with fast delivery around the country, our shop is also open to the public. We can install your next lift kit and so much more, to any drivers who live within driving distance. We're located at 38 W. Division St., Coal City, IL 60416. If you'd like to speak to a member of our team about a vehicle, reach out to 815-634-3900.
---
Two Brothers With a Dream

,

Building The Best Ultimate Rides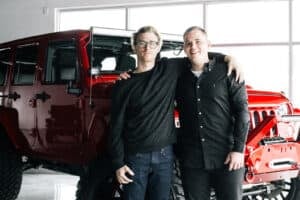 Ultimate Rides consists of two brothers who have been buying and selling custom vehicles for over ten years. Selling lifted trucks by day and writing these awesome reviews by night! They started their Ultimate Rides journey with a third brother Jake, who was a big part of building the business they have today. In 2016 Jake passed away and losing their brother was the hardest thing they ever had to deal with. Even though they had a tragic loss they plan to continue to set a new trend for the auto industry, keeping customers number one. Pushing the envelope on the lifted truck market, these guys love researching and learning about everything in the auto industry!
 — Nick and Alex Bulanda, Founders of Ultimate Rides