Best Truck Seat Covers for Dogs (Review & Buying Guide)
Choosing the Best Seat Cover for a Dog Owner
Being a dog owner is an incredible experience, but it's safe to say it's not always easy. Many dogs love going for rides, especially depending on the destination. Whatever kind of dog you might have, there's a good chance they leave behind quite a lot of hair. While this can be manageable in a home, it's much harder to clean in a truck. That's why it can be so useful to pick up a set of seat covers.
At Ultimate Rides, not only do we sell custom vehicles to drivers across the country, but we can outfit them with any accessories you can think of. That, of course, includes some of the top seat cover choices available to drivers today. We've dealt with many of these cover sets in the past, and we know what to look for in terms of quality. Take a look below to see a list featuring our favorite options. After that, you can find more details on how to choose the right seat covers in our buying guide. Good luck in your search, and feel free to contact our team the next time you're shopping around for a vehicle and might want something to protect the seat inside.
---
1. Rough Country Front and Rear Neoprene Seat Covers
Compatibility: 2015-2021 Ford F150, 2017-2021 Ford F250/F350
One of our favorite manufacturers of seat covers is Rough Country. Their products are reliable, and while not exactly cheap, they should still fall within the budget for most drivers. The covers come with a one-year warranty from the manufacturer, but we don't think you'll ever need it. With these seat covers for a car or truck, you'll have full coverage over your interior. They are waterproof and will protect your seats against dog hair. You'll even feel comfortable with all the available padding. Make sure you choose a set that fits your truck. If you do, we're confident you'll find these are some of the best truck seat covers for dogs money can buy.
---
2. URPOWER Black and Orange Heavy-Duty Dog Seat Cover
Compatibility: Universal
Another style of seat cover for you to consider is something catered specifically to dogs. This hammock-style seat cover is easy to take in and out, or fold up when you don't need it. It will keep your dog confined to a certain space of your vehicle without them feeling like they're trapped in a small space. At the same time, it'll protect your seats from dog hair, scratches, urine and more. Plus you can get this seat cover to fit in just about any back seat! Decide if this cover could be right for you. It's available at a great price, and our team recommends checking it out.
---
3. Oasis Auto Faux Leather Custom Fit Seat Covers Full Set
Compatibility: 2011-2020 Ford F150/F250/F350
Faux leather is a popular material for seat covers, especially for drivers who own a dog. While it's not usually our first choice, it's an excellent affordable option to consider if the others didn't look appealing to you. This set from Oasis Auto is designed specifically for a range of Ford trucks, but it shouldn't be difficult to find a set for your vehicle. Additionally you'll have your pick from a variety of different colors. These seat covers are overall pretty great, but some customers may have to trim the edges of some seat covers. While that may be a hassle, we believe most customers will find the quality of these seat covers worth it.
---
4. 4Knines Heavy-Duty Polyester Dog Seat Cover
Compatibility: Universal
Up next, we have another dog-specific seat cover for you to check out. It's made from a similar material as our last dog-specific seat cover, but it doesn't feature that same hammock style. Instead this cover fits over your rear seat, with a thick layer of protection defending your interior from scratches, sun damage, spills, and more. Plus it's very easy to take this cover on and off, making it a great choice for someone who wants that level of versatility. Instead of bringing a dog seat into your vehicle, try out this cover and see how it works.
---
5. Yiertai Ram Truck Faux Leather Waterproof Seat Covers
Compatibility: 2009-2022 Ram 1500, 2010-2022 Ram 2500/3500
Next up, we have another set of faux leather seat covers that can act as a dog cover. This time they come from a company called Yiertai, and they're made for car seats in modern Ram pickup trucks. These covers will fit on a huge range of Ram trucks, and they should deliver a comfortable experience that offers a great deal of protection for your vehicle at the same time. These aren't made specifically to protect from dogs, but we are confident they'll do everything you need to keep your vehicle protected.
---
6. Rough Country Neoprene Seat Covers Full Set
Compatibility: 2019-2021 Chevy Silverado 1500
Finally, we have one more set to share with you from Rough Country. It's for the Chevy Silverado 1500, another one of our country's most popular trucks. We love Rough Country here at Ultimate Rides, and we think you'll enjoy what their seat covers have to offer. They're comfortable, and they'll do an excellent job keeping your interior in good shape. Additionally, each seat cover set is designed to fit a specific vehicle; in this case, it's the 2019-2021 Silverado 1500. If you own this truck as opposed to a car, and you're looking for something to protect each seat from your pets, we strongly encourage you to give this cover option a try. Check them out and see if they'll fit your truck!
---
7. VIEWPETS Bench Seat Covers for Dogs
Compatibility: Universal
This next seat cover comes from VIEWPETS, and is a universal-sized cover for the rear car seat. This seat cover was designed specifically to protect your seat from a dog, helping you keep hair, scratches, and spills away from your interior. The cover fits right in the backseat and offers comfort as well as ease of use. If you often bring pets into your vehicle, you owe it to yourself to buy this seat cover. It's been tested by many customers and has great results on Amazon if you look at the review section. The price is also a huge plus here, as you won't have to spend very much to get some excellent protection for your back seat. Check out this quality seat cover and figure out if it could be the right option to utilize for your truck or car seats.
---
8. Hanjo Pets Back Seat Hammock for Dogs
Compatibility: Universal
The last seat cover on our list is another hammock style. The difference here is that it features a number of pockets and upgrades not found on other cover products. It's also made with a comfortable luxury material, all while still coming in at a fair price. If your dog doesn't love staying in the back seat, you'll be able to rely on this cover to help them enjoy it more. There's a mesh window that ensures they'll be able to see upfront, and the seat will stay comfortable for them. This car seat cover can be found for just under $50, making it a perfect gift or something for the family truck. You'll be able to keep your dog out of the front seat without raising their anxiety level, which can be a problem for some pets and their owners. Check out the product page on Amazon, and from there decide if this might be the right seat cover for your vehicle.
---
Seat Cover
Buying Guide
Were you able to find a suitable seat cover set on our list? There are countless options available these days, so it makes sense if you want to keep shopping around a bit before making a final decision. However, we truly believe that among those options you'll find the best seat cover available for your ride right now. Learn more about why we think that, as well as you can find the high-quality set that's right for you, in our Factors of Focus section. After that, we'll tell you more about Ultimate Rides and how we could be able to help you today! Take a look and feel free to call our office today.
Factors of Focus: Which Seat Covers Are Right for
Your Truck?
Choosing the right seat cover depends a lot upon your own needs. How large is your dog? Would you prefer a hammock-style seat cover or some fitted covers that will give full coverage over your interior? Before you even decide on that, it's important to narrow down your options to those that will fit your truck. That means choosing between either universal fits or seat covers designed specifically for your vehicle.
Once you take care of that aspect, then is a good time to determine what style of seat cover you want to go with. The differences should be pretty obvious. The hammock style is easier to take off and set up when your dog is going to be in the vehicle. A fitted seat cover, while not permanent, is more difficult to take on and off. You'll also want to consider the material that the cover is made from, such as faux leather or neoprene.
Lastly, you'll want to look at the actual quality of the cover. Some of the best seat cover products can be found for a great price, so you shouldn't automatically assume whatever costs more is going to be better for you. Instead, look at customer reviews to see what other buyers have experienced with the product in the past. That should make your decision much easier.
Choose Ultimate Rides for All Your
Vehicle Needs
Ultimate Rides is here to help customers find their next vehicle, with plenty more benefits on top of our excellent vehicle quality and simple delivery. Most of the vehicles you'll find in our inventory feature custom modifications from our technicians. This is all done in-house through our lift center. We specialize in suspension lifts, but we're able to offer so much more beyond just that. Any time you buy a vehicle from us, you can send it over to our customer service center. We'll upgrade the vehicle however you want, with the ability to add accessories, make major changes, and more. From there, we can arrange shipping with the costs included in your financing deal.
We can help in more ways than just that, too. If you live in the Chicago area, you can bring your vehicle to us for repairs, maintenance, detailing, and custom upgrades. Just call us to easily schedule an appointment and we'll fit you in as soon as we possibly can. Our awesome team members are standing by to help today, so don't hesitate. You can contact us at 815-634-3900. When you're ready to visit, you can find Ultimate Rides at 38 W. Division St., Coal City, IL 60416.
---
Two Brothers With a Dream

,

Building The Best Ultimate Rides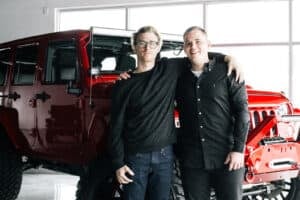 Ultimate Rides consists of two brothers who have been buying and selling custom vehicles for over ten years. Selling lifted trucks by day and writing these awesome reviews by night! They started their Ultimate Rides journey with a third brother Jake, who was a big part of building the business they have today. In 2016 Jake passed away and losing their brother was the hardest thing they ever had to deal with. Even though they had a tragic loss they plan to continue to set a new trend for the auto industry, keeping customers number one. Pushing the envelope on the lifted truck market, these guys love researching and learning about everything in the auto industry!
 — Nick and Alex Bulanda, Founders of Ultimate Rides