Heavy Duty Waterproof Seat Covers (Review & Buying Guide)
The Best Heavy Duty Waterproof Seat Covers
for Your Vehicle
These days, many of us spend quite a lot of time in our vehicles. It's worth the effort to keep your interior in great shape. One of the best ways to do that in the long run is with a set of heavy duty waterproof seat covers. At one point or another, all of us have probably spilled something on accident inside a vehicle. If you're lucky, it didn't stain or damage the interior. This is something you want to prevent in your truck, SUV or car at all costs. Use today's guide to find the right seat covers for your vehicle, whatever it may be.
Start by going through our list below. It features our favorite picks, covering a range of different styles. After the list, stick around and you'll be able to read our buying guide. This section provides info on how to choose the highest-quality seat covers so you can get the most out of your money. We'll also talk more about what we do at Ultimate Rides, so feel free to get in touch with us if you're searching for more information.
---
1. Rough Country Front and Rear Neoprene Seat Covers
Compatibility: 2015-2021 Ford F150, 2017-2021 Ford F250/F350
When it comes to seat covers, our top choice is nearly always Rough Country. They provide high-quality neoprene seat covers designed for specific vehicle models. This set is for a range of newer Ford F150, F250 and F350 trucks. If that doesn't work for you, don't worry as there are plenty of other options in their catalogue. These seat covers are not only comfortable, but also do a fine job of keeping water and other liquids away from your interior. It'll also protect against scratching, scuff marks and all kinds of other damage. If these seat covers are the right fit for your truck, we strongly encourage you to check them out to see if they meet your needs.
Rough Country F&R Neoprene Seat Covers for 15-21 F-150 | 17-21 F-250/350 – 91018
---
2. OASIS AUTO OS-004 Faux Leather Red and Black Seat Covers
Compatibility: Universal
Faux leather is one of the better materials available for seat covers. It's comfortable, stylish, cruelty-free, and will protect your interior from stains, water damage, and more. The seat covers from OASIS AUTO are among our favorites. They're not exactly inexpensive, but they're still readily affordable for most drivers. More importantly, they get the job done, and they'll help you drive around in style. There are plenty of color schemes available, but we're partial to this red and black set. The only thing to be aware of is that, as universal seat covers, you may have some difficulty installing them depending on your vehicle. In some cases, you'll have to trim up the edges to get it to fit. If that's alright with you, or you do the research and decide it'll be the right fit for your ride, these are an excellent choice.
OASIS AUTO OS-004 Leather Car Seat Covers, Faux Leatherette Automotive Vehicle Cushion Cover for 5 Passenger Cars & SUV Universal Fit Set for Auto Interior Accessories (Front&Rear, Black&RED)
---
3. Rough Country Neoprene Seat Covers Full Set
Compatibility: 2013-2018 Jeep Wrangler Unlimited
Rough Country doesn't just make accessories for the newest era of vehicles. You can find seat covers for a vast range of models, both from the last 10 years and even far older. This set for the four-door Jeep Wrangler JK is nearly identical to the original Rough Country seat covers we shared. The only major difference is that they're designed to fit on this specific range of Jeep Wrangler models. It still offers the same protection from water and other liquids, ensuring they don't soak through to your interior. These covers are very easy to clean, and should be a piece of cake to install as well. There are cheaper seat covers out there, but they just won't offer the same level of quality you'll find from this product. Plus it still comes with that great warranty from the manufacturer, backing you up if you do find any issues!
Rough Country Neoprene Seat Covers | (fits) 2013-2018 Jeep Wrangler JK 4DR | 1st/2nd Row | Water Resistant | | 91004
---
4. VIEWPETS Bench Seat Cover Protector
Compatibility: Universal (49″ L × 56″ W)
Our last few seat covers are all designed by companies to make it more convenient to bring your dog(s) into the vehicle. However, it's very safe to say they serve plenty of use beyond that. These are heavy duty waterproof seat covers that, while not providing full coverage of your seats, will defend from spills and most everyday damage. They won't detract from your comfort, and they are incredibly easy to get on and off the bench seat. Depending on the time of spill, you can simply wipe down the cover, vacuum it, or even put it in the washing machine. Just make sure to check out the measurements and decide if it's the right fit for your back seat.
VIEWPETS Bench Car Seat Cover Protector – Waterproof, Heavy-Duty and Nonslip Pet Car Seat Cover for Dogs with Universal Size Fits for Cars, Trucks & SUVs(Black)
---
5. AsFrost Dog Seat Cover for Front Seats
Compatibility: Universal
The last set of seat covers we want to share with you is similar to the last offering, except it is for front seats instead of a rear bench seat. It's made from the exact same style of material, a heavy duty 600D fabric. While it is designed to protect against dogs, it'll serve you well in a wide manner of other ways. While it doesn't offer 100% coverage of your seats, it will protect against most spills and similar issues. It's even easier to take on and off than the other seat cover in the same style, and it won't be a problem to clean. For all those reasons, we think it's one of the best heavy duty waterproof seat covers available now.
AsFrost Dog Seat Cover Cars Trucks SUVs, Thick 600D Heavy Duty Pets Car Seat Cover, Waterproof & Wear-Resistant Durable Nonslip Backing & Hammock Convertible – 2 Pack
---
Heavy Duty Waterproof Seat Covers
Buying Guide
Did one of the items on our list seem like the right pick? If not, don't give up hope just yet. There are so many seat covers out there, and while not all of them are high-quality, there are certainly some out there that should work for you. In our next section, we'll cover what important features you should keep an eye out for as you shop. After that, we'll talk more about what we do at Ultimate Rides on a daily basis, and how we might be able to help you find your perfect vehicle. Take a look, and contact us if you need any more details!
Factors of Focus: Finding the Covers for
Your Seats
When shopping for seat covers, the first thing you'll need to pay attention to is compatibility. You want a set that is either designed specifically for your vehicle, or is designed to be universal. Even then, you'll want to take a look at the measurements to see how they match up to your seats.
Once you find a seat cover that fits, it's time to think about quality. Look for a reliable material like one of the ones off our list. There are also other styles out there that can work. What's really important is looking at customer reviews and other resources online so you know what to expect. If your seat covers aren't heavy duty enough to protect from liquid damage, you're going to want to keep up the search until you find something that works.
Ultimate Rides – Custom Vehicles for Sale
and More
At Ultimate Rides, we do more than just offer recommendations and product reviews. We're a custom auto dealer that ships vehicles all across the United States. Take a look at our inventory and you'll see a selection of vehicles available, complete with custom upgrades like suspension lift kits, running boards, LED headlights and more. In addition to offering shipping, all of our customers have the ability to customize any of our rides before we send it out.
The next time you need to shop around for a vehicle, we hope you'll remember Ultimate Rides. Give our office a call and someone from our team will be more than happy to help you find your ideal vehicle, no matter what it is. If you live in the Chicago area, you can come and see us at 38 W. Division St., Coal City, IL 60416. Otherwise, call our office today at 815-634-3900.
---
Two Brothers With a Dream

,

Building The Best Ultimate Rides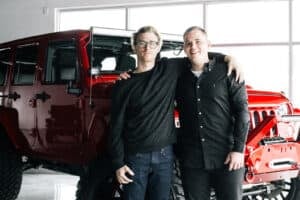 Ultimate Rides consists of two brothers who have been buying and selling custom vehicles for over ten years. Selling lifted trucks by day and writing these awesome reviews by night! They started their Ultimate Rides journey with a third brother Jake, who was a big part of building the business they have today. In 2016 Jake passed away and losing their brother was the hardest thing they ever had to deal with. Even though they had a tragic loss they plan to continue to set a new trend for the auto industry, keeping customers number one. Pushing the envelope on the lifted truck market, these guys love researching and learning about everything in the auto industry!
 — Nick and Alex Bulanda, Founders of Ultimate Rides