Lifted Ram 2500 for Sale at Ultimate Rides
The Best Place to Find a
Lifted Ram 2500 for Sale
Wherever you may live, Ultimate Rides is your destination for a custom vehicle like the Ram 2500. We are an auto dealership that specializes in custom trucks and SUVs, with our very own lift center on-site where we upgrade vehicles. You can also order our rides with shipping across the United States, and it's made affordable for you. We have a strong passion for custom vehicles, and we want to share it with you.
Start by checking out our inventory. You'll find a wide selection of vehicles that should include plenty of trucks and SUVs with a range of upgrades. Most of our vehicles include suspension lifts of varying sizes. We encourage you to read through today's guide to get an idea of what we're all about. You'll also learn more about lifted trucks in general, and how Ultimate Rides could help you find your perfect vehicle. We can even offer upgrades and repairs for your current ride! Keep reading and be sure to get in touch with our team if you have any questions when you're through.
Building Your Custom Vehicle
in the
Lift Center
One of the biggest reasons customers love shopping with Ultimate Rides is the ability to customize their vehicle exactly how they want. It's all made possible through our technicians in the lift center. Our team is ASE-certified, highly experienced, and has a true passion for working on custom rides. On top of that, they have access to our state of the art lift center, outfitted with the latest and greatest in technology and equipment.
Any time you buy a vehicle in our inventory, you'll have the opportunity to customize it here. Most likely, it already features a few upgrades from our team. You'll be able to add on to that in any way you see fit. That includes changing the lift height, going with a new paint job, adding on any accessories you can think of, or re-doing the whole interior. Whatever vision you have in your head, our team can bring to life. You'll even be able to include it all as a part of your vehicle financing deal! Just get in touch with us today to learn more about this process. Whether it's for a lifted Ram 2500 for sale or another vehicle, we think you'll love what our team can offer.
If you decide it's not quite time to upgrade, don't give up on us just yet. You can make an appointment for Ultimate Rides to work on your current vehicle. Our expert team can customize your ride however you want. Get in touch with our team and we'll help you through the process today.
Easily Accessible Delivery
Across the United States
No matter where you live, we're confident we can get a custom vehicle to you. Start by calling our office. We'll walk you through the options in our inventory, helping you find the vehicle that best suits your needs. We're able to offer more pictures as well as additional details on any model you see. Once you make your finale decision, we'll be there to help you with financing. If you decide on delivery, you'll have the opportunity to include the shipping costs in your financing deal, just like our custom work. This allows you to pay everything off together in one lump sum month-by-month. For many drivers, this makes shipping much more affordable.
To find out more about our shipping process, just give Ultimate Rides a call. We'll work with you to find you not only a vehicle, but the right way to get your hands on it. From the time the vehicle is ready for you, it should be a week or less before it arrives at the destination. That means you could be behind the wheel of an amazing lifted Ram 2500 for sale in a matter of days. What are you waiting for?
Ultimate Rides Offers a
Rust-Free Inventory
The vehicles you find at Ultimate Rides aren't the same as any standard used auto dealer inventory. Each model is hand-picked by a member of our team based on quality. Our buyers are sent out to warmer parts of the country to find vehicles that have been well-maintained. Certain areas like California and New Mexico make it easier to keep those vehicles in great shape, and our team seeks out the best of the best. Our inventory is rust-free, and every ride is inspected before we list it to ensure it meets our standards. Take a look for yourself at options like a lifted Ram 2500 for sale today!
Customer Service
is a Priority
It's definitely safe to say that customer service has taken a back seat in the auto sales industry in recent years. That is something that Ultimate Rides has set out to change. We are a family business, and we operate with that mindset. Every customer is important to us, and you're more than just a set of numbers on a piece of paper. Our team members will listen to all that you have to say. We'll act on that information to find the right model for you. Instead of trying to get people in and out as quickly as we can, we work hard to ensure everybody walks away with their perfect vehicle.
We'll even go above and beyond to help our customers find the right model. If there's something specific you need and we don't have it in stock, just let us know. With a small deposit, our buyers will seek out this vehicle. As soon as we locate one, we'll let you know and get it into your hands as quickly as possible.
Driving a Lifted Truck –
What To Expect
If you've never had the pleasure of getting behind the wheel of a truck with a lift kit, you're in for a treat. It's an amazing experience, and many drivers find it hard ever going back to a standard-sized vehicle. You'll be higher up off the road, able to see over most of the cars and even trucks around you. With the right setup, you could be totally prepared to head off-road. Lifted trucks just provide a different experience, and it's why we suggest looking into a lifted Ram 2500 for sale. These trucks can change your life in a number of ways. Think about it and let us know if we can help you find the one for you.
Let Our Technicians
Fix Your Ride
In addition to providing custom work for vehicles, our technicians are also more than capable of handling all standard maintenance and repairs. Whether the job is big or small, our team can assist you. Give us a call to schedule an appointment for your vehicle, or let us know if it's being towed to our HQ and we'll keep an eye out. We'll work with you to figure out the best course of action, providing the absolute highest quality repairs and maintenance available. Our techs work quickly but with their priority on quality and precision. We'll get you your vehicle back as soon as we can.
On top of that, we also offer detailing. Has it been awhile since your vehicle really shined? We can fix that. Call us today and we'll find a good time for you to come in. Whether it's for a special occasion or not, we'll make your vehicle look new once again,
Final
Thoughts
Now that you've had the opportunity to read all about Ultimate Rides, do you think we may be able to help you out? With simple and affordable shipping available on a wide range of high-quality custom vehicles, there's a lot to get excited over. Take some time to think about it if you need to. Whenever you're ready, our team will be standing by to help over the phone or in-person.
Our office is located about an hour south of Chicago. You can find us at 38 W. Division St., Coal City, IL 60416. If you're not from around our area, you are always free to call us during business hours. Our team is standing by to help at 815-634-3900. Whether you're in need of your next vehicle, or want us to spruce up your current ride, don't hesitate to reach out!
---
Two Brothers With a Dream

,

Building The Best Ultimate Rides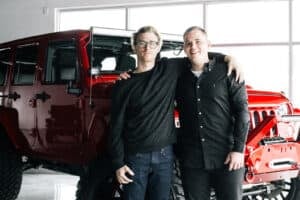 Ultimate Rides consists of two brothers who have been buying and selling custom vehicles for over ten years. Selling lifted trucks by day and writing these awesome reviews by night! They started their Ultimate Rides journey with a third brother Jake, who was a big part of building the business they have today. In 2016 Jake passed away and losing their brother was the hardest thing they ever had to deal with. Even though they had a tragic loss they plan to continue to set a new trend for the auto industry, keeping customers number one. Pushing the envelope on the lifted truck market, these guys love researching and learning about everything in the auto industry!
 — Nick and Alex Bulanda, Founders of Ultimate Rides