Lifted GMC 2500 for Sale at Ultimate Rides
Lifted GMC 2500 for Sale
Today
The GMC Sierra 2500 is an excellent heavy-duty pickup truck, and it's one model we commonly carry here at Ultimate Rides. We are a custom auto dealership based out of the Chicago, IL area. We offer custom vehicles with simple shipping available all across the United States. Additionally, our inventory is top-notch quality, hand chosen by our team to match our high standards. Each vehicle is rust-free, and goes through an inspection to make sure everything looks good. The inventory you find here is unlike other auto dealers out there. We sell vehicles both new and used, but they'll all be in fantastic shape, ready for you to drive.
Customers also have the ability to make changes on any one of our vehicles before they take possession. Let us know what kind of customizations you're searching for and our team can get right to work. We specialize in suspension lifts, but there's truly no limit to what we can offer for your vehicle. Learn more about that, along with the rest of the process, by finishing up our guide. If you have any questions at the end, be sure to reach out to our customer service team!
Rust-Free Trucks Hand-Selected
By Our Team
We strongly believe any time you buy a vehicle, it should be in good shape. However, upon visiting most local auto dealers, you'll find a range in terms of quality. That includes finding models that feature prominent rust damage. That is not something you'll have to deal with at Ultimate Rides. We only bring in the highest quality vehicles, and that includes inspecting each one for rust damage and more.
As we are located in the snowy heart of the Midwest, with salted roads and punishing winds from the Great Lakes, it can be hard to keep vehicles free of rust. That's why we send our buyers out to the warmer parts of the country like California and the Southwest. These regions have a climate that's more favorable to vehicles, allowing owners to keep them in better shape. We comb the entire country looking for the right models, like the lifted GMC 2500 for sale. Take a look and see if we have anything right now that catches your eye. If not, reach out and we'll surely be able to find it for you!
Customize Your Next Lifted GMC 2500
for Sale
The Ultimate Rides lift center is one of the major things that sets us apart from standard auto dealers. As you'll be able to tell from browsing our inventory, the vast majority of vehicles we sell feature custom modifications such as a suspension lift. That is what we're all about here. We have a passion for custom vehicles, and we know that there are other drivers around the country that feel the same way we do.
In addition to the existing customizations on our inventory, the lift center is open to anyone buying one of our vehicles. Let us know what upgrades you're looking for and our team will be able to take care of it. There's truly not a limit to what we can do, with offerings like running boards, a brand new interior, an engine performance chip, stereo upgrades, new lighting, and so much more. Give our office a call and we can go over the possibilities with you.
On top of that, the lift center could also be open to your current vehicle. If you live within range of our HQ, you can feel free to call us to set up an appointment. We'll go over what you want to do with your vehicle, and then when the time comes you'll be free to bring it in to us!
Simple and Affordable Shipping on
Custom Vehicles
When you shop with Ultimate Rides, it won't matter where you live. We are confident we can get one of our vehicles right to you. Begin the process by looking through our inventory. Once ready, you can call us and we'll be happy to provide more details on any vehicle you see. We'll even have the ability to provide more photos, as well as giving you plenty of time to think, before you come to a final decision.
Once you do, you can give us a call again. We'll handle the entire buying process right over the phone, setting you up with a financing deal that will work for you. You'll have the ability to finance both the cost of shipping as well as any custom upgrades you'd like. Once the vehicle is ready, we'll send it out! It should be less than a week before it arrives. To learn more about how this works, or to kick-start the process, call Ultimate Rides today.
The Ultimate Rides
Customer Service Experience
If you want a lifted GMC 2500 for sale, we will find you one whatever it takes. Ideally we'll have one in stock for you, but if not our team will be able to track one down. Just leave a small deposit with us and our buyers will hunt the vehicle down. As soon as we have it, we'll let you know and you can decide if you want us to install any upgrades or if you'd prefer to buy the vehicle as-is. Then you can pick it up from us, or we'll be able to deliver it right to you!
That's just one of the ways our customer service excels. Ultimate Rides is a family business, and our customers are always incredibly important to us. Take a look at some of our online reviews and you should see we mean what we say. If you have any questions about anything you're reading here, feel free to ask us!
Driving a Lifted
Pickup Truck
Have you ever driven a lifted truck before? If not, it's something you have to experience to truly understand. There's just a certain feeling to it that can't be put into words. There are aspects of it, though, that we can try to explain. For instance, you'll notice right away that being higher up off the ground has certain advantages. You'll be able to see over most if not all of the vehicles around you. This gives you a better look at what other drivers are doing, as well as upcoming obstacles on the road and more. There is an element of extra precaution that you should be aware of as well. With a higher center of gravity, you'll need to take turns more carefully. Take them too fast and there's an increased chance of flipping your truck, and nobody wants this. As long as you practice safe driving habits, this isn't something to fear however.
Bring Your Vehicle to Ultimate Rides for
Maintenance and Repairs
These days, it can be pretty hard to find a team of mechanics you can really trust. If you live close enough to Ultimate Rides, we encourage you to try out our team. Our ASE-certified technicians are capable of handling more than simply custom upgrades. We have a ton of experience fixing and maintaining vehicles, and we're happy to share that talent with you. Our staff takes on jobs both big and small, whether it's a basic element of maintenance or a major repair. We can even provide detailing for your vehicle! Need it looking special for an upcoming event? Our team will get the job done to the fullest extent.
Reach out to schedule an appointment for your vehicle. Those of you living in the Chicago area are encouraged to give us a try. Our prices are fair, our work is unparalleled, and we have the customer service chops to back all of that up.
Closing
Words
You've now had a chance to learn more about us at Ultimate Rides. Does it sound like we could be able to help you? If so, give our office a call. A member of our staff will be more than happy to sit down with you and go over our options. Remember that we can help you find whatever vehicle you're looking for, in addition to providing custom vehicles with simple delivery.
If you are lucky enough to live in the greater Chicago area, you're close enough to come meet with us in person. The Ultimate Rides office is located about an hour south of the city, at 38 W. Division St., Coal City, IL 60416. If you're not from around our area, we'll be able to help you out over the phone. Call our office at 815-634-3900 and someone from our customer service team will assist you, whether you want a lifted GMC 2500 for sale or something else. Let us help you find your ideal truck, SUV or car soon! The next time you're in need of a vehicle, think about us at Ultimate Rides.
---
Two Brothers With a Dream

,

Building The Best Ultimate Rides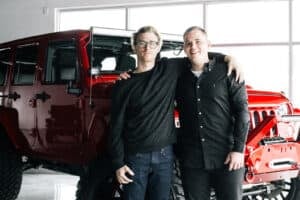 Ultimate Rides consists of two brothers who have been buying and selling custom vehicles for over ten years. Selling lifted trucks by day and writing these awesome reviews by night! They started their Ultimate Rides journey with a third brother Jake, who was a big part of building the business they have today. In 2016 Jake passed away and losing their brother was the hardest thing they ever had to deal with. Even though they had a tragic loss they plan to continue to set a new trend for the auto industry, keeping customers number one. Pushing the envelope on the lifted truck market, these guys love researching and learning about everything in the auto industry!
 — Nick and Alex Bulanda, Founders of Ultimate Rides