Best Bench Seat Covers for Old Trucks (Review & Buying Guide)
Finding Bench Seat Covers for
Old Trucks
There's just something special about driving around in a retro truck, whether it's 10, 15, 20 years old or even older. Ultimate Rides is a place where you can find old school trucks in great shape, but once you take ownership the responsibility of taking care of the truck falls to you. One of the important accessories you can install is a set of seat covers. However, it's not always easy choosing the right bench seat covers for old trucks. With more options available than ever, there are great picks out there, but they can be hard to find. That is where Ultimate Rides can come in handy.
We've put together a list below that features our favorite bench seat covers for old trucks. Take a look to see if any catch your eye, and be sure to pay extra attention to the compatibility notes to find a set that suits your vehicle. After our list, we've compiled a buying guide that features information on how you can choose the seat covers that are best for your situation. We'll also be able to tell you more about what we do at Ultimate Rides, so be sure to stay until the end and contact us if you have any questions or concerns.
---
1. Durafit Grey Endura Truck Bench Seat Covers
Compatibility: 1999-2007 Ford F150
First up is a bench seat cover from Durafit. This product offers a basic grey design but does an excellent job of protecting your seats from all sorts of damage. They are custom fit for certain vehicle models, so make sure to only buy the set that's right for your truck. Once you get these installed, which should be pretty simple, you'll find that they don't detract from the standard comfort of your seats. At the same time, they'll be protected from stains, scratches and more. Whether you often have kids or pets in your truck, or you just want general protection against everyday wear and tear, you'll be able to rely on this seat cover to get the job done.
Durafit Seat Covers Made to fit 1999-2007 F150 Truck Bench Seat Custom Exact Fit Seat Covers Gray Endura
---
2. Covercraft SS3250PCGY Custom-Fit Front Bench SeatSaver Seat Covers
Compatibility: 1994-2001 Dodge Ram 1500, 1994-2002 Dodge Ram 2500/3500
The next available seat covers on our list are made for older Dodge Ram trucks, both the 1500 and 2500/3500 setups. It's designed for a front bench seat, and offers durable protection for your interior. The cover was specifically designed to defend against spills and water damage, so you won't have to worry about anything soaking through the fabric. You can find a variety of different colors available, as well as sizes for plenty of truck models. Shop around until you find the right bench seat covers for old trucks.
Covercraft SS3250PCGY Custom-Fit Front Bench SeatSaver Seat Covers – Polycotton Fabric, Grey
---
3. Rough Country Neoprene Front Seat Covers
Compatibility: 1999-2006 Chevy Silverado 1500 Extended Cab
One of our favorite manufacturers of seat covers is Rough Country. These front seat covers are a great choice for any driver, with this set specifically suiting the Chevy Silverado 1500 with an extended cab from 1999 through 2006. However, if that's not your vehicle, don't worry. There are plenty of options out there from Rough Country, and we're confident you can find the right fit for your truck. These seat covers are made from neoprene, the same material as a wetsuit. That means it'll do an excellent job protecting from spills and stains, and will also help you stay comfortable on the road.
Rough Country Neoprene Front Seat Covers (fits) 1999-2006 Chevy Silverado 1500 | Extended Cab | 91013, Black
---
4. Caterpillar Custom Fit Front Bench Seat Cover
Compatibility: 1999-2007 Ford F250/F350/F450/F50
You may recognize this next brand name on our list. Caterpillar is known for their heavy machinery, but you can also count on them for reliable seat covers. This set is made from a tough polycotton material, ensuring you have all the defense you need for your interior without sacrificing comfort. You should have no problem installing this seat cover, and the fabric is quite easy to clean too. Take a close look at this seat cover and figure out of it's one of the bench seat covers for old trucks that works for you.
Caterpillar Custom Fit Front Bench Seat Cover for Ford F250 / F350 / F450 / F550 (1999-2007) – Durable Black Oxford Truck Seat Cover with Utility Pockets, Ford F250 Super Duty Interior Cover
---
5. Browning Universal Front Bench Seat Covers
Compatibility: Universal (See Measurements)
The next two items on our list are universally sized, but we still recommend checking out the measurements and comparing them to your vehicle to make sure everything fits. If you opt for a universal seat cover, this set from Browning is a good choice. You can find a variety of camo-based designs, and the covers do their job of protecting your interior from damage. The foam padding ensures both defense from liquids as well as extra comfort, so we highly recommend these covers for our readers.
Browning Universal Front and Bench Seat Covers, Water Resistant for Car, Truck, and SUV
---
6. VIEWPETS Bench Car Seat Cover Protector
Compatibility: Universal (See Measurements)
The second universal option on our list offers a different style for you to consider. It's designed specifically to protect against dogs, and it works great at that. However, it also serves as an all-purpose seat cover, and does an excellent job. The cover is heavy-duty, made from a comfortable quilted fabric. It's also easy to take in and out when the situation calls for it. Take a look at those measurements and decide if the style is for you!
VIEWPETS Bench Car Seat Cover Protector – Waterproof, Heavy-Duty and Nonslip Pet Car Seat Cover for Dogs with Universal Size Fits for Cars, Trucks & SUVs(Black)
---
Bench Seat Covers for Old Trucks
Buying Guide
You've now had a chance to look over some recommended seat covers. If you're still feeling a little unsure of what set to buy, our buying guide is here to help. Take a look below and find out more information on choosing between different covers. You'll also be able to learn about what we do every day at Ultimate Rides, and how we can help you. Check it out and be sure to give us a call for more details.
Factors of Focus: Choosing Your
Seat Covers
With countless options available, it's not very simple choosing the best bench seat covers for old trucks. The fact that your truck is older may make the process even more difficult. The best thing you can do is narrow down options specific to your vehicle, or include universal covers in your search. From there, start to pay attention to the quality of the seat covers. Customer reviews can be helpful, but we recommend looking at the specific material that the covers are made out of. From there you can decide if the cover suits your needs or if you should keep up the search.
It's also not a bad idea to look around at reviews on other websites, like you're doing here now! That way, you can get a better idea of what to expect before making any purchase. Also be sure to look into available warranty options, so you'll know what you're getting into. If you have a certain style that you're looking for, it may take longer to get exactly what you need. However, we're confident that you'll be able to find the right bench seat covers for old trucks if you keep up the search for long enough. Don't be afraid to reach out to us if you need assistance choosing the right set!
Ultimate Rides Offers Custom Trucks, Accessory Installation
and More
At Ultimate Rides, we believe drivers everywhere deserve access to high-quality custom vehicles. That's exactly what we offer, complete with delivery across the country. Take a look at the inventory here on our website, and keep in mind that you'll have the ability to further customize any vehicle you see. We can even get you set up with some seat covers along with much more. Contact our office over the phone today at 815-634-3900. We'll be more than happy to tell you about vehicles we currently have available, and we can even help you track down specific models. If you live in the Chicago area, you can come visit our office at 38 W. Division St., Coal City, IL 60416. That's about an hour south of the city, and centrally located for much of the Midwest!
---
Two Brothers With a Dream

,

Building The Best Ultimate Rides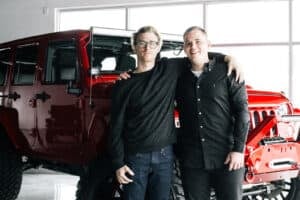 Ultimate Rides consists of two brothers who have been buying and selling custom vehicles for over ten years. Selling lifted trucks by day and writing these awesome reviews by night! They started their Ultimate Rides journey with a third brother Jake, who was a big part of building the business they have today. In 2016 Jake passed away and losing their brother was the hardest thing they ever had to deal with. Even though they had a tragic loss they plan to continue to set a new trend for the auto industry, keeping customers number one. Pushing the envelope on the lifted truck market, these guys love researching and learning about everything in the auto industry!
 — Nick and Alex Bulanda, Founders of Ultimate Rides