Bench Seat Covers No Headrest (Review & Buying Guide)
Finding Bench Seat Covers
No Headrest
If you avoid using your headrests on your truck or SUV bench seat, it can sometimes be hard finding a seat cover that actually works. Many seat covers use the headrests to stay on, so not having them installed can cause some obvious problems. Luckily, there are options for bench seat covers no headrest for today's drivers. It's just a matter of knowing what to look for!
We've compiled this guide to help you find the perfect set of seat covers for your vehicle. We customize and install accessories in a variety of trucks and SUVs each and every day, so it's safe to say we know what we're talking about. Start by taking a look at this list we've put together just below. It features our personal favorite picks for bench seat covers without any headrest. We hope you'll find an option there that suits your vehicle.
After our list, stick around to find the buying guide. In this section, we'll detail all the important elements you should keep an eye out for as you shop around. We'll also be able to tell you more information about what we do at Ultimate Rides, including how we could help set you up with your next custom vehicle!
---
1. Covercraft Carhartt SeatSaver Custom Seat Covers
Compatibility: 2007-2013 Chevy Silverado 1500 and GMC Sierra 1500, 2007-2014 Chevy Silverado 2500/3500 and GMC Sierra 2500/3500
First up, we have the only set on our list that is specific to a certain vehicle. It also happens to be our favorite choice, and you'll be able to find it for a wide variety of models. That should hopefully include your own! Just make sure to shop around until you find the one that fits. With these seat covers, you'll have an optional headrest attachment, so it should be no worry if you've decided to remove yours. The cover will still fit snugly and do an excellent job protecting your interior from stains, scratches and other kinds of damage.
Covercraft Carhartt SeatSaver Custom Seat Covers | SSC3381CAGY | 1st Row 40/20/40 Bench Seat | Compatible with Select Chevrolet Silverado & GMC Sierra Models, Gravel
---
2. Leader Accessories Saddle Blanket Black Full Size Bench Seat Cover
Compatibility: Universal
For the rest of our list, you'll see a variety of universally-sized seat covers, hopefully fitting on a wide range of truck and SUV bench seats. Be sure to check out the exact measurements and compare them to your vehicle to ensure it's a good fit. This particular option not only offers great protection for your cloth or leather interior, but it'll also ensure your passengers stay comfortable on the road. If you're lucky, this seat cover may even match your personal sense of style. Take a look and decide if this option could be the one for your vehicle.
Leader Accessories Saddle Blanket Black Full Size Pickup Trucks Bench Seat Cover Universal Work with Bench Seats
---
3. FIA OE34 CHARC Universal Fit Truck Bench Seat Cover Charcoal
Compatibility: Universal
The next seat cover on our list is another great option for drivers without headrests installed. It may have a basic design, but it does a fine job defending your bench seat from damage. At the same time, you'll find it comfortable and it should be an easy stylistic match for most vehicle interiors. The cover also happens to be on the lower end of the price spectrum for a reliable seat cover. While you can find cheaper options out there, we believe this is a strong balance between quality and price.
FIA OE34 CHARC Universal Fit Truck Bench Seat Cover (Charcoal)
---
4. Carhartt Universal Fitted Nylon Duck Full-Size Bench Seat Cover Black
Compatibility: Universal
You've probably heard of Carhartt before, and it's important to know that they make more than just tough and durable clothes. That very same fabric can be used to protect your seats from spills and other types of damage. The process of installing and cleaning this cover should be easy, and you'll be able to rest easy knowing that your interior is protected against a wide variety of issues. Check out these bench seat covers no headrest and decide if it may be the right set for you and your vehicle!
Carhartt Universal Fitted Nylon Duck Full-Size Bench Seat Cover, Black
---
5. FH Group Universal Solid Bench Car Seat Cover Red & Black
Compatibility: Universal
FH Group is one of the top suppliers of universal seat covers. While we believe there are better options out there, it's hard to beat what you get for this price point. For well under $30, you could have reliable protection for your seats. The product comes in a huge range of colors, so you should have no problem finding a set that suits you. Additionally, they are a piece of cake to both install and clean. It's not the highest quality seat cover, but it's the best budget option for today's drivers.
FH Group Universal Solid Bench Car Seat Cover fits Detachable Headrests– Universal Fit for Cars Trucks & SUVs (Red / Black)
---
Bench Seat Covers No Headrest
Buying Guide
Have you found yourself shopping for bench seat covers but only finding options that wrap around the headrest? Don't give up looking just yet. Here in our buying guide, we'll help you select a bench seat cover that works for you, even if you weren't able to find an option on our list. Stick around and read through our Factors of Focus section for details on what to look for as you shop. After that, keep reading to learn more about Ultimate Rides and what we may be able to do for you.
Factors of Focus: Choosing a Set of
Seat Covers
With the advent of the internet, it has become both easier and more complicated than ever before to find vehicle accessories. On the bright side, there are more options than ever, and they're easily accessible for the vast majority of Americans. However, with more options comes a more difficult search for the right product. That's why it can be useful to rely on word from experts like our team at Ultimate Rides.
When shopping for a set of bench seat covers no headrest, it's important to first narrow down your options to those that fit your vehicle. There are a number of choices that are specific to certain models, model years and trim levels. However, as you've seen from our list, there are also universal options that should fit on most vehicles. Before buying a universal seat cover, make sure to look at the measurements and compare them to your vehicle to ensure it's the right fit.
Once you make sure everything will fit, it's time to think about quality. Is this seat cover going to actually protect your interior? That is important to think about, but it's not always readily apparent just by looking at a product. Make sure to read customer reviews as well as those from professionals like yours truly. Then decide if a given set of bench seat covers no headrest will work for you.
Custom Vehicles, Accessory Installation and More at
Ultimate Rides
These days, just like finding the perfect set of seat covers, it can be very difficult finding the auto dealer that's right for you. We are happy to share that Ultimate Rides sells custom vehicles with delivery available all across the United States. Better yet, the cost of that delivery can be included in your financing deal, making the process affordable to so many more drivers. Give us a call or browse our online inventory to see what we have to offer. We can even track down a specific vehicle model for you if there's something you need!
On top of that, Ultimate Rides offers vehicle customization any time you buy a model from our inventory. Just let us know what upgrades you're interested in and we'll get right to work. We have our own custom lift center on-site, which is where the modifications happen. Just like with our shipping, you can choose if you'd like to pay for this work separately or include it in your vehicle financing deal.
If any of this sounds at all appealing to you, we encourage you to give our office a call. A member of the Ultimate Rides team will be here to answer any of your questions and provide more details on our entire inventory. If you're lucky enough to live in the Chicago area, you can feel free to visit us about an hour south of the city at 38 W. Division St., Coal City, IL 60416. Otherwise, make sure to give us a call soon at 815-634-3900!
---
Two Brothers With a Dream

,

Building The Best Ultimate Rides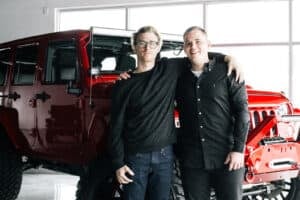 Ultimate Rides consists of two brothers who have been buying and selling custom vehicles for over ten years. Selling lifted trucks by day and writing these awesome reviews by night! They started their Ultimate Rides journey with a third brother Jake, who was a big part of building the business they have today. In 2016 Jake passed away and losing their brother was the hardest thing they ever had to deal with. Even though they had a tragic loss they plan to continue to set a new trend for the auto industry, keeping customers number one. Pushing the envelope on the lifted truck market, these guys love researching and learning about everything in the auto industry!
 — Nick and Alex Bulanda, Founders of Ultimate Rides