New Lifted Ford Trucks for Sale | Finding Your Ford
New Lifted Ford Trucks for Sale at
Ultimate Rides
There's nothing quite like driving a custom pickup truck. That feeling is even better when the vehicle is fresh off the lot, for sale from a trusted dealer. Here at Ultimate Rides, you can find used and new Ford trucks for sale, along with a wide range of other vehicles. All of them are available with delivery straight to your home, and the entire process is affordable with financing. Customers will also have the ability to customize any of our vehicles before we send it out, Ford or otherwise, and our customer service team will make the whole process easy for you.Read through this guide to learn more details on what Ultimate Rides may be able to do for you, from our Ford trucks to everything else we have in store. You can also hear how to get in touch with us, as well as some of the benefits of driving a lifted Ford truck. Stick around and be sure to let us know if you have any questions! We're confident we can help you find your perfect vehicle soon, so don't hesitate to reach out. Our sales team is here to speak with you whenever you're ready.
Design Your Next Ford Vehicle in the
Custom Lift Center
The Ford trucks available here aren't just your standard models. Each one features an upgrade courtesy of our technicians. The most common thing you'll find is a suspension lift, raising up your vehicle suspension and offering a variety of other benefits. However, the fun doesn't stop there. Our team is capable of offering even more upgrades beyond those you already see on our inventory.
Just let us know you're looking for some extra work done. We'll be able to take the vehicle over to our lift center before you buy and add on any upgrades or accessories you'd like. There's no limit to what we can offer, with options like running boards, a fresh coat of paint, a completely re-designed interior, an engine performance chip, fresh tires and wheels, and so much more. Contact our office to learn about all the options that could await you today. These upgrades are available on more than just our Ford trucks as well.
Once you choose between our available Ford trucks, or opt for another vehicle, you'll have an important decision to make on whether or not you utilize the services we offer in our lift center. Customers are able to choose if they'd prefer to cover the cost of these upgrades up-front, or include them in their overall financing deal. By financing the cost of this work, you'll simply be raising your monthly vehicle payment by a small amount to cover the difference. Let us know if this sounds good to you, or if you need more information!
Ultimate Rides Quick & Easy
Vehicle Shipping
It's good to know that wherever you live, you'll still have access to our full selection of stunning Ford trucks. That's because we offer simple shipping all across the United States for all vehicles, from Ford to Chevy to Toyota to Jeep. All can be found at a fair price, decided upon based on the quality and improvements installed. Give us a call today and we'll be able to walk you through the entire process. It all starts by browsing our inventory. Take a look and see if any models catch your eye, such as one of our new trucks from Ford for sale. You can also let us know if there's a specific model you want and we'll look for it, but more on that later.
Once you decide on the vehicle you want, from a huge Ford pickup to one of our custom cars, we can take care of financing there over the phone. We'll run the numbers and work together on a plan that suits both parties. As soon as we've agreed on terms, we can discuss whether or not you want to customize the vehicle. Either way, we'll send the vehicle out as soon as it is ready. From that point, it should be a week or less before it arrives at your home. It truly is that easy to start driving an amazing custom Ford!
Customer Service Set on
Helping You
At many other new and used auto dealers, the staff is simply occupied on making as much money as possible. That's not the case with us. Here at Ultimate Rides, we believe it's in everyone's best interests, including our own, to try and provide you with exactly the vehicle you want, Ford or otherwise. Customers choose us because they know we're going to help them find the right vehicle. It all starts when you first get in touch with us. Our staff will actually listen to everything you have to say. From there, we'll show you the options in our inventory that are best suited to your needs. We can even offer recommendations on custom upgrades based on the results you're looking for.
If you don't see any new lifted Ford trucks for sale in our inventory that suit you, don't give up yet. Just tell us what vehicle you want, and we can make it happen. New or used, common or rare, our team will be able to locate any Ford vehicle for you, from any model year or trim level. Then just let us know whether you want to come pick your Ford up or have it shipped. We'll be able to work out all the details right over the phone! All we require is a small deposit to cover us if you change your mind on the vehicle. Once we find the right Ford model, you'll be able to put that deposit towards your purchase. The whole process is simple, and whatever kind of Ford you want to start driving, our team will be happy to help you track it down.
High-Quality Used and New Lifted
Ford Trucks for Sale
Whether you choose a new Ford vehicle or a used one, you can always expect to find the best quality at Ultimate Rides. While you certainly wouldn't expect to find rust on a recent vehicle, it's an all too common occurrence on used models, and not just Ford trucks. Walk the lot of your local auto dealer and you'll likely see at least a few corroded vehicles out there. That will not be the case when you choose Ultimate Rides. We place great emphasis on only bringing in the best vehicles, no matter how old they are.
Our buyers head out to warmer parts of the United States to source our inventory. They track down vehicles that have been taken care of and would suit our inventory. From there, we bring them back to our shop for inspection. As long as the vehicle passes, we will usually outfit it with some upgrades and list it in our inventory for you to take a look at. While Ford trucks are among our favorites, that is far from all you'll find waiting for you at Ultimate Rides. Just ask about our lifted trucks for sale!
Ford Upgrades, Maintenance and Repairs
Available to the Public
You don't have to buy a new Ford pickup to take advantage of our services at Ultimate Rides. Even if you don't drive a Ford, we know our team can assist you. If you live close enough to the Chicago area, we encourage you to utilize us for all of your vehicle needs! Our technicians can offer custom modifications, accessory installation, maintenance, repairs and even detailing for your vehicle.
Our team is ASE-certified, highly talented, and offers fair prices. They bring a ton of experience to the table, with years of time spent working on Ford models as well as other vehicles. With just a phone call we can schedule you in for service in the near future. Whether you're running into major engine trouble and need some professionals to take a look, or it's simply time for your next oil change or tire rotation, Ultimate Rides is here for you. Our excellent customer service extends to this department as well, and we're always hoping to satisfy our customers. Contact us soon if you believe that we can be of service to you.
Additionally, all of the upgrades available to our own trucks are open to you. Bring your Ford to us and let us know what you're thinking about. We can order parts and accessories from top brands like Rough Country to add a whole new dimension to your Ford pickup. Call and schedule an appointment so we can discuss options. Once you bring your vehicle to us, we'll work hard to get it back to you as quickly as possible, all for a fair price.
Driving a Lifted
Ford F150
For quite a long time now, the Ford F150 has been the most popular pickup truck in America. It's beloved for a number of reasons, and can work in everyday driving situations, as a work vehicle, or can even be outfitted to excel off-road. Ford is known for their history, as well as the wide variety of trim levels available for their trucks. When you get behind the wheel of a Ford vehicle, you should feel the difference. Though some of their competitors have started gaining on them in recent years, Ford still stands out as the best overall option for drivers.
There are also plenty of benefits to install a lift kit of some kind on your Ford ride. You'll perform better in rugged terrain, be able to see over the other vehicles around you, and your pickup will have an undeniably dominant look and feel. Lifted vehicles are becoming more and more common with each passing year. Find out what you've been missing. Contact us and we'll be happy to set you up with one of our new lifted Ford trucks very soon!
Call or Visit Ultimate Rides Today for
Lifted Trucks and More
Does it sound like we may be of some assistance to you? We have a whole team standing by waiting to help you out. Whether you come to our office or just work with us over the phone, we can promise to offer the best vehicles and customer service possible. You'll find a huge range of Ford models waiting for you, as well as other trucks from companies like Chevrolet, Ram and more. Reach out to us today at 815-634-3900. You'll be able to talk with a team member who will help you find exactly what you're looking for. If you are from around our area, you can find our office in Coal City, just about an hour south of Chicago. We're located at 38 W. Division St., Coal City, IL 60416. Come in with or without an appointment and we'll do all we can to assist you!
---
Two Brothers With a Dream

,

Building The Best Ultimate Rides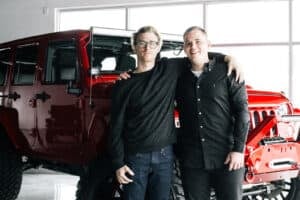 Ultimate Rides consists of two brothers who have been buying and selling custom vehicles for over ten years. Selling lifted trucks by day and writing these awesome reviews by night! They started their Ultimate Rides journey with a third brother Jake, who was a big part of building the business they have today. In 2016 Jake passed away and losing their brother was the hardest thing they ever had to deal with. Even though they had a tragic loss they plan to continue to set a new trend for the auto industry, keeping customers number one. Pushing the envelope on the lifted truck market, these guys love researching and learning about everything in the auto industry!
 — Nick and Alex Bulanda, Founders of Ultimate Rides