Best LED Headlights for 2015 Silverado (Review & Buying Guide)
Choose the Best LED Headlights for
2015 Silverado
If you're like most drivers, you use your headlights on almost a daily basis, or at least several times a week. For both quality of life and safety reasons, it's important to have a good set of headlights on your truck. Those of you driving a 2015 Chevy Silverado may or may not have access to LED headlights. Whether you need to upgrade from halogen to LED, or you need to replace your old LED bulbs with some new ones, Ultimate Rides is here to help.
The process of shopping for headlight bulbs has become more and more complex over the years. With the advancement of the internet, we now have more options to choose from than ever, which can be both a blessing a curse. It's great to have choices, but not all of them are going to be very good, and it's not always easy to tell the differences.
At Ultimate Rides, we deal with vehicle parts and accessories each and every day. That includes aftermarket LED headlights. We always try and put our expertise to good use however we can. Take a look below to find some of our recommendations for the best LED headlights for 2015 Silverado models. We've included mostly headlight bulbs, but you will also find a full headlight assembly on the list for an idea of what to look for there.
After our list, be sure to stay and read through our buying guide. It'll provide you with more details on the thought process when it comes to narrowing down your many choices. There we'll also be able to share more about Ultimate Rides, including how we could be able to help you today. Good luck on your search for headlights, and make sure to contact us if you need any further assistance!
---
1. SEALIGHT H11/H9/H8 9005/HB3 LED Bulbs Combo Kit
The first set of headlights we'd like to share with you comes from SEALIGHT. They're one of the most popular manufacturers you'll find today, and their products are quite reliable. This particular set should fit on 2015 Chevy Silverado models, and it's the first choice we'd recommend to our readers or customers at Ultimate Rides. Together the headlights provide 14,000 Lumens, plenty enough for regular purposes. You'll find a cool white light rather than an obnoxious blue or purple color on the road in front of you, which can be quite important as well. It's very easy to install these headlights, and most should have no trouble completing it in their own garage or driveway. These headlights also won't break the bank, giving you another reason to consider these the best LED headlights for 2015 Silverado trucks.
SEALIGHT H11/H9/H8 9005/HB3 LED Bulbs Combo Kit with 14000 Lumens, 400% Brightness, 6000K Cool White, Plug and Play, Pack of 4
---
2. Fahren Ursprung H11/H9/H8 Low Beam 9005/HB3 High Beam LED Headlight Bulbs
Fahren is another top manufacturer of these products, and you'll see them show up multiple times on our list. This set is considerably brighter than our first recommendation, despite only being a few bucks extra. If you are looking for that added touch of super bright light on the road, like if you spend a lot of time in areas without adequate street lamps, these can be an excellent decision. They're designed to last through more than 50,000 hours of use, and each lamp features a turbo cooling fan to stop it from overheating. With excellent reviews from customers and a very fair price point, there are many reasons to choose these headlights for your pickup truck.
Fahren Ursprung H11/H9/H8 Low Beam 9005/HB3 High Beam LED Headlight Bulbs Combo, 28000 Lumens 6500K Cool White Super Bright LED Headlights Conversion Kits IP68 Waterproof, Pack of 4
---
3. Fahren H11/H9/H8 LED Headlight Bulbs, 60W 12000 Lumens
Up next, we have another set for you to consider from Fahren. These bulbs are slightly cheaper, and cut the Lumen count in about half. For some people, that may be a favorable option. Too much brightness can actually be a bad thing if you spend most of your time driving in the city. These headlights share all the same great qualities of the last Fahren set we told you about. That includes easy installation, a long lifespan, and safe operation for you and your vehicle.
Fahren H11/H9/H8 LED Headlight Bulbs, 60W 12000 Lumens Super Bright LED Headlights Conversion Kit 6500K Cool White IP68 Waterproof, Pack of 2
---
4. CARIFEX Compact LED Headlight Bulbs 9005/HB3 High Beam H11/H9 Low Beam
Want to get some good headlights on a tighter budget? Our recommendation would be this set from CARIFEX. They may not be the overall best LED headlights for 2015 Silverado vehicles, but they're certainly up there and you can get them at a great price. If you're worried about going with a lesser known brand, you can go in with confidence knowing that the product has very strong customer reviews and the company offers a 30-day money back guarantee. If all that, plus our own word, isn't enough to convince you, you may just want to go with one of the more popular options above!
CARIFEX Compact LED Headlight Bulbs 9005/HB3 High Beam H11/H9 Low Beam LED – 400% Brighter Than Regular Headlights – 6000K – Cool White – 30,000 Hours of Life
---
5. Torchbeam T2 H11/H8/H9 9005/HB3 LED Bulbs 60W 16000 Lumens
Next up, we have a mid-range price option from Torchbeam. These headlights are brighter than most, but won't quite get up to the heights offered by some of the more expensive options. Still, if that 16,000 Lumen count is in your sweet spot, these are a great choice. They are once again easy to install, and are designed to last a long time on your truck. Does all of that sound like the right fit for your Silverado? If so, give these headlight bulbs a shot and make sure you tell us if you're happy with them!
Torchbeam T2 H11/H8/H9 9005/HB3 LED Bulbs combo Kit, 60W 16000 Lumens 400% Brightness, 6500K Cool White Light Halogen Replacement with Fan, Plug and Play, Pack of 4
---
6. ACANII Black Smoke 2014-2015 Chevy Silverado 1500 LED Light Tube Headlights
Are you in need of a new assembly for your headlights and want to go with an LED upgrade? If that is the case and you happen to drive a 2014 or 2015 Silverado, we've got just the thing for you. This stylish headlight assembly from ACANII is affordable, and provides excellent visibility for your truck at night. The company again offers a 30-day return policy, so you'll have options if you're not happy with what you buy. However, we feel confident you're going to like everything this assembly has to offer for your pickup truck.
ACANII – For Black Smoke 2014-2015 Chevy Silverado 1500 LED Light Tube Headlights Headlamps Driver + Passenger Side
---
Best LED Headlights for 2015 Silverado
Buying Guide
Did you find an option on our list that seems like a solid fit for your truck and your own needs? We hope that's the case. However, we know it's valuable to have the information to find your own headlights when you need to. You'll find those details here in our buying guide. Take a look below at our Factors of Focus section for some insight on our thought process when shopping for headlights. We'll be able to tell you how to pick out the best LED headlights for 2015 Silverado drivers, whatever you own needs might be. After that, we'll cover how Ultimate Rides can help with installation and so much more. Finally, we'll finish off by going over some of your frequently asked questions.
Factors of Focus:
Choosing Your Headlights
The first thing we do when searching for a set of headlights is narrow down our options to those that will fit our vehicle. The 2015 Chevy Silverado utilizes H11 low beams and 9005 high beams, so all of the options on our list should work. However, that still doesn't narrow down your choices very much, as you'll have hundreds or even thousands of products still at your disposal. The trick is to see what other customers think based on their own experience, as well as the opinions of professionals.
Think about what elements make up a good quality headlight bulb. You'll want something that lasts a long time, is bright enough for your own needs, and is safe for daily use. Make sure to look for and consider all of these things before making a choice. Of course, you'll also need to think about your own budget. Thankfully even the best LED headlights for 2015 Silverado trucks won't break the bank.
Brightness can be an important factor to think about while you shop. It's measured in Lumens, and the higher the Lumen count the brighter your headlights will be. If you drive out in the wilderness often, or anywhere without proper lighting, brighter headlights are going to be to your advantage. Consider the situations you typically find yourself in and then find a set of headlights that is suitable for those situations!
Vehicle Upgrades, Accessory Installation, and More from
Ultimate Rides
If you are worried about installing new LED headlight bulbs, Ultimate Rides is here to take care of it for you. We're an auto dealer located in the Chicago area, but we are not just your standard auto dealer. We specialize in custom vehicles that we ship all around the country. On top of that, we have our own service center on-site, with a staff of amazing technicians. They're ASE-certified, have tons of experience, and share a true passion for upgrading and repairing vehicles. In our custom service center, we'll be able to install your headlights, and a whole lot more.
You'll see in our inventory a wide range of custom vehicles. These upgrades are done in-house by our own team. We specialize in lifted trucks and SUVs, though that's not the limit of what we provide. There are countless other upgrades available when someone buys one of our vehicles, and they can all be included in your financing deal.
To learn more about this process, or to make an appointment with our service center, contact us over the phone today at 815-634-3900. If you're in the Chicago area and would like to come and visit us, you can find our office at 38 W. Division St., Coal City, IL 60416. We can't wait to get this process started with you sometime soon.
Frequently Asked Questions
Do you have any lingering questions that we haven't address? You may just be in luck. The final section we'd like to share will cover a few of the more common questions we hear time and time again. Even if you don't find what you need below, we are confident that Ultimate Rides can still help. Continue browsing our website for more information, or feel free to contact us today with any questions or concerns!
Q: Do all headlights have plug-and-play assembly?
A: While most modern headlight bulbs and assemblies do, that is not always the case. In those situations, you'll want to either carefully research the installation process, or rely on professionals for the best results. It's probably ideal to go with a plug-and-play set of headlights, but sometimes a better option presents itself and it'll suit you to go with a wiring harness set.
Q: How long do most headlight bulbs last?
A: Each headlight bulb is different, but you should be able to find a certain timespan listed on the product page. Lifespan is usually measured in hours of use, though sometimes you will also see it measured in years. 50,000 is a good amount to keep an eye out for, though you will be able to find both higher and lower values available.
---
Two Brothers With a Dream

,

Building The Best Ultimate Rides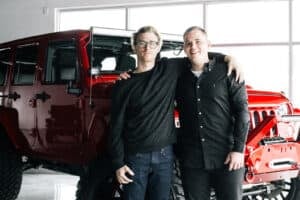 Ultimate Rides consists of two brothers who have been buying and selling custom vehicles for over ten years. Selling lifted trucks by day and writing these awesome reviews by night! They started their Ultimate Rides journey with a third brother Jake, who was a big part of building the business they have today. In 2016 Jake passed away and losing their brother was the hardest thing they ever had to deal with. Even though they had a tragic loss they plan to continue to set a new trend for the auto industry, keeping customers number one. Pushing the envelope on the lifted truck market, these guys love researching and learning about everything in the auto industry!
 — Nick and Alex Bulanda, Founders of Ultimate Rides