Top 10 Best Shocks for 4×4 Trucks
How much do you know about truck shock absorbers? Did you know that a 4×4 setup requires different shocks than a standard driving configuration? For some it may be common sense, but others might have trouble picking out a set that gets them the performance they desire. That's where we come in.
At Ultimate Rides, we're experts in suspension, shocks, lift kits and more. We are more than qualified to tell you all about the best shock absorber brand for your needs. We've put together a list below that features some of the top four-wheel drive shocks on the market.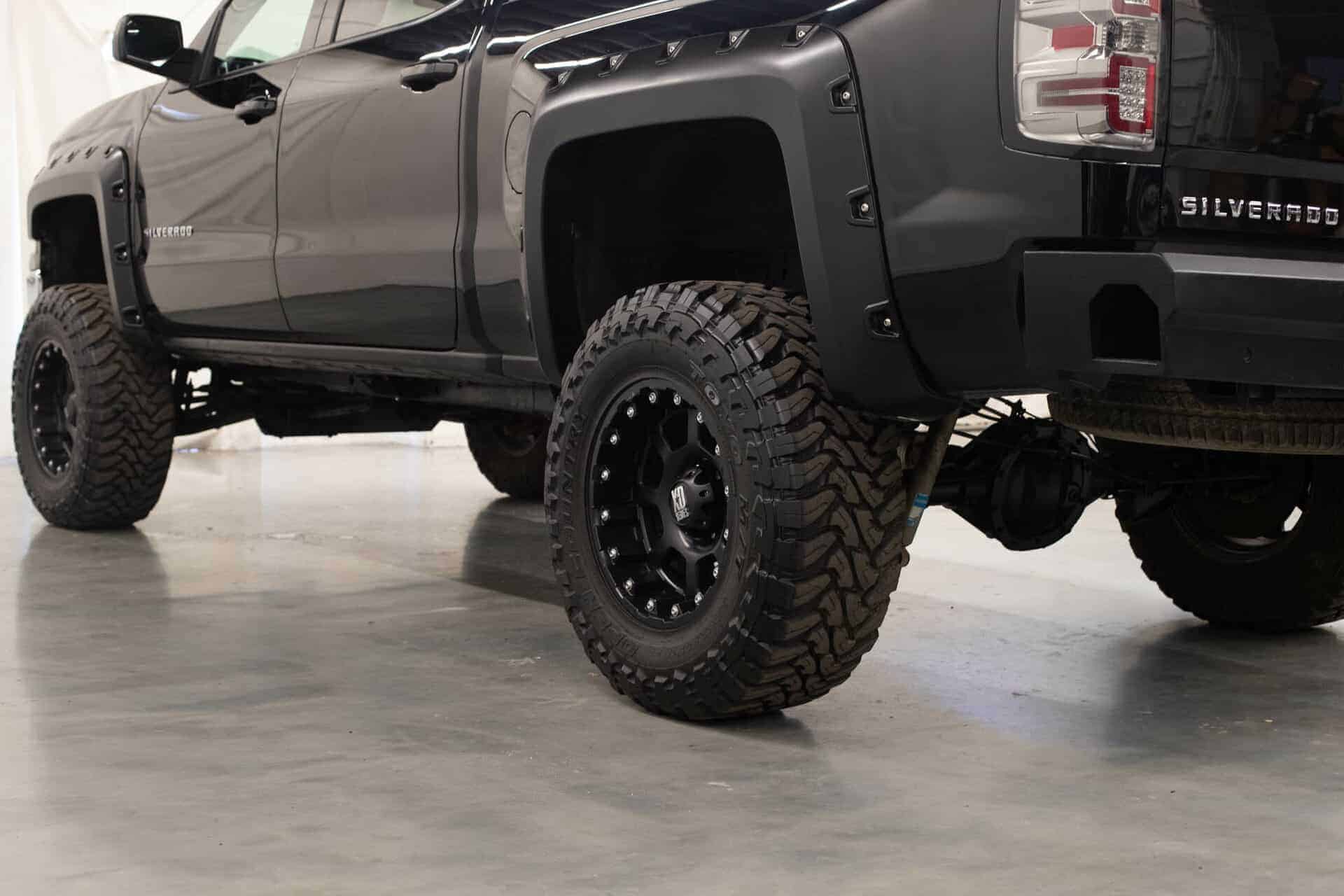 Before you begin shopping, take some time to jot down your vehicle's specifications to ensure you buy the right size shocks. If you aren't changing the height of your vehicle, you can simply measure your current shocks and buy a set of the same size. If you are having some lift upgrades installed, having your professional installers put in your new shock setup at the same time can save you a lot of hassle down the line.
Whatever you decide, we encourage you not to go in blind while shopping for a shock absorber set. Check out our recommendations below, find an option that fits your ride, and give it a try!
Note: If installing your own set of shocks, make sure to pay close attention to both the front and rear extended and collapsed length. You want to be right in the center, between the two, when installing. If that doesn't make any sense, you may want to consider contacting the experts for installation!
---
1. Bilstein 8125 Series 46mm Monotube Single
Specs: Universal Fit, 17″ Extended Length 12″ Collapsed Length
The name Bilstein is widely associated with affordable and reliable shocks. One of the best shocks you can buy for a 4×4 truck is the 8125 from that beloved company. Offering a smooth ride anywhere you go, the product is worth every penny. They were designed specifically for off-road lovers like ourselves, and our team at Ultimate Rides loves to use them on our vehicles. This option in particular is 46mm in diameter, though there are other varieties out there to suit different sizes and vehicle configurations.
With a monotube design that helps keep the price from getting too out of hand, you should still expect greatness in your performance with these shocks. The shock will work at a range of body heights, making it a great pick for lifted drivers, whether in a truck or SUV. 
One thing to be aware of when working with this company is that their reputation for customer service isn't amazing. We encourage you to work with professional installers who can handle that aspect of the deal for you, letting you stay stress-free until you hit the road with your new setup.
Apart from that small detail, these are some of the higher-quality options you can find at this price range. If they're the right fit and you like what you see, give them a shot and let us know how they work out for you.
Bilstein 8125 Series 17in Extended Length 12in Collapsed Length 46mm Monotube Shock (33-225463)
---
 2. FOX Single Coil-Over Shock
Specs: 2010-2014 Ford F150 SVT Raptor, 27.53″ Extended Length 19.94″ Collapsed Length
Few names in this industry have earned as much trust as FOX. Their products are top-notch, and that certainly includes their array of available shock absorbers. One of our favorite styles of shocks from FOX is this coil-over option. With this pack, you'll gain a set of two front shocks that when combined with equally-stellar rear shocks offer a luxurious ride in Raptor trucks.
High-quality shocks from FOX aren't cheap. However, if you want the best, it's going to end up costing you extra. However, most drivers find it easily worth the investment in the long-run. It just becomes all the more important to pick carefully. This set in particular was again designed for use primarily off the road, though it should serve you just fine on the highway and in the city too.
If you're serious about your 4×4 trucks, these are undeniably some of the best shocks you can buy. To find some FOX shocks specifically suited to your truck, contact a pro or team of pros like our crew at Ultimate Rides.
Fox Shocks 883-02-046 Front Coilover Shocks Fits Ford F-150
---
3. King Shocks Performance Coil Over Front Kit
Specs: 2007-Current Toyota Tundra, 25.27″ Extended Length 18.396″ Collapsed Length
Along with the last manufacturer on our list, King Shocks is near the top of the game. Drivers can always rely on their products being made with integrity. Again, they're not exactly cheap. However, you'll find a performance enhancement that can have a strong effect on your day-to-day life. If you feel it's worth it, you can't do much better than these performance shocks from King.
The Toyota Tundra can be a surprisingly effective choice for off-road use. It offers versatility, and with the right setup such as some high-end shock absorbers and a suspension or body lift, you could have a true off-road machine on your hands. 
As bypass shocks, this setup offers some extra external damping. This should provide a firm ride, still smooth but with less give than most other suspension configurations might offer. If a firmer ride is something you're looking for, and you drive a Toyota Tundra, these might be just the product for you.
King Shocks 25001-143 Performance Coil Over Shock Kit Performance Coil Over Shock Kit
---
4. ProComp ES9000 Complete Set
Specs: 2009-2013 Ford F150 4WD, 24.7″ Extended Length 14.52″ Collapsed Length
If you're looking to match your vehicle's OE performance rather than enhance it, you may be able to settle for a budget set of shocks. This kit from ProComp could be just the right option. With it, you'll find a monotube shock absorber four-pack for F150 trucks. Designed for use both on and off the road, you can choose to save money and still find solid performance with this product.
These are not the firmest shocks out on the market, but that's to be expected at this price range. As long as you're okay with that, and you don't plan on putting an insane level of extra weight on the vehicle, these can be a good option to think about. While you can find better performance out there, it's always important to consider budget as you shop.
Those of you driving lifted trucks, or who plan on hauling or towing heavy loads, should opt for something more powerful. These are shocks meant for light trucks and sports utility vehicles. As long as that suits you, you should love what they bring to the table.
PROCOMP ES9000 SHOCK SET FITS 2009-2013 Ford F150 – 4WD F-150 0in-2in LIFT
---
5. Fox 2.0 Performance Full Set
Specs: 2005-2016 Ford F350 Super Duty 4WD, 21.95″ Extended Length 13.85″ Collapsed Length
With our next recommendation, we're to the industry favorites at FOX. These shock absorbers utilize a nitrogen-charged gas chamber to provide precision performance in any scenario. Whether you're driving on the road through heavy rain, along a rough dirt track, or across a long highway on a sunny day, you'll enjoy every moment behind the wheel with these shocks installed.
That's because they use damping control to tweak performance to your current situation. These monotube shocks work on F350 Super Duty trucks with four-wheel drive. While they do offer good performance, it should be noted these are still on the lower end of the price spectrum. They may not do very much to improve on the original factory ride, unlike some higher-end sets.
If you're behind the wheel of one of these behemoth trucks, it's probably safe to say you know a thing or two about performance. Take a look at these shocks for yourself and decide if they're going to provide the level of quality you want. If you decide that they do, pick up the full set for your truck at home.
Fox 2.0 Performance Shock Set compatible with 2005-2016 Ford F350 Super Duty 4WD
---
6. Bilstein Monotube Factory Size Full Set
Specs: 2014-2018 Ram 2500 4WD, 24.37″ Extended Length 16.56″ Collapsed Length
The next shocks we'd like you to consider are for drivers with factory suspension only. It's a budget set from Bilstein, with a full pack of front and rear shock absorbers for a low price. Because of that, you should expect only a moderate performance boost over the standard setup. However, that may not be a bad thing if you're just looking to try things out for the first time.
These gas shocks are tuned to enhance handling on the road, though they don't function quite as well off of it as some of the other choices on our list. These shocks might be considered too soft for some drivers, though that can depend greatly upon personal preference. The installation process is pretty simple as far as shocks go, so you or your chosen professionals shouldn't run into any curveballs. For all these reasons, they should fall under your consideration.
Bilstein Shocks Set compatible with Ram 2500 4WD
---
7. Fabtech Dirt Logic Single
Specs: Universal Fit, 26.68″ Extended Length 17.15″ Collapsed Length
If you need some shocks for a lifted truck, the Dirt Logic series from Fabtech is a good choice. Available in a range of sizes, and designed to fit most vehicles, the Dirt Logic shock absorber is both affordable and durable. The product is meant to handle rough off-road situations as well as standard commutes across town. They're one of the top picks at this budget range, and are highly customizable to suit your needs.
These shocks give you access to Fabtech's Port Flow system. This unique design allows you to tweak performance in even more ways, as you'll have more control over the level of compression in your shocks. With a corrosion-resistant stainless steel construction, you won't have to worry about these shocks failing on you. The EB1 top and bottom mounts also make installation relatively simple for whoever handles that job. Overall, the Dirt Logic shock absorber is a great pick for both everyday driving and rugged terrain.
Fabtech FTS810942 Dirt Logic Shock Absorber, Black
---
8. ACDelco Specialty Rear Spring Assisted Pair
Specs: Various Chevy and GM Models, 24.24″ Extended Length 14.88″ Collapsed Length
As a company that's actually owned by General Motors, ACDelco can be relied on for some of the best factory standard setups, or sometimes as a similar-quality upgrade for a suspension lift. This set of rear shocks features a spring assist system for added stability. You'll feel less bounce when you get in and out, as well as when you're on the road (or off of it). As long as you know what to expect from these shocks, they will do you no wrong. That's why they have such excellent reviews across the internet, despite being relatively inexpensive. Take a look at the specs and see if they're right for your ride.
ACDelco Specialty 519-30 Rear Spring Assisted Shock Absorber
---
9. Monroe Full Front and Rear Shocks and Struts Set
Specs: 2009-2012 Ford F150 4WD (No SVT Raptor), Extended and Collapsed Length Different for Front and Rear
While it only covers a small range of F150 trucks, this set of shocks from Monroe should be considered some of the best you can buy at this budget level. Together you'll get shocks for the front and rear, with nitrogen gas charge and a design implemented specifically for your vehicle. Everything you need is included here, apart from the tools and expertise needed for the install. 
We wouldn't recommend this kit for a lift height of more than a couple of inches. Additionally, make sure you're fully capable of handling the install for your lifted truck, or bring these shocks and struts to a professional. Otherwise your own safety and the integrity of your vehicle could be put at risk.
Monroe Front Rear Shocks Struts Set For Ford F150 F-150 4WD 4×4 2009 2010 2011 2012 2013 – BuyAutoParts 77-69391GJ New
---
10. Detroit Axle 4WD Front & Rear Shocks
Specs: Various Chevy and GM Models, Extended and Collapsed Length Different for Front and Rear
With a name like Detroit Axle, you should expect the best. Their products are on the lower end of the budget spectrum, so you should adjust your expectations accordingly. If you're in need of a set of smooth replacement shocks, they can certainly handle the job of your factory set. While you shouldn't expect any major effect on performance, sometimes it's more important to save money. With these shocks, you won't have to worry about your safety being at risk, and you'll be able to maintain a solid ride quality. As long as that's all you're looking for, give these shocks a chance.
Detroit Axle – 4WD Front & Rear Shocks Absorbers for Chevy GMC Escalade Suburban Silverado Sierra 1500 Tahoe Yukon – 4pc Set
---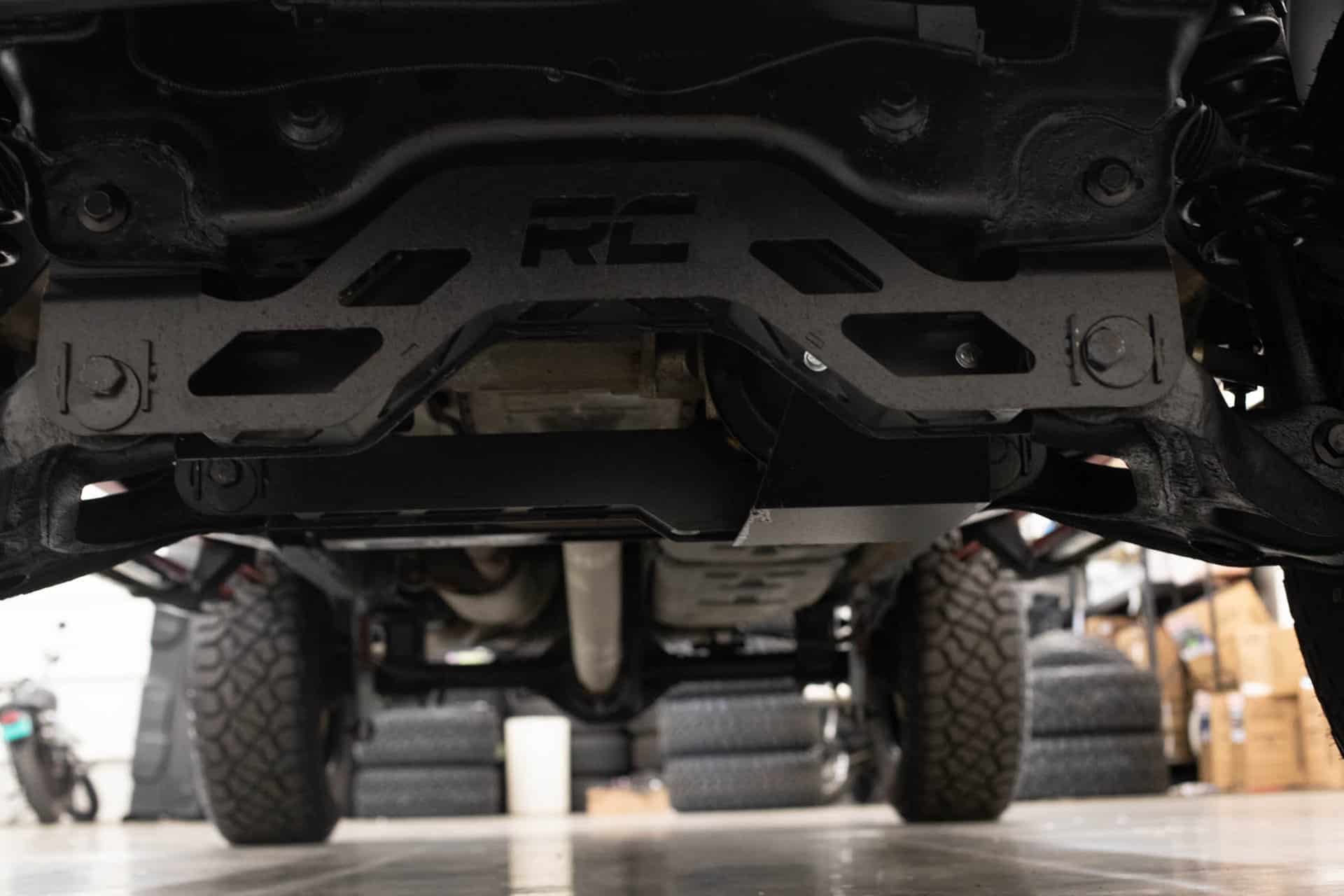 Carefully Choosing the
Top Truck Shock Absorbers
The kind of shocks you buy are going to have an immense effect on the handling and performance of your 4×4 vehicle. Some products are designed specifically for off-road driving, while others are instead meant for city streets or highways. The shocks you want will depend completely on what you plan on using your truck for. 
Consider both the style of shock absorber you're looking at, as well as the actual quality of the product. Those two factors will have the greatest effect on your truck at the end of the day. You can learn more about differentiating between high and low quality options, as well as different types of shocks available, in the following sections.
Best Ride Quality
Depends on Shocks
Whatever it is you're shopping for, quality is always important. You should always want the best for your vehicle, and that includes finding the best shock set that money can buy. Well, maybe that's not always the case. Sometimes it's better to save money now so you'll have more later on. That is why it's always a balance between quality and budget when it comes to vehicle accessories.
In general terms, the more you're able to spend on a rear or front shock absorber, the better performance you'll get. If you're on a tighter budget, you may only need to find something that meets the standards of your factory setup, but at a different size.
Some drivers, though, are looking for a boost in performance. If you want a set of shocks that will really take your truck up to the next level, you'll likely have to spend.
Twin Tube vs. Monotube
Shock Absorber
Twin tube and monotube variations are the two main distinguishing factors between shocks. Wondering what the differences between the two are? It's likely more simple than you think!
Twin tube shocks are often found in OEM setups. They're cheaper, and offer higher stroke versus the longer overall length of monotube options. If you have the room in your budget, and you want a higher performance out of your shocks, we strongly encourage you to go with a monotube option. While there are solid twin tube setups, they are few and far between, especially compared to a good monotube. Also, though monotube options may be harder to mount, the process ends up being worth it.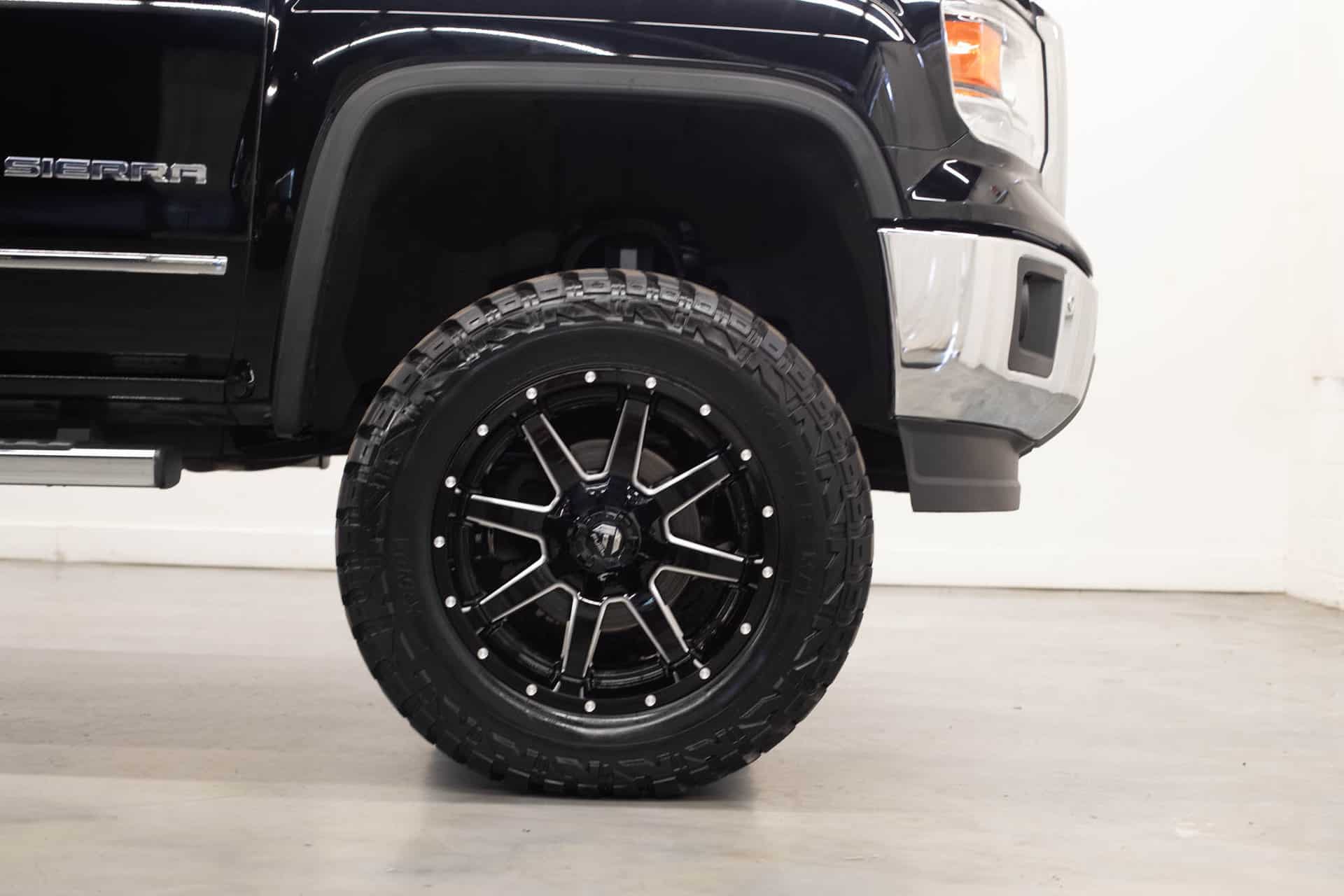 Types of Shocks Available for
Your Trucks
There are many variations in shocks beyond just twin tube or monotube. There are coilover shocks, some of which you were able to browse on our list above. They are twin tube shocks that utilize a coil spring for extra damping and stability. You can also find position damping and acceleration damping shocks, each suited to different purposes out on the road. By now, you should know that finding the right shocks for your truck depends upon how you'll be using it. Take some time to consider what style of shocks is right for your vehicle before you buy.
4×4 Truck
Maintenance Tips
Driving 4×4 trucks brings about some important differences between your standard vehicle. Some extra maintenance will be required, especially if you add on a few inches with a lift kit, or decide to also make some upgrades with your shocks. When you bring your vehicle in for standard maintenance, have your chosen pro check out every bolt possible. Tell them to make sure everything is tight and looks properly installed.
Bring Us Your 4×4 Truck for Quality Maintenance
At Ultimate Rides, we work on custom trucks day in and day out. Our team knows the inner workings of lifted suspension and also custom shocks, and we offer all the top products for your maintenance or any upgrades you may consider. If you're in the Chicago area, contact us and we'll be more than happy to take a look!
Driving with a Heavy Load –
The Right Shocks
Not all trucks are made to haul lots of extra weight in the bed, or are designed with long-distance towing in mind. If you plan on doing any of these things, it's important to get your vehicle set up right. One of the ways to do that is with the right road shocks. The vehicle is going to dip lower to the ground, most likely in the rear. Because of that, you'll want some shocks that can handle that extra pull. Something more stable, allowing your vehicle to stay safely on the road with your full control. If you're unsure, don't be afraid to talk to a helpful professional for some additional recommendations. The right team can get your vehicle set up with something great in just a short time.
---