Body Lift vs Suspension Lift: Lifted Trucks Guide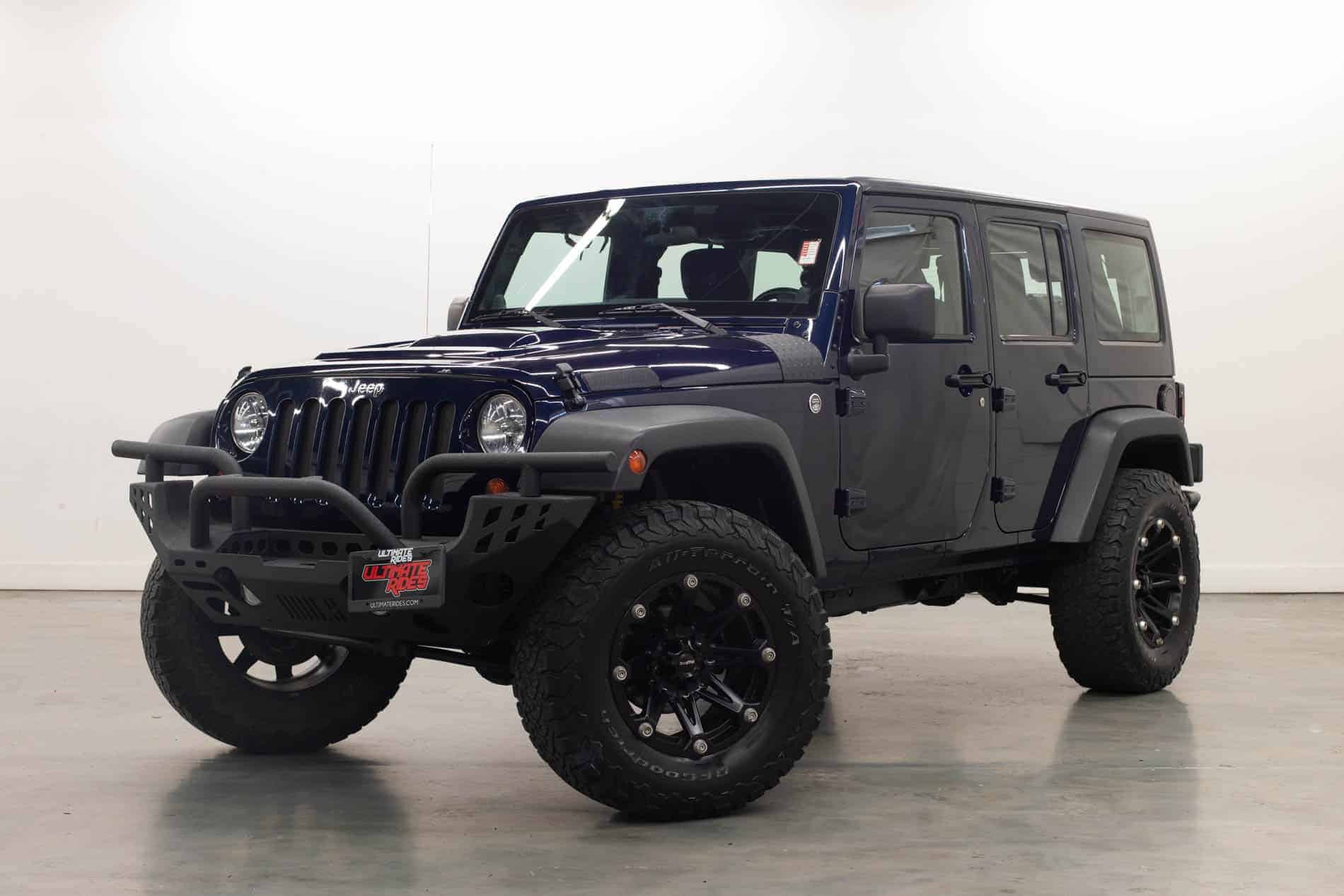 Choosing the Right Lift for
Your Truck or SUV
Are you thinking about installing a lift kit on your current vehicle, or buying your next ride with a lift pre-installed? If so, it's very important to learn about the two major types of lifts available. There are of course a number of similarities between the two types, as they're both meant to raise up your truck, SUV or even car. However, there are even more differences to be aware of when it comes to body lift vs suspension lift.
As experts in the field, who build and sell custom vehicles each and every day, we feel qualified to explain more on this topic. Once you feel informed and comfortable shopping for a custom ride, we encourage you to get in touch with our office. Not only will we be able to tell you about our inventory of lifted vehicles, but someone from our team will be happy to provide more information on the differences between these kits and what that can mean for you. For now, read on and see what we have to say about choosing between a body lift or suspension lift.
Body
Lift

vs Suspension

Lift

First, we believe it's important to explain what each of these setups actually consists of. A body lift is made up of a set of spacers, blocks or something similar that raises up the body of the vehicle without altering suspension. A suspension lift utilizes coil springs or similar objects to raise up every part of the vehicle including, as the name implies, suspension. Both options will allow you to install larger tires on the vehicle, though the size of the tires may be limited by your specific setup.

Along with that, they'll both provide greater clearance between your vehicle body and the ground, which can be useful for off-road situations. However, with a body lift, your suspension won't be moved, meaning it could still be in the way. The suspension lift and body lift are both becoming more popular with today's drivers, but not everyone knows the differences between the two. Do your research and consider what you'll be using the vehicle for, as well as your budget and personal preferences, before deciding on one over the other.
Pros and Cons of
Body Lifts
The biggest benefit of driving with a body lift is affordability. It's no secret that lift kits can get quite expensive. If you're on a strict budget, a body lift is likely going to be the choice for you. Additionally, it's much easier to install a body lift compared to one that alters your suspension. Though it still may not be an easy job for everyone, most people with a little bit of experience working on their vehicle should be able to get a body lift on their ride with just a few hours of time and some basic tools.
A body lift still offers the basic benefits of raising up your truck, SUV or car, but you should expect a dip in ride quality in many cases. Because they don't alter your suspension, you will likely find your steering is a little less responsive. Though a steering alignment can mitigate some of this change, it is a natural part of body lifts and is likely impossible to avoid completely. Additionally, a body lift will only be able to raise your vehicle from somewhere between 2 to 5 inches, a limitation not found on suspension lifts.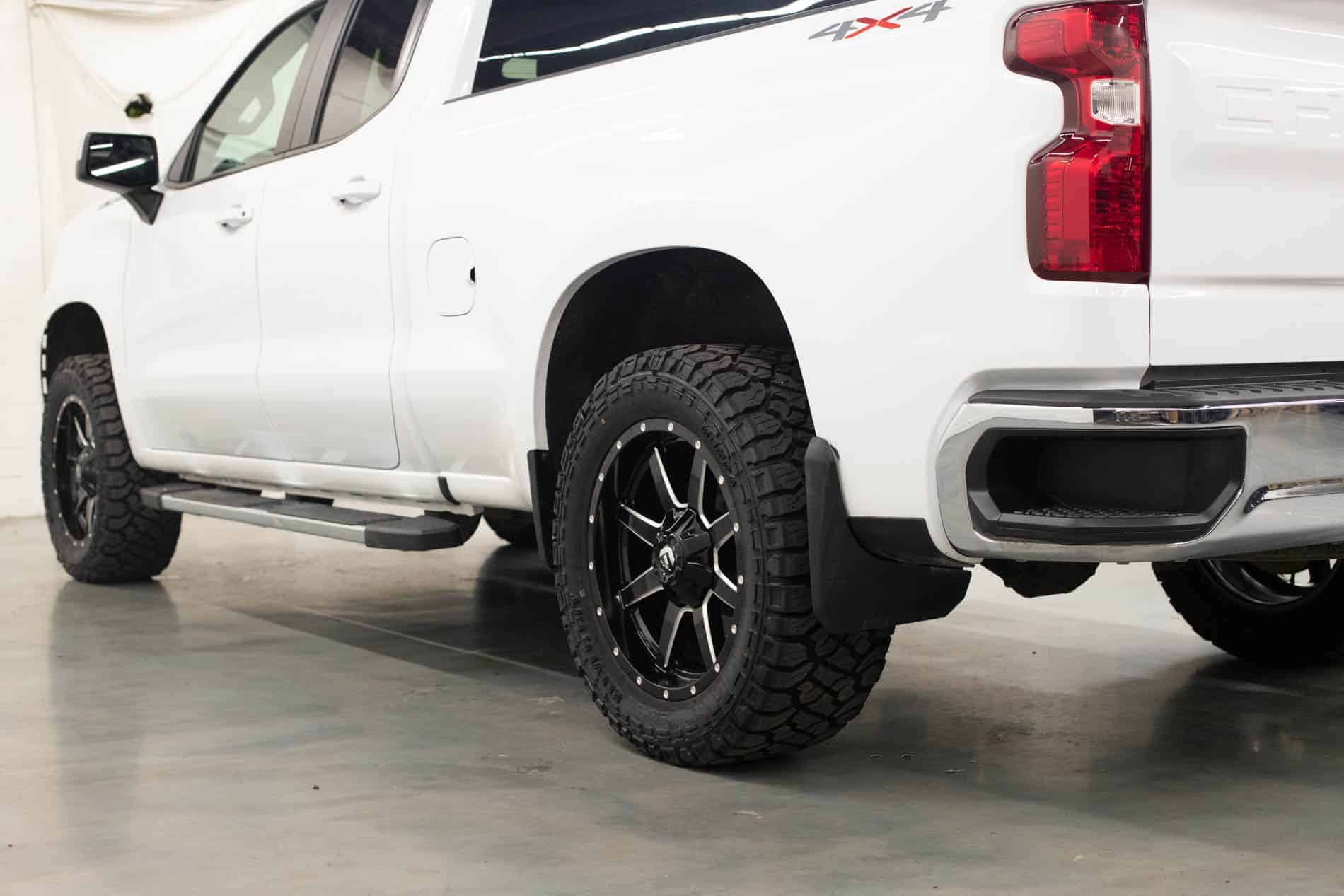 Pros and Cons of
Suspension Lifts
The biggest benefit to gain from driving with a suspension lift is that the entirety of the vehicle is raised. This is great for installing larger tires, as well as taking the truck or SUV off-road. You'll also be able to enjoy better handling and control compared to a body lift. These advantages come with altering the suspension of the vehicle, providing you with a much smoother ride both on the road and off of it. Additionally, you'll have the option to raise up the vehicle by more than that allotted by a body lift. A high-quality suspension lift could increase height by up to 9 inches!
Though there are many benefits to a suspension lift, there are a couple of drawbacks to be aware of as well. These systems can get pretty costly, especially if you include the cost of installation. Speaking of installation, a suspension lift is going to be much more difficult to install and may not be possible except for those with a great deal of experience and the right equipment.
At-Home
Lift Installation

vs Professional

Lift Installation

Deciding whether or not you're going to install your own lift depends on a number of factors. Do you have experience working underneath vehicles? Do you have all the right tools? Are you ready to put some time and effort into researching the installation process so you'll know what to do? If the answer to all of these questions is yes, then you may consider attempting to install a lift at home.

Otherwise, we strongly encourage you to opt for professional installation, especially if you've chosen a suspension lift kit. A body lift is easier to install in almost every situation, but it still could be more complicated than some folks are ready to handle. We encourage you to check out some tutorial videos that deal with your specific vehicle and suspension or body lift kit. This should give you a better idea on whether or not this is something you can complete at home. If it's not, check out our Ultimate Rides lift center and decide if we're the right team to help you out.
Best Body
Lift Kits
The first brand we'd recommend for a body lift kit is Rough Country. They've built up their name over the years, and have become a top provider of accessories of all kinds for vehicles. They have options for tons of different models, including Jeep vehicles as well as Ford, Chevy and Ram pickup trucks. If you don't find a Rough Country product that suits you, we encourage you to check out body lifts from Daystar, WULF or TORCH Off-Road. Each of these companies manufactures a variety of body lift kits, and we're confident you'll find an option that suits your vehicle without too much trouble.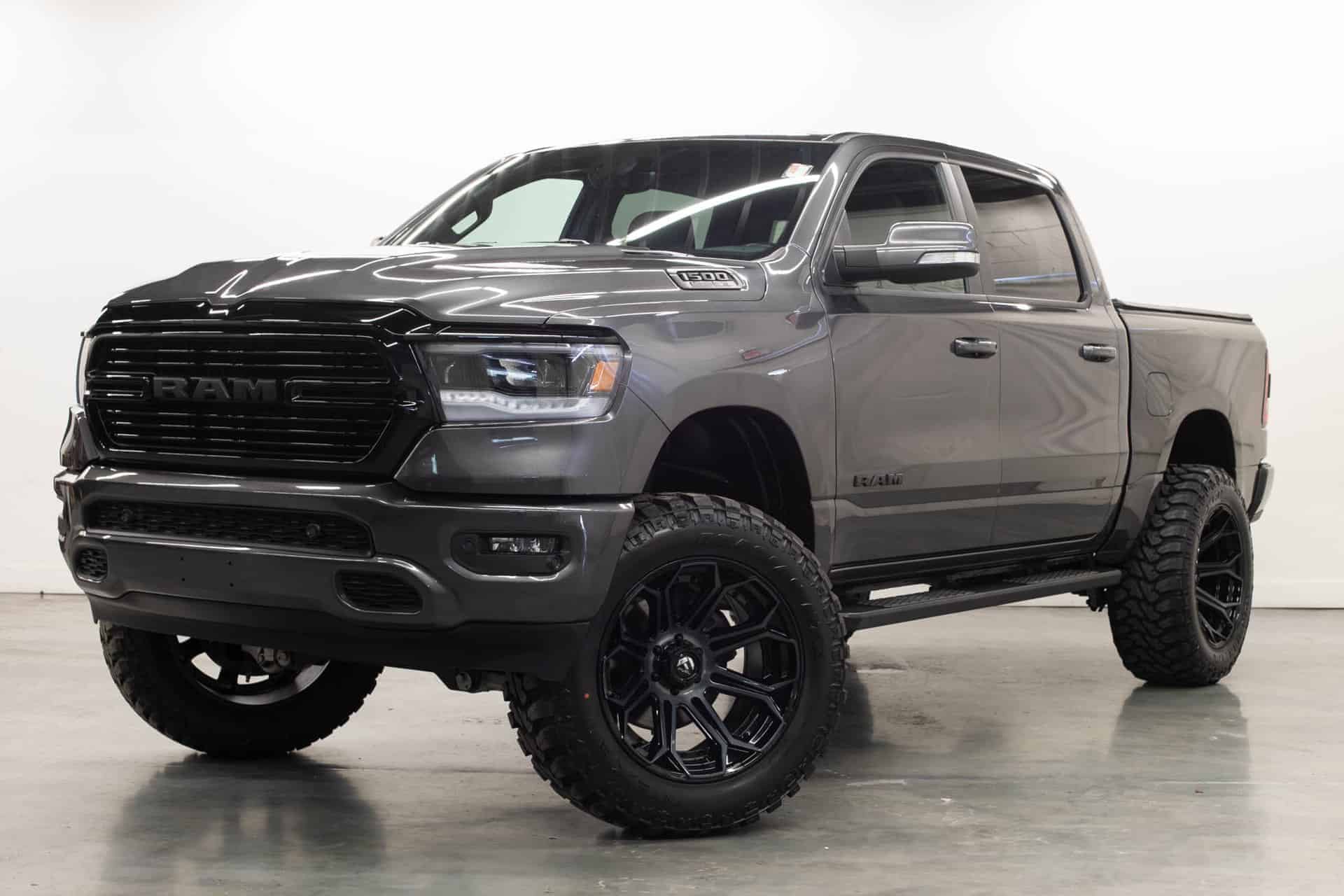 Best Suspension
Lift Kit
When it comes to choosing a suspension lift system, you'll have quite a few options in front of you. That includes more kits from Rough Country, and they're a very good mid-tier choice for drivers. It'll allow you to save a little bit of money while still finding an excellent quality kit to improve your suspension. Keep in mind that they manufacturer suspension lift and body lift products. Shop carefully to make sure you know what you're getting before you buy. Beyond Rough Country, there are more expensive choices out there that offer even more quality.
That includes the company Skyjacker, as well as Superlift. Both of those companies offer high-end suspension systems that can raise up your vehicle by anywhere from 2 or 3 to as much as 6, 7 or even 8 inches. They're going to cost you more, but drivers who install them find the difference in ride quality to be quite astounding. The installation process becomes much more confident at this level, with important tweaks made to suspension that can take lots of time and require specific equipment. Still, we're confident you can find a lift setup from one of these companies that will suit your on-road and off-road needs.
Driving a
Lifted Truck
Whether you choose a body lift or a suspension lift, it's going to change the way you drive. That works out in obvious and some not-so-obvious ways. We've already mentioned that some lift kits will affect handling and ride quality. If you get a high-end lift kit with proper installation, this shouldn't be as much of a problem for you. However, all drivers will have to realize that the center of gravity on their truck, SUV or car is higher. This can make it easier to tip over while taking sharp turns, so take extra care to go slowly in these situations. Lifted vehicles also tend to use more fuel, so you'll wind up spending more at the pump over time.
There are benefits to be had from driving these custom vehicles as well. You'll be able to see more clearly over the vehicles around you, giving you more awareness of the road. There are also the advantages to off-road driving, especially with suspension systems, with some vehicles letting you easily make your way over and around obstacles. Plus, and this is probably the most common reason for people to lift their vehicles, you'll be able to enjoy an amazing new look for your ride. Most drivers decide to install these improvements simply for the look, but over time come to enjoy the other advantages the setup has to offer.
Conclusion:
Body Lift or Suspension Lifts
Now that you have all the information we've presented, do you feel as though you can make an informed choice between a suspension lift or body lift? It's an important decision, and one that we would encourage you not to rush. If you're still feeling unsure, don't hesitate to get into contact with a team of professionals who can offer more individualized advice. Our crew at Ultimate Rides is standing by to help. In addition to selling custom lifted vehicles, we have a service center on-site where our technicians install these upgrades on a daily basis. Though we tend to prefer a suspension lift system, we can certainly acknowledge that it's not always the right choice.
A suspension lift will help ensure you maintain or even improve ride quality. Additionally, they'll offer greater clearance, always important when you head off-road or want to install large tires. Just be aware that suspension systems can cost a pretty penny.
While, in general, suspension lift systems offer better results, there are definitely advantages to be had from a body lift as well. Without knowing your budget or what you're trying to achieve, it's impossible to say which is better for sure. Spend some time thinking about both, and then start shopping for a specific system to install on your ride. Always take into account the difficulty or cost of installation while shopping around, and remember that altering suspension is going to be harder to accomplish at home compared to the simpler body lift installation.
Whichever option you choose, as long as you choose wisely, we think you'll be happy with the end results. Just make sure to pick a team that you fully trust to install the new system on your truck or SUV! Otherwise, you may run into safety or quality complications down the line that could end up costing you even more.
Reach out to Ultimate Rides today at 815-634-3900 if you have any questions. You can stick around and check out the inventory on our website to get a better idea of what we can accomplish, and if you find yourself in the greater Chicago area, you can visit our office at 38 W. Division St., Coal City, IL 60416. We can't wait to dig into the details with you and share our passion for suspension and body lifts!
---