Ford Lifted Trucks | Lifted Ford Experts at Ultimate Rides
Custom Ford Trucks Available Nationwide
For quite a long time now, Ford pickup trucks have been the most popular choice for Americans, outselling the wide range of competitor brands available to drivers. However, if you're looking for a custom Ford model, especially one with high-quality upgrades and in great condition, your choices may still be quite limited. That is, unless you shop at Ultimate Rides. We provide customers across the country with an inventory full of high-end lifted trucks, including a number of options from Ford.
Our team at Ultimate Rides works hard to bring in the best vehicles we can find, new and used, and upgrade them for you. While that includes plenty of lifted Ford trucks, it also includes options from Ford's competitors such as Chevy or Ram.
Best of all, our stock of vehicles is open to customers across the United States. We offer fast shipping with available financing, allowing you to customize your vehicle in our shop and have it sent out to your home. You'll be able to take care of the entire process over the phone, and we encourage you to give us a call as soon as you're ready for more information. Once we have all your information and know what kind of upgrades you'd like for your next truck, our team will get to work. From the time that the vehicle is ready, it'll be a week or less before it arrives to you.
Learn About the Ultimate Rides Lift Center
The custom trucks we sell at Ultimate Rides, whether they are new or used, are all upgraded by our team of technicians. We have our own lift center on-site, outfitted with all the latest equipment and technology to upgrade vehicles. That alone isn't enough to offer the best vehicles, however. That's why we employ a staff of ASE-certified expert techs, all with plenty of experience working on lifted trucks. They do the hard work required to improve upon our already-awesome Ford vehicles, as well as anything else you see in our inventory that catches your eye.
Any time you buy a vehicle from the Ultimate Rides inventory, you'll have an opportunity to customize it the way you want. You'll even be able to choose if you'd like to cover the costs separately from your ride or include it in your vehicle financing plan. We make it easy to start driving a lifted truck that includes all the feature you want, both inside and out.
You can trust our team to provide the absolute best work possible, for both our own inventory as well as vehicles our customers bring to us. That's right! Our service center is open to more than just our own rides. Call us to schedule an appointment, and you'll have a chance to share with us what type of upgrades you're seeking. By the time we're done, we're very confident you'll love what our team has to offer.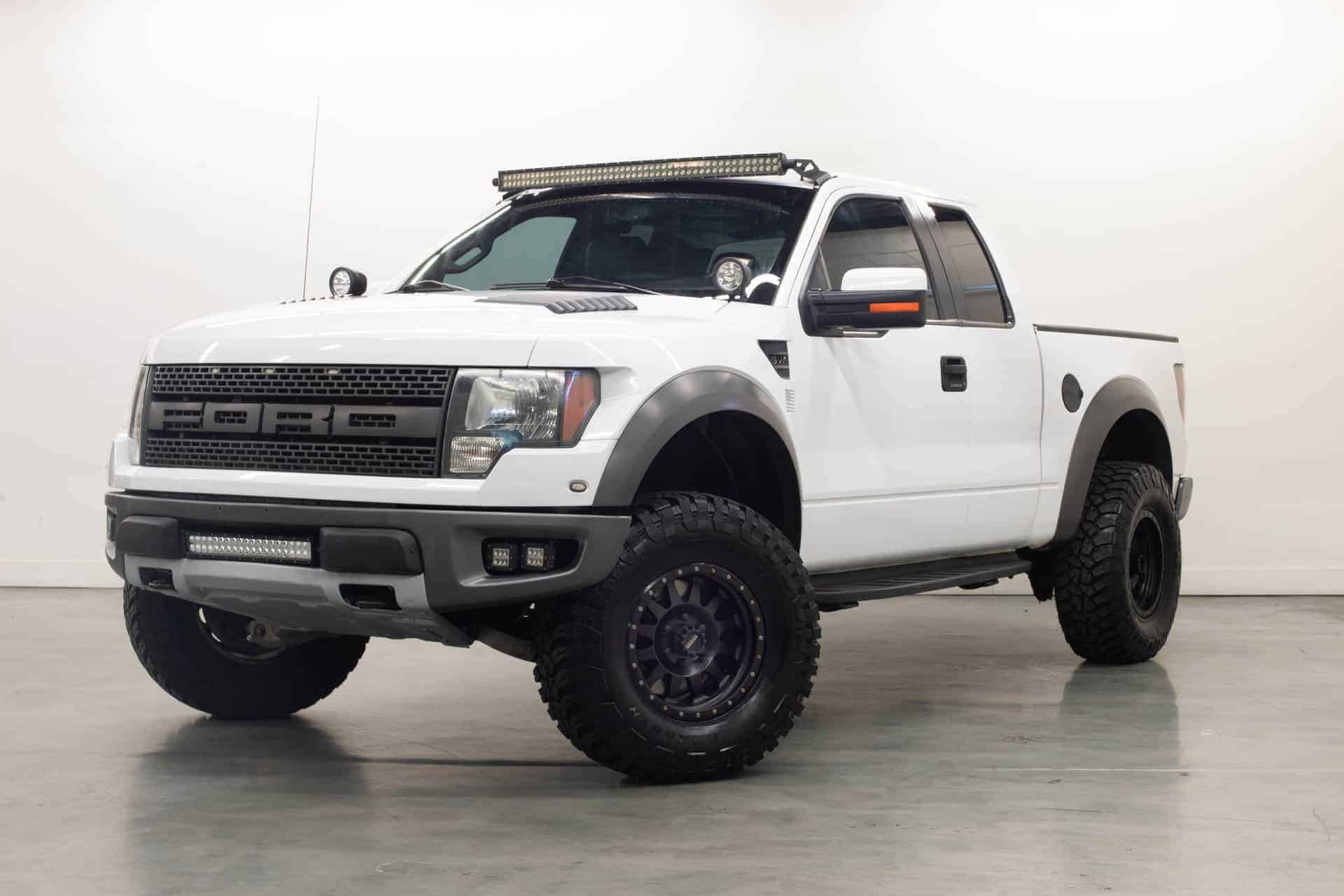 Drive the Custom Ford Truck of Your Dreams
There are countless different ways you'll be able to customize a Ford pickup truck in our shop. Lifted suspension is probably the most popular choice for modern drivers, and it can be found on the majority of our Ford trucks already. However, we're always able to adjust the height for you, as well as adding on other extras. We can add on custom LED lighting, new wheels and tires, a fresh paint job, running boards, a stereo system, engine performance chips, tinted windows, and so much more. The only limit to your custom Ford truck is your own imagination.
Worried about the price of these upgrades? Have no fear. Just like our vehicle shipping, drivers will have an opportunity to finance the cost of their upgrades. By including them with your standard vehicle financing plan, you'll simply raise the price you pay each month by a small amount. In return, you'll have access to the custom lifted vehicle you've been dreaming about. Just share your vision with us, and our team will get started right away on your new or used Ford!
Rust-Free Ford Lifted Trucks at a Good Price – New or Used
All the vehicles we sell at Ultimate Rides, including our Ford lifted trucks, come free of rust. Corrosion is very common on older vehicles. Just visit your local auto dealership and you'll likely find some. We want to offer a different caliber of vehicle here at Ultimate Rides, so we go out of our way to find the best options available and present them to you. Anyone shopping around for a Ford pickup is encouraged to take a look at our inventory. Though the price of the vehicles we have in stock may be higher than what you'd find at your local dealership, that's because each one is of the utmost quality and features upgrades from our team. If you account for the money you'll likely need to repair and upgrade lesser-quality models, you'll likely find that you saved money in the long run.
The process of finding these rust-free trucks from Ford and other popular manufacturers isn't always easy. However, we are confident that it's worth all the extra effort. Rust can be a major indicator of how a vehicle has been taken care of. In other words, if you see rust, there's a good chance the truck hasn't received the greatest maintenance.
In order to find these vehicles, we send our buyers out to warmer areas of the country, where it's somewhat easier to keep them in good shape. Our team picks out the best options they can find, and we get the vehicles back to our shop. From there, each model goes through an inspection to ensure it meets our standards. Just as long as it does, we'll outfit it with some upgrades and list it in our inventory.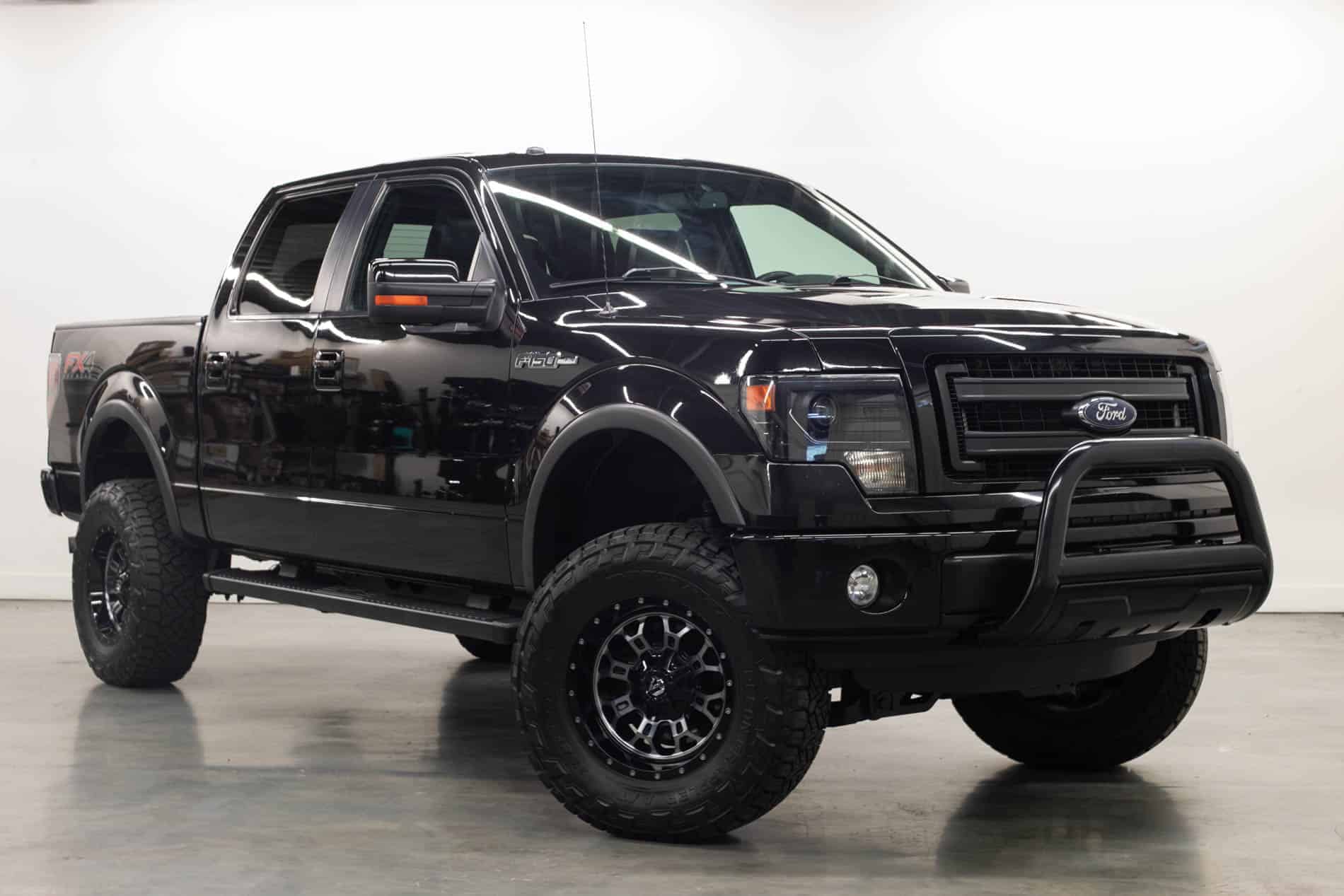 Passionate Customer Service for All
It's not just our vehicles that set Ultimate Rides apart from other auto dealerships. It's also the way we treat our customers. It's no secret that the auto sales industry doesn't have a great reputation for customer service. For years, we've worked to change that reputation. Whenever you call us or pay our office a visit, you'll be met by a friendly and knowledgeable member of our sales team. They'll be here to answer any of your questions or offer information on our vehicles. You'll be able to complete the entire process of buying a vehicle over the phone, and we'll be happy to provide you with further pictures and details before you make any decision.
We also have the ability to track down hard-to-find vehicles for you. If there's something you want but don't see in our inventory, make sure you let us know. With a deposit, our team will be able seek it out for you. We see countless vehicles from manufacturers like Ford, Chevrolet, Ram, Toyota, and more in our travels. It shouldn't be too long before we find what you're looking for.
There are other ways we can help out, too. If you're coming to visit our office in-person and need transportation from the airport, let us know and we can hook you up. If there is a way we can go above and beyond to assist you, we'll do so. Just give us a call and we can begin!
Repairs and Maintenance for Your Ride
Our shop is here for more than just custom upgrades for trucks. Our ASE-certified techs are fully capable of handling tough repairs as well as everyday maintenance. We provide service for Ford F-Series trucks, as well as any other vehicle you have to bring to us. Most importantly, our team has a lot of experience working on lifted trucks. This is not the case at most auto repair centers. If you drive one of these vehicles, it's important to find the right team to repair and maintain them. Otherwise, your mechanics could be lacking important knowledge necessary to keep the truck in good working condition.
If you need a team you can trust with your Ford, we're here for you. Just call to set up an appointment and let us know what's wrong. If you need to have the vehicle towed to us, that's perfectly fine as well. All you have to do is let us know when it's coming. From there, our team will start diagnosing the problem if necessary, or we can begin our repairs. Though we don't rush anything, we do work hard to get the vehicle back to you as soon as possible.
Does it sound like Ultimate Rides may be able to help, either with repairs or finding you a custom Ford? Give us a call today at 815-634-3900 to learn more or to find your next vehicle. If you'd like to come meet with us, you'll find our office at 38 W. Division St., Coal City, IL 60416.
---