Best Off Road Cars | Top Vehicles from Ultimate Rides
Best SUVs and Trucks for Off-Road Action
When planning on taking your vehicle off-road, it may be tempting to search for off-road cars rather than SUVs or trucks. However, you're not going to find a car that can safely take you off-roading without risking a great deal of damage to yourself or your vehicle. Take it from the experts at Ultimate Rides – you're going to want to find the best SUVs and trucks if you want to drive off-road. With that in mind, we've put together a short guide that highlights some of the best vehicles to consider taking off-road. You'll see a few options from Jeep, as well as a couple of Land Rover vehicles, and a Toyota pickup truck. These aren't the only vehicles you can take off-road, but they are some of the top choices to consider. Get in touch with us and let us know if you're interested in any of the models we have for sale here, including vehicles from Ford, the Jeep Wrangler, and so many more. We'll get your new ride set up for off-road adventure, and you can even count on us to bring the vehicle right to your home. Click the button below to browse our current inventory and feel free to give us a call!
Jeep Wrangler Rubicon
While the Jeep Wrangler is always a great vehicle to take off-road, the Jeep Wrangler Rubicon is an even better choice. It offers four-wheel drive, a powerful engine, and a wide range of other features based on your chosen model year. You could have access to easy-to-use steering wheel paddle shifters, helping you stay in control of your vehicle's gear without taking your attention off the terrain ahead of you. Additionally, many of these Jeep Wrangler models include amazing interior comfort. That includes premium luxury seats, a high-tech instrument cluster, a 120V AC outlet and so much more. Get in touch with our team if you're interested in a new or used Wrangler Rubicon, and we'll make sure it's set up with everything you need to be one of the best off-roading vehicles available today.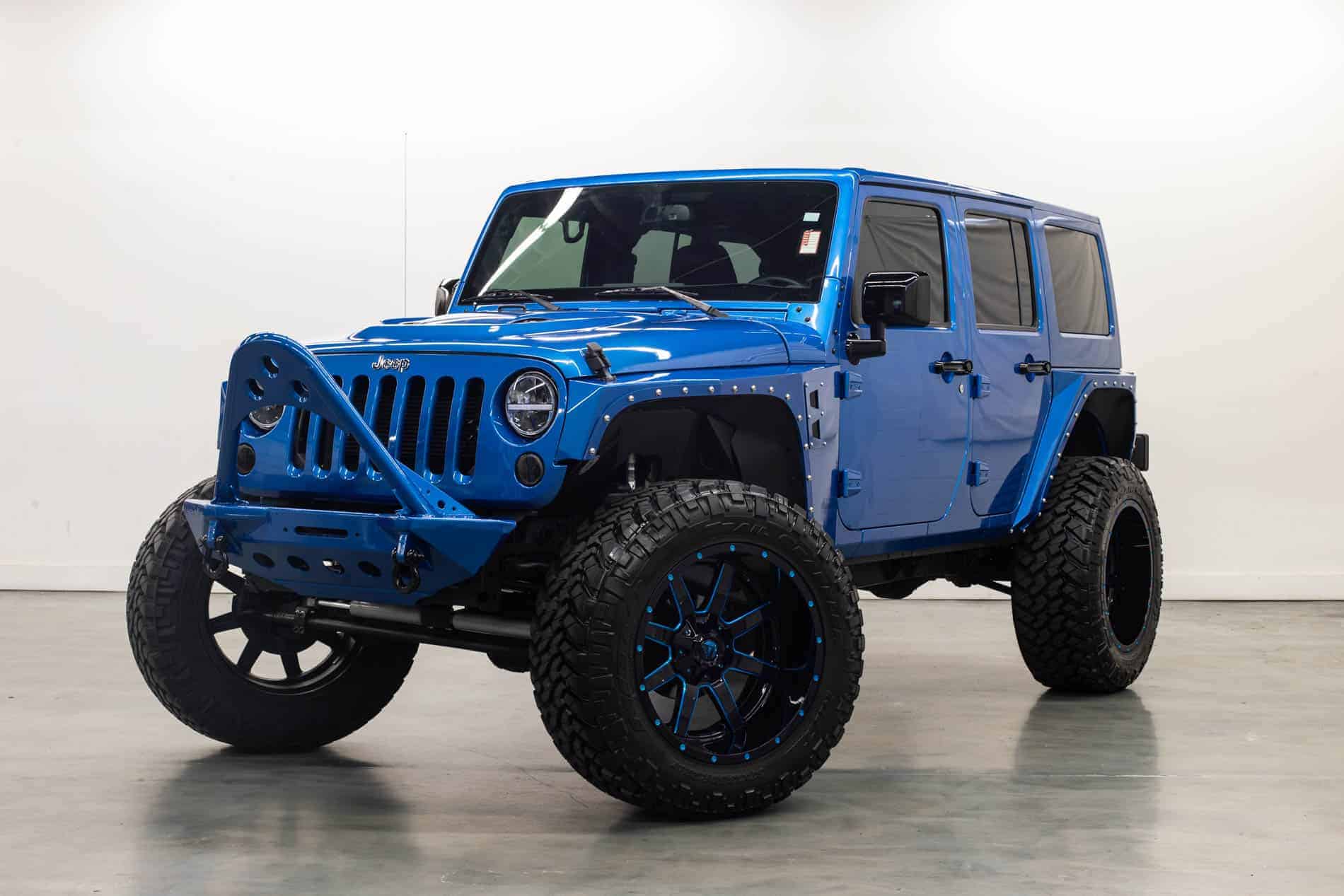 Land Rover Discovery
One of the things the Land Rover Discovery is best known for is seating for up to seven people. However, it's able to accomplish much more than just that. With the right under-the-hood configuration, drivers will be able to get 296 horsepower out of the vehicle. In addition to that, with the right suspension setup, you'll be able to tackle just about any off-road situation life has to throw at you. It has strong towing capabilities, as well as a fantastic assortment of interior features to keep you and your passengers comfortable across any terrain type. With LED headlights, a 3D surround view camera system, emergency braking, and more capabilities waiting for you, we strongly encourage you to look into a custom Discovery from Land Rover.
Jeep Grand Cherokee
Another Jeep vehicle that you'll want to consider for off-road driving is the Grand Cherokee. The Jeep Grand Cherokee is extremely versatile, with many models providing manual shifting as well as a 4×4 system. If you go with an older model, you can often save a lot of money while still buying yourself one of the best SUVs to take off-road. Ultimate Rides will be here to help you find one in excellent condition. Take a look at the model below for an example of what we can offer. It features a front towing winch, as well as plenty of LED lighting and some extra potential storage up above. With improved suspension and custom tires, you'll be ready to hit the trail in no time.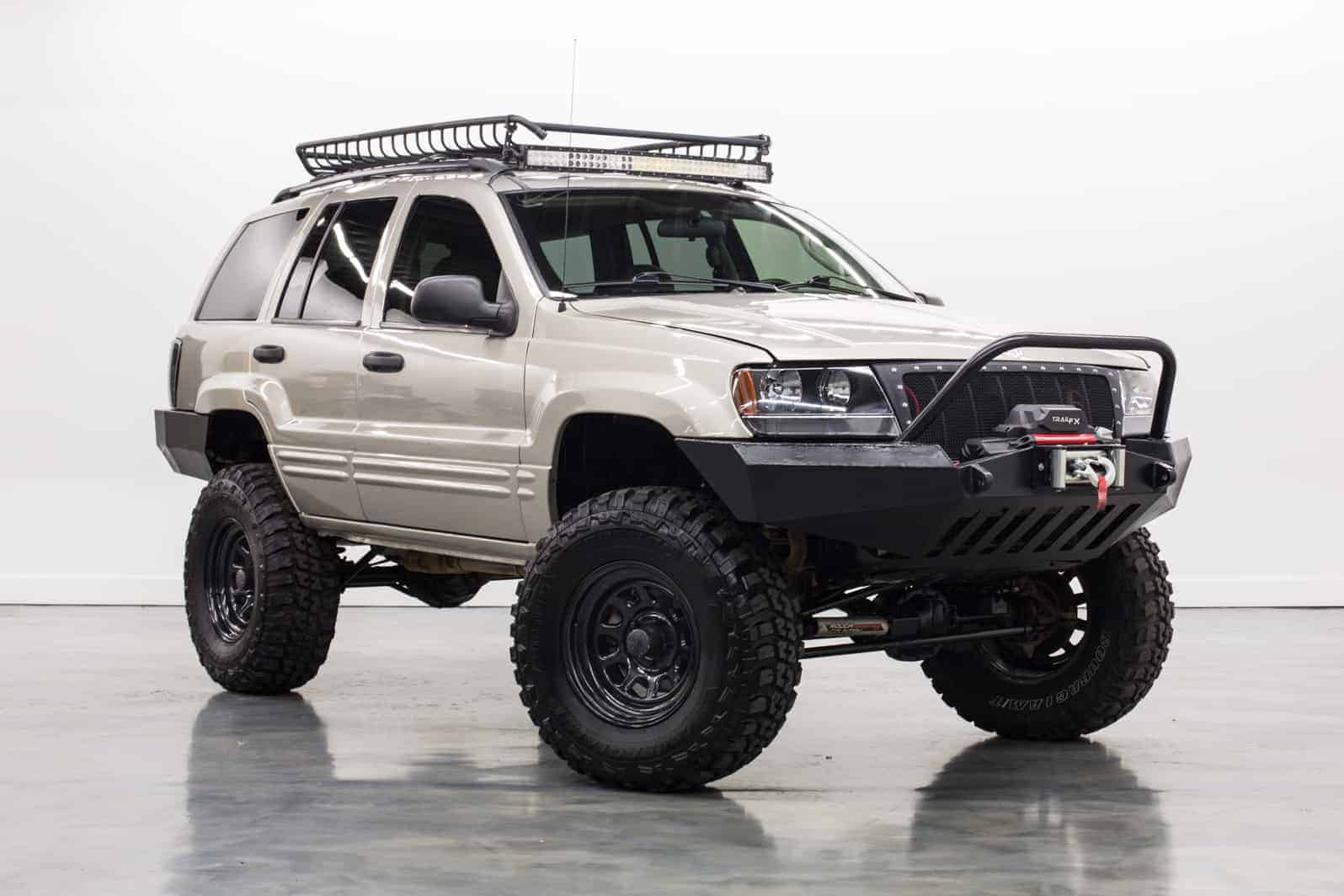 Land Rover Defender
The Land Rover Defender is another strong choice to take on the trail. It's an SUV that has been around for quite a long time, and Land Rover has done a lot to keep the vehicle upgraded with the times. It's highly durable, able to withstand the rough driving that comes from leaving paved roads. At the same time, newer models will offer useful technology and comfort features that will allow you and your passengers to enjoy spending time driving. Different trim levels and feature packs will help you prepare for anything, and you can always count on Ultimate Rides to fill in gaps in your SUV's capabilities. Check out this Land Rover and let us know if it seems like the right choice for you.
Toyota Tacoma TRD Pro
Looking for a pickup truck rather than an SUV? The Toyota Tacoma TRD is a great option, especially the Pro edition. The Tacoma TRD Pro offers impressive features and capabilities, such as LED headlights, a blind spot monitor system, and a set of internal bypass shocks from Fox, one of the best providers of suspension upgrades on the market. The model even features a 1.5 inch front lift to help you leave the road safely without worry about damaging the vehicle. Remember that Ultimate Rides can help you raise up that front end even further, along with the back of the truck. Take a look at this Toyota pickup and figure out if it's the one for you.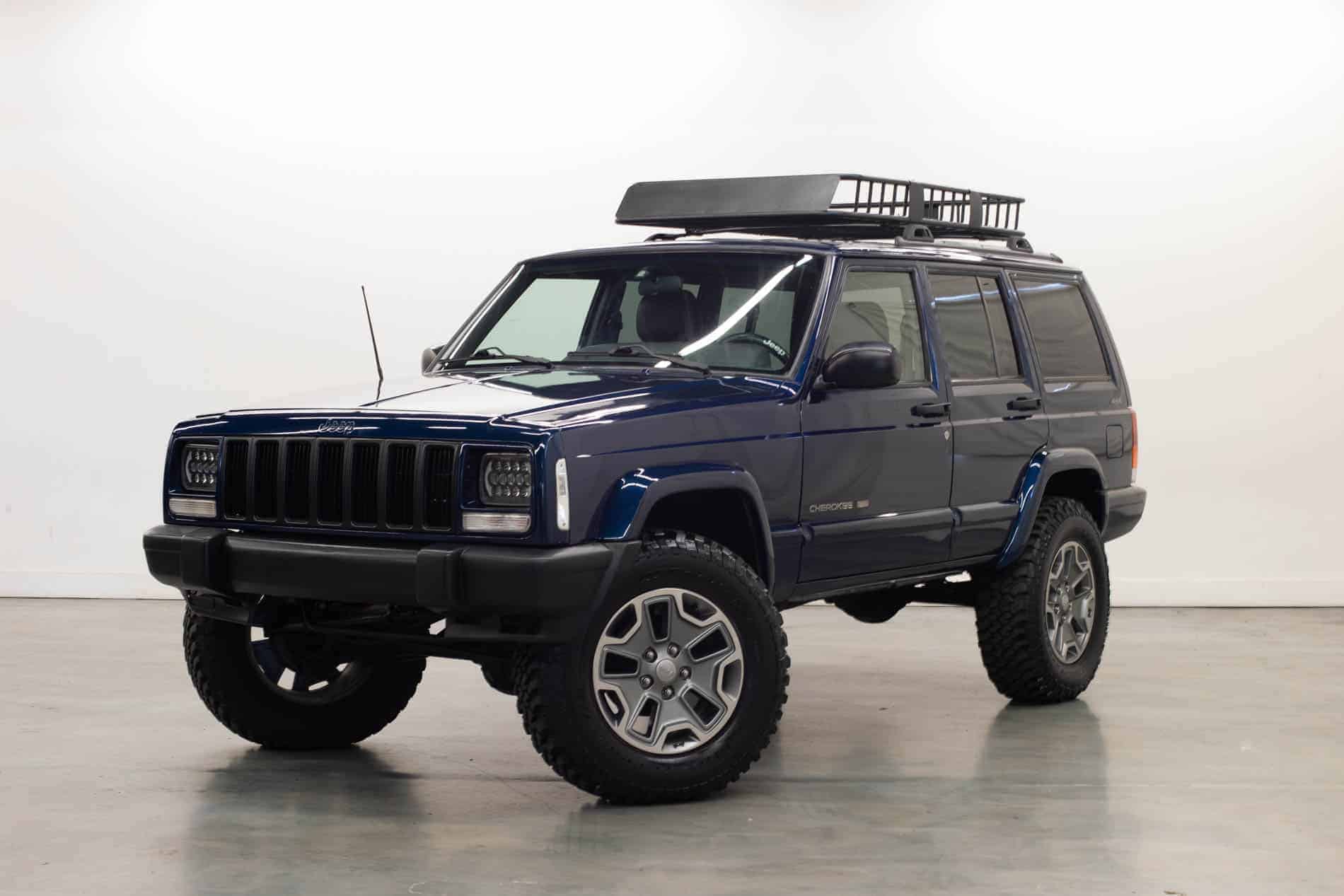 Customize Any Vehicle at Ultimate Rides and We'll Ship It To You
No matter what vehicle you decide to start driving, from a Jeep Wrangler to a Ford Bronco, Ultimate Rides can set you up with everything you need for the best off-road experience. That's because we have our own custom service center, with a staff full of ASE-certified expert technicians. The models in our inventory already feature upgrades such as suspension lifts for both the front and rear end, which is one of the most useful add-ons to have while heading off-road. In addition to that, customers will have the option to make as many changes as they'd like to the vehicle before we send it out to them, with the ability to include the cost of these upgrades in their vehicle financing deal.
You heard that right – we have the ability to ship the best off-road vehicles right out to your home. Whether you live down the road or across the globe, we'll get one of our trucks or SUVs to you in just a matter of days. Just like with our vehicle upgrades, you'll even be able to include the cost of shipping in your financing deal. Take a look at our inventory to check out some of the top Ford, Jeep, Toyota and Land Rover models. Then reach out to us to let us know how we can further upgrade the vehicle to your needs, and we'll ship it out as soon as it's ready, with the vehicle arriving to you within a week. That's just one of the things that makes Ultimate Rides one of the best places to shop for off-road models.
Best Upgrades for Off-Road Vehicles
While a suspension lift for the front and rear end of your vehicle is going to be the most effective way to prepare for off-road action, it's far from the only upgrade you should consider. Having a high-quality spare tire designed for off-road use is important, as well as four-wheel drive with a good transfer case. Speaking of tires, there are a number of tires out there designed specifically for off-road use, and you'll find the best performance if you go with one of those options. Here at Ultimate Rides, we carry all the top brands of parts and accessories, and are always more than happy to recommend certain upgrades specific to your off-road needs. Get in touch with us to have a conversation about the best way to improve your performance off-road. The experts on our team will have plenty of advice to share, and we can always get your next vehicle set up exactly the way you want, no matter what you decide to start driving.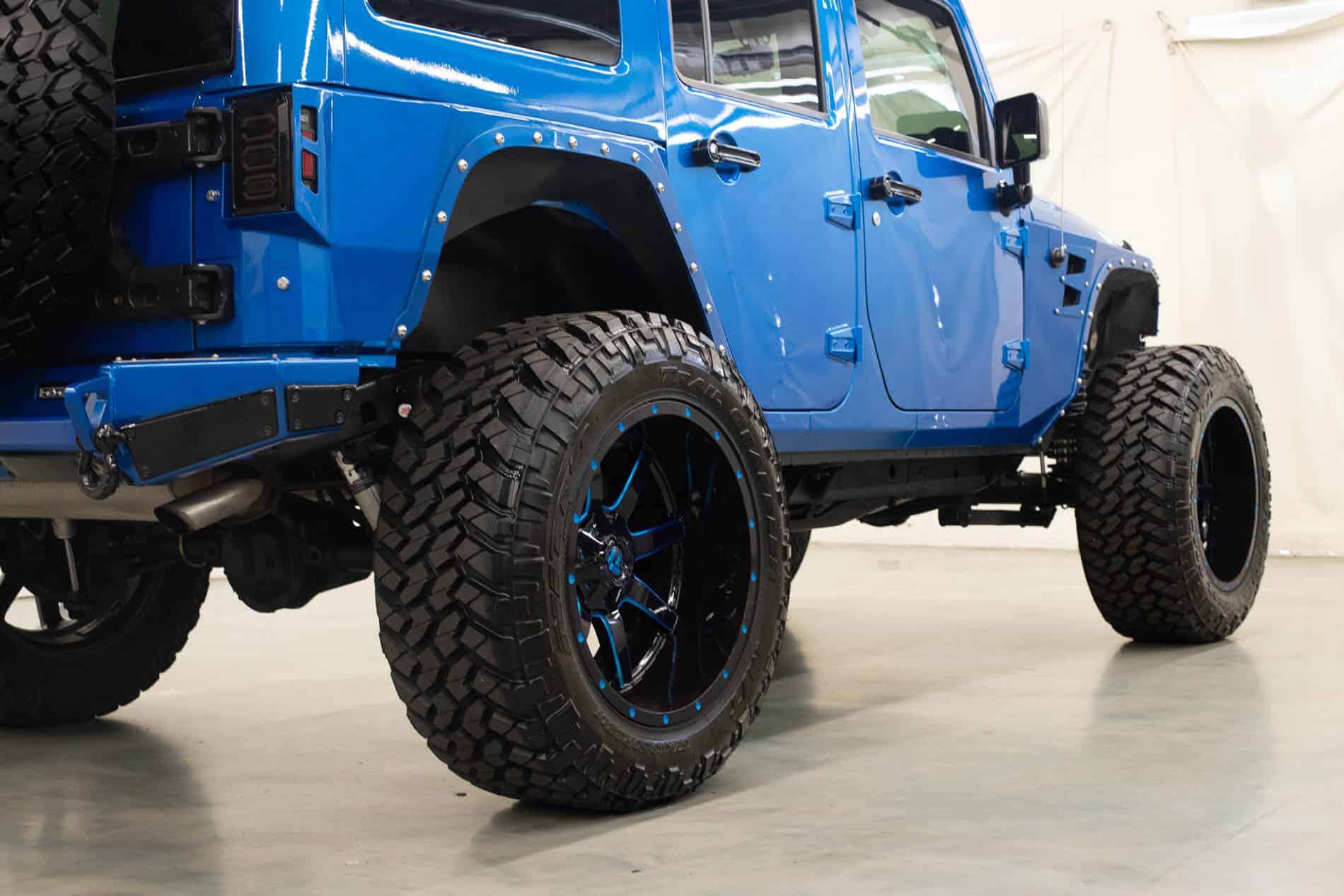 Why You Should Choose Ultimate Rides
Beyond all the reasons we already listed, there are additional benefits that should make you consider Ultimate Rides for your next vehicle. One of the best reasons to shop with us is the fact that all of our rides are rust-free, and have been carefully inspected to make sure they meet the high standards of our dealership. We employ a team of buyers who we send out to various parts of the country where they can find the highest quality used SUVs and trucks. They bring those models back to our HQ, where each one is thoroughly looked over in our service center by our technicians. As long as the vehicle meets our standards, we outfit it with upgrades and list it in our shop for you to browse.
If you take a look through our inventory and don't find what you're looking for, don't worry. We have the ability to locate specific models for your needs. Just tell us what you'd like to start driving, such as the new Ford Bronco. Our team will go out in search of the vehicle, inspect it front to back to make sure it's in the best condition, and bring it back to our HQ to upgrade for you.  Just let us know how our team can help and we'll get on it right away!
Maintenance Tips
It's no secret that off-road vehicles go through more wear and tear compared to a standard model. That makes maintenance all the more important, especially if you want to keep your vehicle around for a long time to come. While everyone knows about the basics such as oil changes, fluid checks, and tire rotations, custom off-road models require some extra steps to make sure they're in good running order. You'll want to bring your vehicle to an expert who can check and make sure that all the right bolts remain tight, and you'll want to stay even more up to date on your tire pressure. Your transmission, differential, front and rear suspension, and shocks could all be more likely to take damage while off-road, so be sure to learn how you can check these things out yourself, or prepare for regular maintenance visits. It's definitely not a bad idea to find a custom vehicle shop that you can trust, as there are many different steps involved in maintenance and you'll want to bring your vehicle in on a regular basis.
Does it sound like Ultimate Rides is the right place to find your off-road vehicle? Whether you want one of the vehicles shared in today's guide or something different like a Ford F-150, get in touch and we'll undoubtedly be able to help you out. We're located an hour south of Chicago at 38 W. Division St., Coal City, IL 60416 if you're in the area. Otherwise, you can contact us over the phone today at 815-634-3900. We can't wait to help you out, so don't be shy about calling us soon!