Best Off Road SUV Under 15K | Top SUVs
Top Off-Road SUVs for Sale at a Good Price
Compared to cars or trucks, SUVs are usually considered the best choice to take off-road. This is true for a variety of reasons; they're larger than a car but smaller than most trucks, often feature four-wheel drive, and will usually provide better ground clearance when compared to a pickup. On top of this, it shouldn't be too difficult to customize your next SUV to get it perfectly suited for going off-road, and you can still come in under budget. With the right SUV, you can have a great experience on the trail without worrying about damaging the vehicle. However, there are some SUVs that are better suited to take off-road, especially if you're trying to stay under a budget of $15,000. Below we'll share with you a few of our recommendations for good SUVs to consider, including some that you can likely find for sale in our inventory. Take a look and decide if any of these models could be right for you, either on the road or off of it.
Jeep Cherokee and Jeep Wrangler
When it comes to off-road driving, few if any do it better than Jeep. The great news is that you can get a quality Jeep model for under your desired budget. Whether you prefer small or large SUV models, the right option is waiting for you. The Jeep Wrangler is our top choice for off-roading, and it shouldn't be too hard to find an older model for under 15K. You'll have to decide if you prefer the two-door or four-door variation. We recommend two-door, as smaller SUVs are easier to maneuver off-road, but both should work out fine for you. If you need something even more affordable, we'd suggest looking into Jeep Cherokee SUVs. They're just as capable off-road with the right modifications, and you can still find retro models in great shape for a good price. If you want something a little bigger, you can even opt for a Jeep Grand Cherokee. It won't be hard to find these vehicles for sale, but just make sure you pick one up that's still in great condition if you want the best results.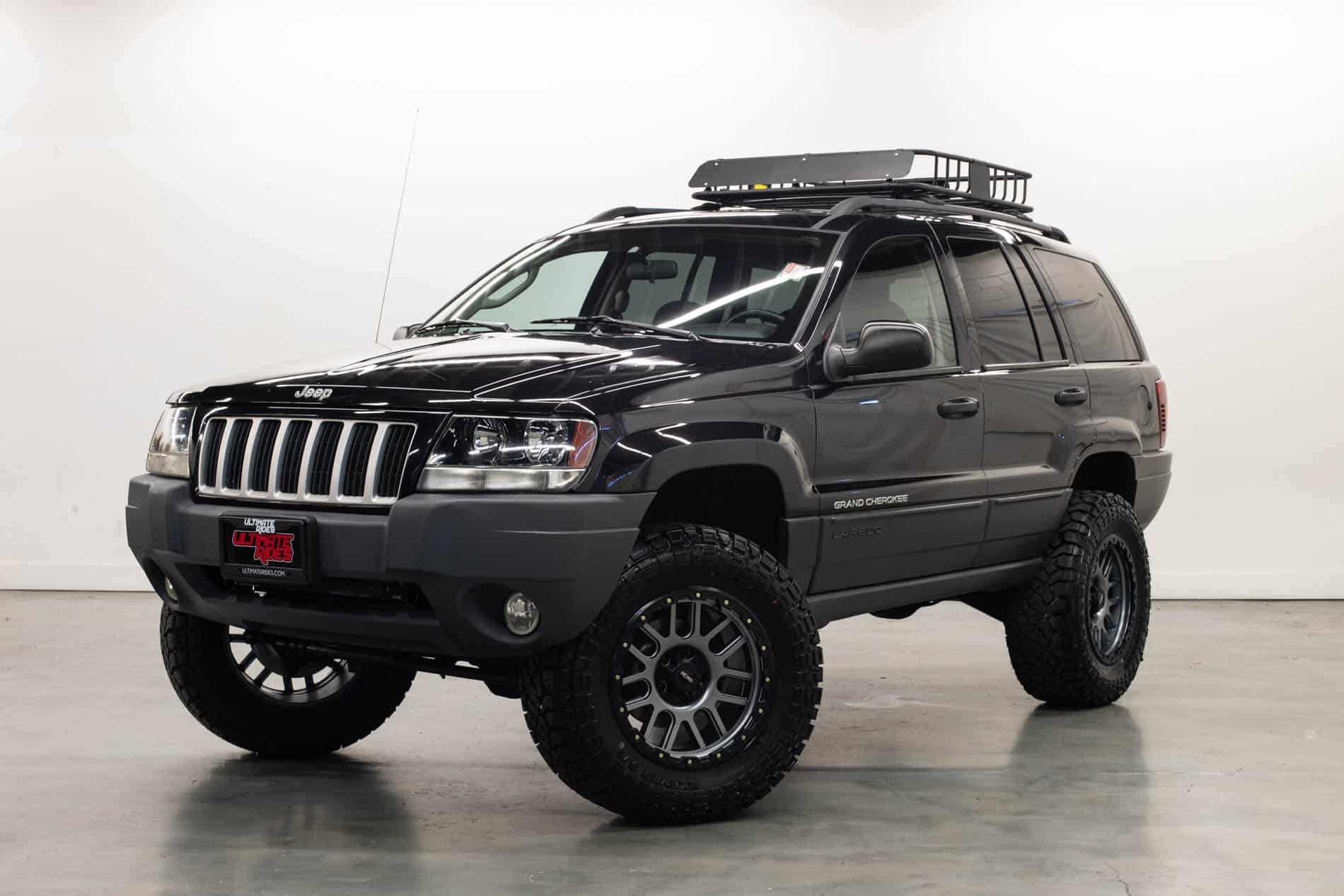 Toyota Land Cruiser and Toyota 4Runner
Hit the road, and head off of it, with an awesome Toyota SUV. The two options we'd recommend to come in under budget are the Toyota Land Cruiser and Toyota 4Runner. Both offer strong capabilities for off-roading, especially with a lifted suspension setup. These vehicles can come quite affordably, while still providing the right kind of performance you need to leave the paved road safely. Four-wheel drive setups shouldn't be hard to find, and they both offer good ground clearance, though you'll like want to increase that. Either SUV will work out for you. Just make sure you look at models from a few years back to ensure you come in under budget. Toyota vehicles are perhaps best known for lasting a long time when you take care of them, making either of these SUVs a strong choice to consider for use both on the road and off.
Important Off-Road Improvements
In order to get ready to leave the road and drive on trails and across rough terrain, there are certain things your vehicle should be able to do. Ground clearance is very important. While some SUVs offer enough ground clearance, it can always be useful to add on more. That's why lifted suspension is so important, and why it's usually not a good idea to take cars off the road. In addition to this, you'll want to consider something to protect the front end of your SUV, like a grille guard or bull bar. This will help reduce the amount of scratching the vehicle has to go through in the wild. Installing LED lighting, either in the form of headlight upgrades or a light bar, is also a great idea. All of the best upgrades can be found at an affordable price if you choose Ultimate Rides, so make sure to consider us.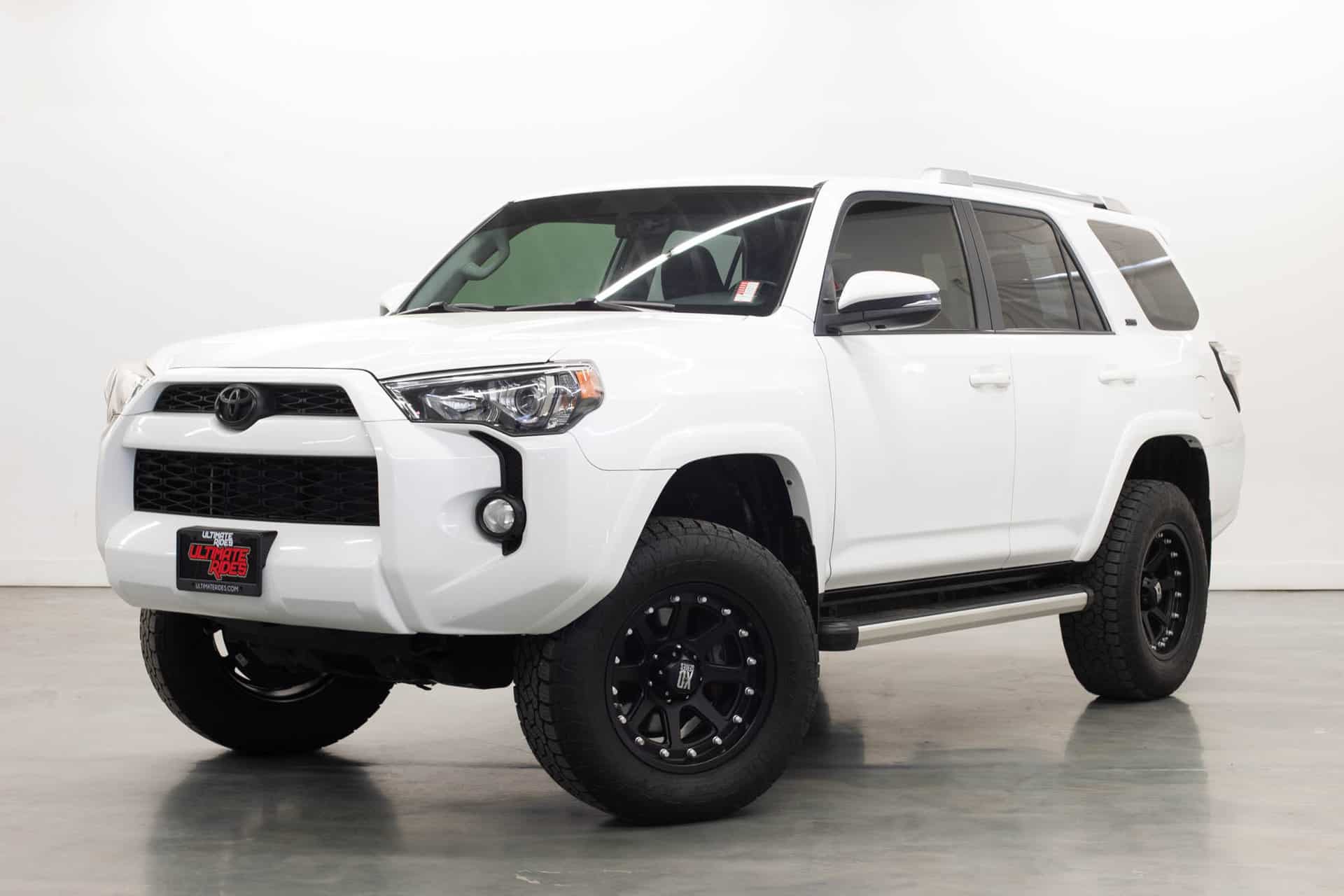 Taking Care of Off-Road SUVs
Even the best off road SUVs need to be carefully attended to. Otherwise, your vehicle likely won't last as long as you'd like, even a reliable Toyota. In addition to all the standard maintenance procedures, you'll want to consistently check your shocks, transmission and differential for any damage. Those are all common spots for wear and tear, while also being incredibly important for safety and performance. You'll also want to keep your vehicle clean. It's easy to build up mud and grime while on the trail, or even on the road, and that can cause issues in the long run. Make sure to keep an eye on the tightness of bolts and joints, as well as any damage to the suspension or frame of the vehicle. As long as all of that checks out, you're in great shape!
Have you had a chance to look over our current inventory of SUVs? Ultimate Rides is here to help you find the right model for your needs, with a wide selection of custom vehicles ready and waiting to be shipped out. We'll even help you track down a specific model if you have one in mind, or can build you your ideal off-road SUV. Get in touch with us over the phone today at 815-634-3900. You're also welcome to pay our office a visit at 38 W. Division St., Coal City, IL 60416. Soon, you'll be ready to shift things into gear and hit the trail fully-prepared.