Best Off Road SUV 2022 | Reviewing SUVs
Top 2022 SUVs for Off-Road
Has the time come to start shopping for a brand new SUV? There are plenty of great 2022 options out there, including a number that can serve you well off-road. Below you'll find short reviews of some of the top SUVs available in the 2022 model year, including popular models from Ford, Jeep, Toyota, Chevrolet, and more. Any of these vehicles can be customized via the Ultimate Rides team, and we'll have the ability to deliver one right to your home. Take a look and find the SUV that best suits your needs. If you're interested, see if we have one waiting in our inventory or get in touch so we can track one down for you. Remember that our team is here every day, standing by to help you start driving the best SUVs on and off the road.
2022 Jeep Grand Cherokee
The top 2022 vehicle we'd personally recommend is the Jeep Grand Cherokee. MotorTrend called it 2022's SUV of the year, and we're inclined to agree. The vehicle received a major facelift with the introduction of its fifth generation, including a number of improvements meant to increase off-road performance. At the same time, you'll still be able to rely on this SUV to take care of you on paved roads. There's also a great deal of versatility between trim levels, allowing you to choose between two reliable engines, as well as pick out a plug-in hybrid configuration or a three-row setup. You can also find plenty of useful luxury features inside, with modern amenities like express up/down front windows, dual zone automatic climate control, heated and ventilated seats, and so much more. Checking the vehicle out, it won't be hard to determine the Jeep Grand Cherokee serves as one of the best SUVs in the 2022 model year lineup, both for off-roading and everyday use.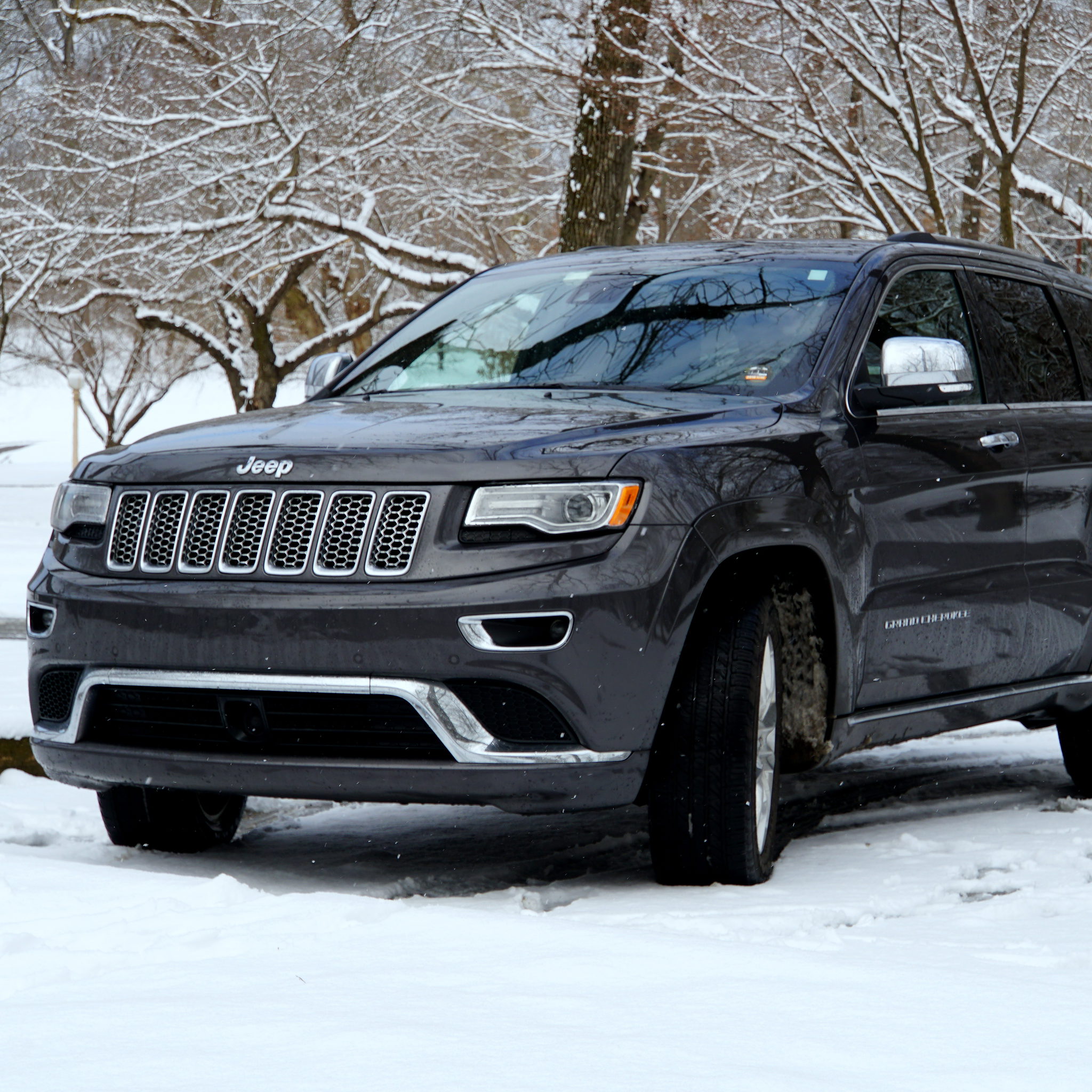 2022 Jeep Grand Wagoneer
With the 2022 edition of the Jeep Grand Wagoneer, drivers will have access to a complete redesign for these SUVs. The previous version of the vehicle stopped being manufactured in 1990, but Jeep has decided to bring it back for the modern era. The Jeep Grand Wagoneer, along with the regular Wagoneer, are both full-size SUVs. The 2022 Grand Wagoneer comes standard with four-wheel drive, and the base engine is a 6.4L V8 paired up with an eight-speed automatic transmission. While many drivers wouldn't want to take a new premium SUV off-road, this Jeep has proven to be quite mighty under those circumstances. The vehicle comes with a two-speed transfer case, as well as a Quadra-Lift air suspension system. These SUVs are quite large, which can prove difficult to maneuver through many trails. However, with just a few custom adjustments, it's possible to turn the Jeep Grand Wagoneer into a great off-road SUV.
2022 Lexus LX
If you weren't already aware, Lexus is the luxury arm of Toyota. The Lexus LX is a variation of the Toyota Land Cruiser, a vehicle that has long been designed for off-road use. While the 2022 Lexus LX isn't specified as an off-road vehicle, it doesn't take much to get it in shape to do just that. These SUVs come standard with full-time four-wheel drive, as well as a crawl control system that makes it easier to tackle difficult terrain. There's also a multi-terrain select feature that lets you specify performance based upon where you're taking the SUV, which can be very useful. Some trim levels of the 2022 model also include an active height control system, which adds another layer of versatility. On top of all that, you'll also have access to some truly exciting luxury features on the inside, making the 2022 Lexus LX a strong choice for those who have enough room in their budget.
2022 Honda CR-V
On its own, the Honda CR-V isn't particularly adept when it comes to off-roading. However, it has one distinct advantage over many other models – it's highly affordable. With the help of a team like ours here at Ultimate Rides, we can outfit these SUVs with the right upgrades so you'll be ready to tackle off-road situations without spending a ton of money. Plus, the 2022 edition of the Honda CR-V includes a ton of great modern features to enjoy, including driver-assist offerings like adaptive cruise control, standard climate control, and so much more. With potential upgrades like a suspension lift, a four-wheel drive setup, and extra LED lighting, you'll be ready to take your 2022 Honda CR-V out onto the trail with confidence. Say the word and our team can provide you with all the necessary upgrades to make that happen.
2022 Chevrolet Suburban
If you're a fan of the Chevy Suburban as well as off-road vehicles, you're in luck with the 2022 edition of these powerful SUVs. That's because there is a trim level meant specifically for you – the Z71. This 2022 trim level comes with the option of a full off-road package. With it, you'll upgrade into the 6.2L V8 engine, an air ride adaptive suspension system, and magnetic ride control. Drivers will also have access to dual twin polished stainless-steel exhaust tips, and an electronic limited-slip differential for enhanced performance wherever you go. This is in addition to the many wonderful standard features the 2022 Chevy Suburban Z71 has to offer, such as a Bose sound system, an auto-dimming rearview mirror, and a high-definition rear camera, among so much more. Take a long, hard look at the 2022 Chevy Suburban, specifically the Z71 trim with the off-road package, and decide if it might be the best SUV for your needs.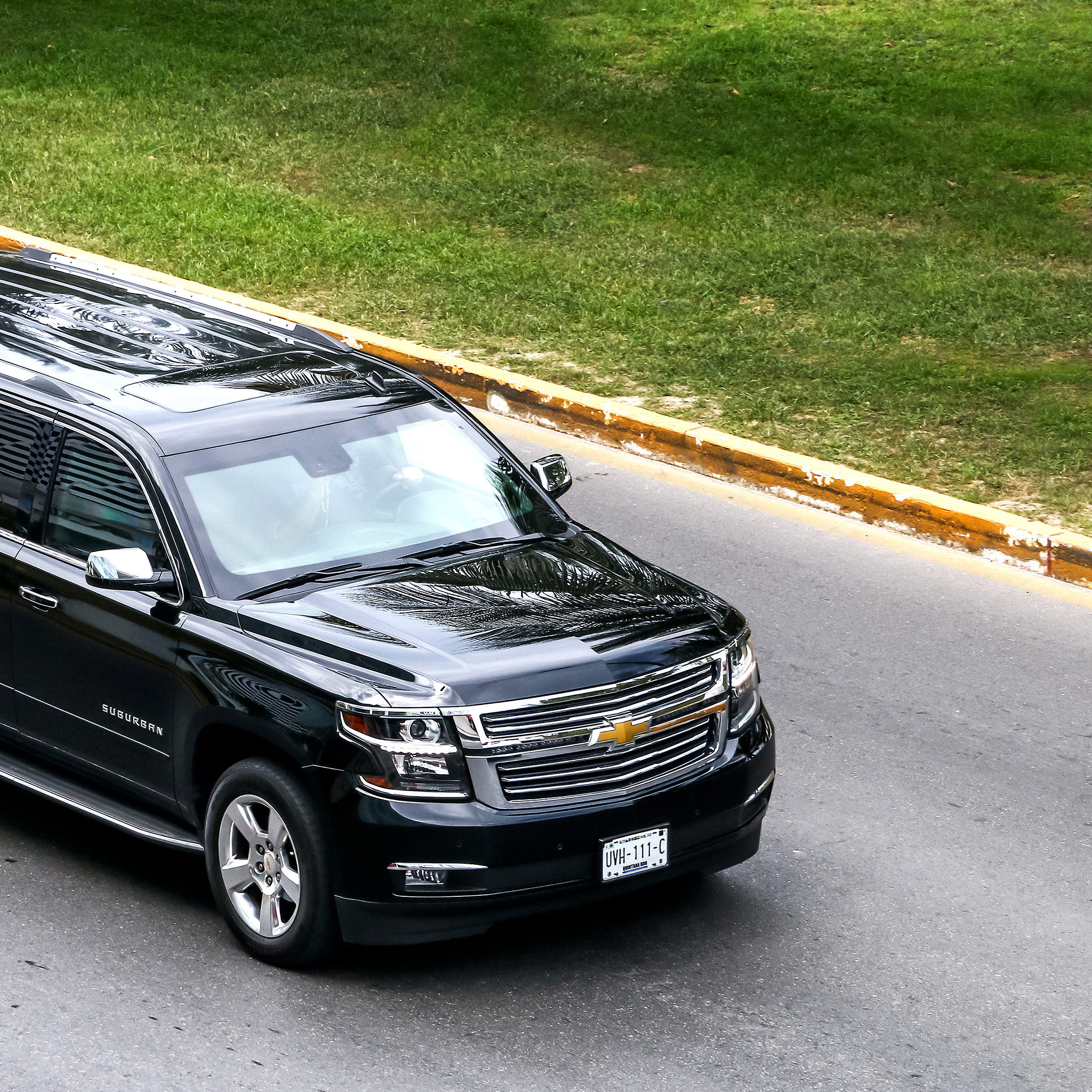 2022 Mitsubishi Outlander
The 2022 Mitsubishi Outlanders are great SUVs, but without upgrades, it's safe to say that it's not one of the best off-road SUVs for this year. It does have a ton of great features to get excited over, including some useful capabilities to take off-road, but will likely require some aftermarket upgrades if you're serious about off-roading. The 2022 edition of this SUV seats as many as 7 people, and with its new full re-design, includes features like four-wheel independent suspension, LED headlights, heated mirrors, and so much more. You'll have access to a blind spot safety warning system, as well as a continuously variable transmission. As far as the engine goes, it's not your best option out there. However, it is possible to increase performance with aftermarket upgrades, which should be something to consider if you opt for this 2022 SUV.
2022 Volkswagen Taos
The 2022 Volkswagen Taos is another budget SUV to consider. Like the Honda CR-V, it's not exactly a highly-capable off-road SUV as you drive off the lot. You'll need to install some upgrades on the vehicle before you can confidently hit the trail. However, it should not be too costly for you to make that happen. The engine is a 1.5L turbo engine, so it's somewhat capable but not the best. The SUV is available with all-wheel drive, which can obviously come in handy on the trail as well as on the road. Additionally, you'll have access to available features such as remote start, a parking distance control system, and a wireless smartphone charging system. As you've probably noted, none of these features are particularly relevant to off-road driving. However, with just a few upgrades, we'll have your 2022 Volkswagen Taos ready to take out onto the trail in no time.
2022 Lincoln Navigator
Here's another vehicle that received a full upgrade with the 2022 model year: the Lincoln Navigator. It's a full-size luxury SUV; one that wasn't exactly designed to be taken off-road. That means if you're looking to do so, you'll need a few aftermarket changes to be made to these SUVs before you can safely do so. While it does offer strong ground clearance, its size makes it somewhat unwieldly once you leave pavement. You'll also find reliable torque and horsepower with the various engine configurations available in these SUVs. The main things you'll want to look at upgrading for your 2022 SUV are the tires and your suspension to improve approach and departure angles. Also be sure to go with a model that includes four-wheel drive. There are a ton of awesome features waiting for you inside the SUV if you opt for it. However, it's not a cheap vehicle, so be sure to keep that in mind as you're shopping around, especially considering the upgrades it'll need for the best off-road experience.
2022 Jeep Wrangler
Next up is one SUV that you won't have to worry about in terms of top off-road capabilities. The Jeep Wrangler has long been the top choice for off-road enthusiasts, and the 2022 edition continues that legacy. These off-road SUVs offer plenty of ground clearance, torque, and other trail capabilities. You can choose between the two-door or four-door variations of the SUV – we recommend the two-door for its smaller size. However, either model will get the job done. The 2022 edition of the classic SUV could offer dual-zone climate control, a 120V AC power outlet, and a blind spot warning alongside performance features including electro-hydraulic power assist steering and a 6.4L V8 engine. As long as you choose the right trim level, you'll have no problem taking the 2022 Jeep Wrangler off-road, just as it is when it comes off the lot.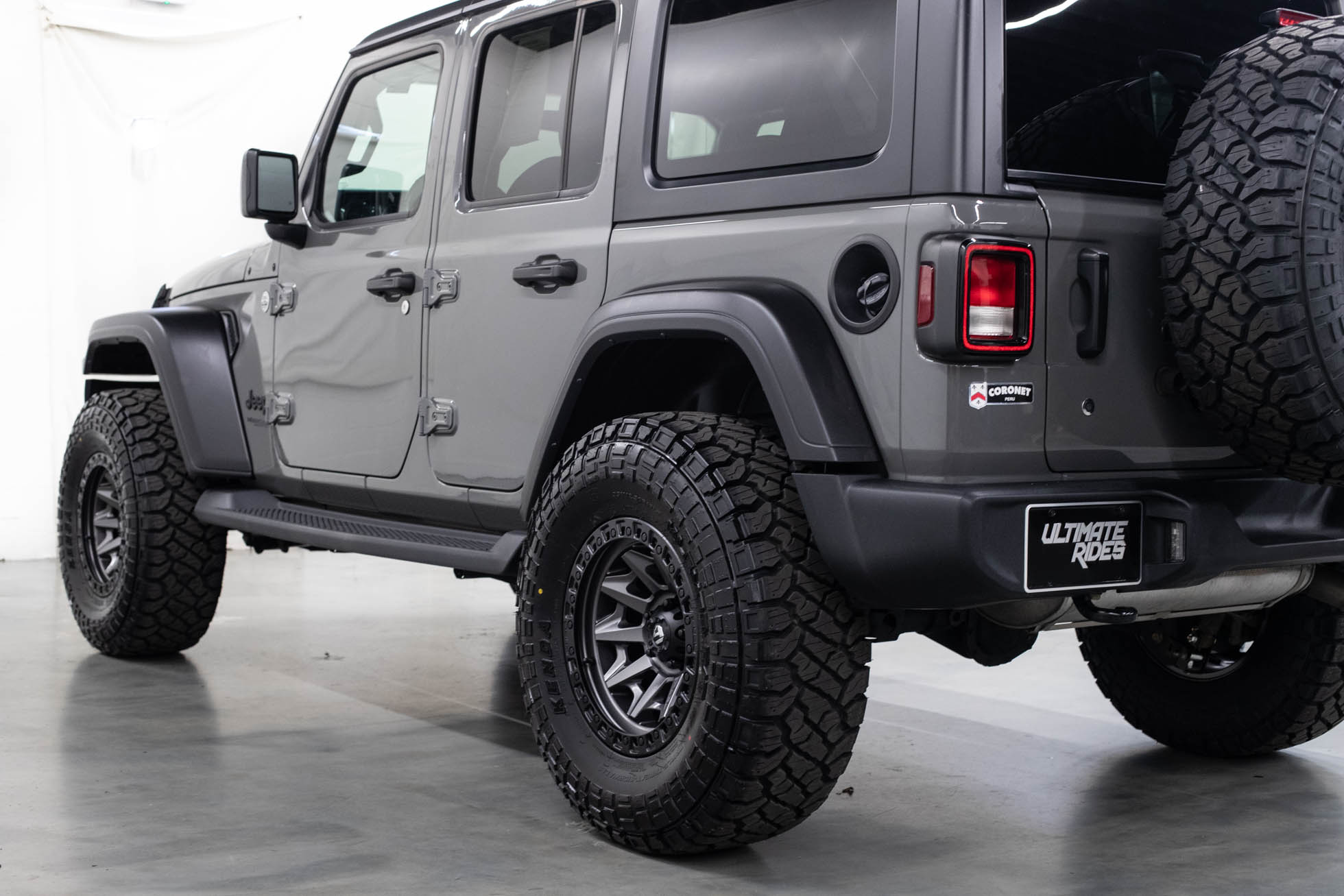 New Ford Bronco and Ford Bronco Sport
The Ford Bronco, and Ford Bronco Sport, serve as revivals of the classic Ford SUVs that were manufactured from 1965 through 1996. Now they're back, and these SUVs are better than ever before. The regular Ford Bronco is a mid-size SUV, while the Ford Bronco Sport models are compact crossover SUVs. Both can be good choices to take off-road, but you'll need to make sure you buy the correct trim level, and you may need a few upgrades for the best results. The Ford Bronco SUV is best used for off-roading with the Raptor 4×4 trim level. In addition to four-wheel drive, it offers a 3.0L turbo engine that can reach 400 horsepower and 430 lb.-ft. of torque. The Raptor trim level also provides these SUVs with the Ford HOSS 4.0 suspension system for enhanced performance, as well as 37-inch tires and so much more. Be sure to look at the specs for either the Ford Bronco or Ford Bronco Sport SUVs to figure out which will be best for your off-road experience.
New Toyota Highlander
While not the absolute best SUV to take off-road, the 2022 Toyota Highlander SUVs are highly capable across a wide range of situations. This is primarily due to the torque-control all-wheel drive system, which puts a strong amount of control into the hands of drivers. The standard gas engine is a 3.5L V6, while drivers will also be able to opt for a 2.5L L4HV hybrid configuration. Both offer reliable performance, but you'll likely want to opt for the Platinum trim level to take advantage of the dynamic torque vectoring. The all-season tires available on these SUVs are alright, but the best route will be to upgrade to a set of all-terrain tires instead. With just a few changes, you'll have no trouble relying on these SUVs to take you off-road.
New Kia Sorento
These mid-size SUVs from Kia are actually quite capable off-road in 2022. That's because, like our last recommendation, these SUVs come available with torque vectoring, as well as an adaptive all-wheel drive system. You'll also find a set of roof rack rails for some extra storage up top, and the X-Line trim level offers a surprising amount of ground clearance. The 2022 Kia Sorento isn't often one of the first models people think of when it comes to the best off-road SUVs, but that might have to change. You'll only need to make a few minor changes to really get these vehicles ready for off-road action.
Looking to get your hands on any of these impressive 2022 SUVs? Ultimate Rides is here to help. We can set you up with a Ford Bronco, Jeep Grand Cherokee, or any one of the other SUVs seen in today's guide. Just get in touch with our team at 815-634-3900, or come pay us a visit at 38 W. Division St., Coal City, IL 60416. We can ship a custom off-road vehicle right to your home in a week or less, so what are you waiting for?