Ford Bronco Sport 3 Lift Kit | Ultimate Rides
Finding a Lift Kit for Ford Bronco Sport
The Ford Bronco Sport is one of the hottest new vehicles of the last several years. It's highly capable, plenty of fun to drive, and features tons of great features to enjoy both behind the wheel and as a passenger. However, in its stock version, it's not fully set up to head off-road. That, along with improving the look of the vehicle, are two of the main reasons why Bronco Sport owners decide to install a lift kit on their SUV.
With newer vehicles like this, it can sometimes be difficult to find the right lift kit, depending on where you look. On major sites such as Amazon, the selection of lift kits is pretty limited right now. Below, we've shared with you the options that we were able to track down. None of them lift up the SUV significantly, maxing out at around 1.5 inches rather than 3 inches. However, it might just be that they work out for you. Take a look at each, along with our brief review, and make the decision for your vehicle. If none of the lift options below seem like the right choice, feel free to get in touch with Ultimate Rides. We're a custom auto dealer and shop outside of Chicago, who ships vehicles all across the country. We'll be happy to order the right lift kit for you, and can even install it on your Bronco Sport affordably. Stick around to the end of the guy for more helpful information on lift kits for this vehicle!
---
Superlift 1.5 Inch Body Lift Kit
Specs: 2021-2022 Ford Bronco Sport (Not recommended for Badlands and First Edition)
The first lift kit we'd like to share comes from Superlift Suspension. They're a popular and reliable provider of both body and suspension lifts, though this kit in particular is of the body style. That means it will come very affordable, but only raises your vehicle by 1.5 inches rather than 3. It includes all the parts you'll need for installation, however, and the process should be quite simple to accomplish at home for someone who knows what they're doing with their Ford. This is a solid option for the Ford Bronco Sport, though customers with high expectations should continue their search for a suspension lift kit.
---
KSP 1.75″ Front + 1.25″ Rear Body Lift Kit
Specs: 2021-2022 Ford Bronco Sport (Not recommended for Badlands and First Edition)
Leveling kits are meant to even out the height of your vehicle, and this option from KSP is certainly one to consider. It raises the front end of the Bronco Sport by 1.75 inches while lifting the back by 1.25. KSP isn't our all-time favorite manufacturer for these products, but they still can be relied on. You'll have the ability to install slightly larger tires and wheels on the SUV, but not as much as a suspension system would allow. The benefit, though, is that this setup will only cost you right around $200.
---
Readylift 1.5 Inch Body Lift Kit
Specs: 2021-2022 Ford Bronco Sport (Not recommended for Badlands and First Edition)
The last lift kit we have to share for the Bronco Sport comes from Readylift. They're another top provider of lift kits, though this body lift kit isn't exactly one of the highest quality options money can buy. It's a basic body lift, providing a slight boost in height without too much difficulty. If you're serious about lifting your SUV, you'll want to look for a suspension kit instead. However, if you'd just like to dip your toes in, this option isn't bad to consider.
---
Which Lift Kit is Best?
With a limited selection available from popular websites, you might be wondering what other options you have to lift your vehicle. You could always buy directly from the manufacturer, looking at websites from companies like Rough Country or one of the options listed above. They'll have a better selection of lift kits to choose from, hopefully including a number of options for the Bronco Sport. If you're lucky enough, they'll even have a 3 inch lift kit waiting for you. But how do you know which is best for your ride? First, figure out how high you'd like to lift the SUV. You'll then need to decide what your budget is, and whether you'll want to go with a cheaper body kit or a higher-quality suspension kit. Then take a look at several different manufacturers, and compare the lift setups that fit your parameters. You can always get in touch with an expert if you need assistance in figuring out which of the available lift kits is right for you and your vehicle.
Professional Installation
Speaking of getting in touch with professionals, that's likely something you'll at least want to consider for installation. While some lift kits can be relatively simple to install at home, that's not the case for all lift systems. You'll want to carefully consider your own level of expertise, along with the type of lift kit you purchased, and then decide if it's something you or someone you know can handle in a home garage. There's certain equipment you'll need, and you'll want to do plenty of research ahead of time to know exactly what you're getting into. If you have enough room in your budget, you'll likely want to opt for professional installation. This is especially true if you go with a suspension lift over the more basic body lift kits. Whichever style you go with, if you install at home, make sure the kit comes with all the parts you'll need for installation, or you'll find yourself extremely frustrated on the day you planned to install. From there, you'll have to order the parts separately.
Body vs. Suspension Lift Kits
The two primary types of lift kits are body and suspension. Body kits are cheaper, as they are simply a set of spacers or blocks that raise up the vehicle's body rather than altering the suspension. You can usually get a kit of this style for just a couple hundred dollars, but they will max out at around 3 inches. Additionally, you should be aware that the quality of your drive will likely go down at least somewhat with a body kit installed. That's why we prefer suspension kits. They're more expensive, and can be much more difficult to install. However, they'll keep the quality of your ride up, and you'll be able to lift the vehicle up by 3 inches or more, sometimes even as much as 8 inches. Make sure to plan out what style of lift kit you want, even considering a possible leveling kit to get your SUV evened out. Then shop around or contact a team of professionals to set you up with the right lift system.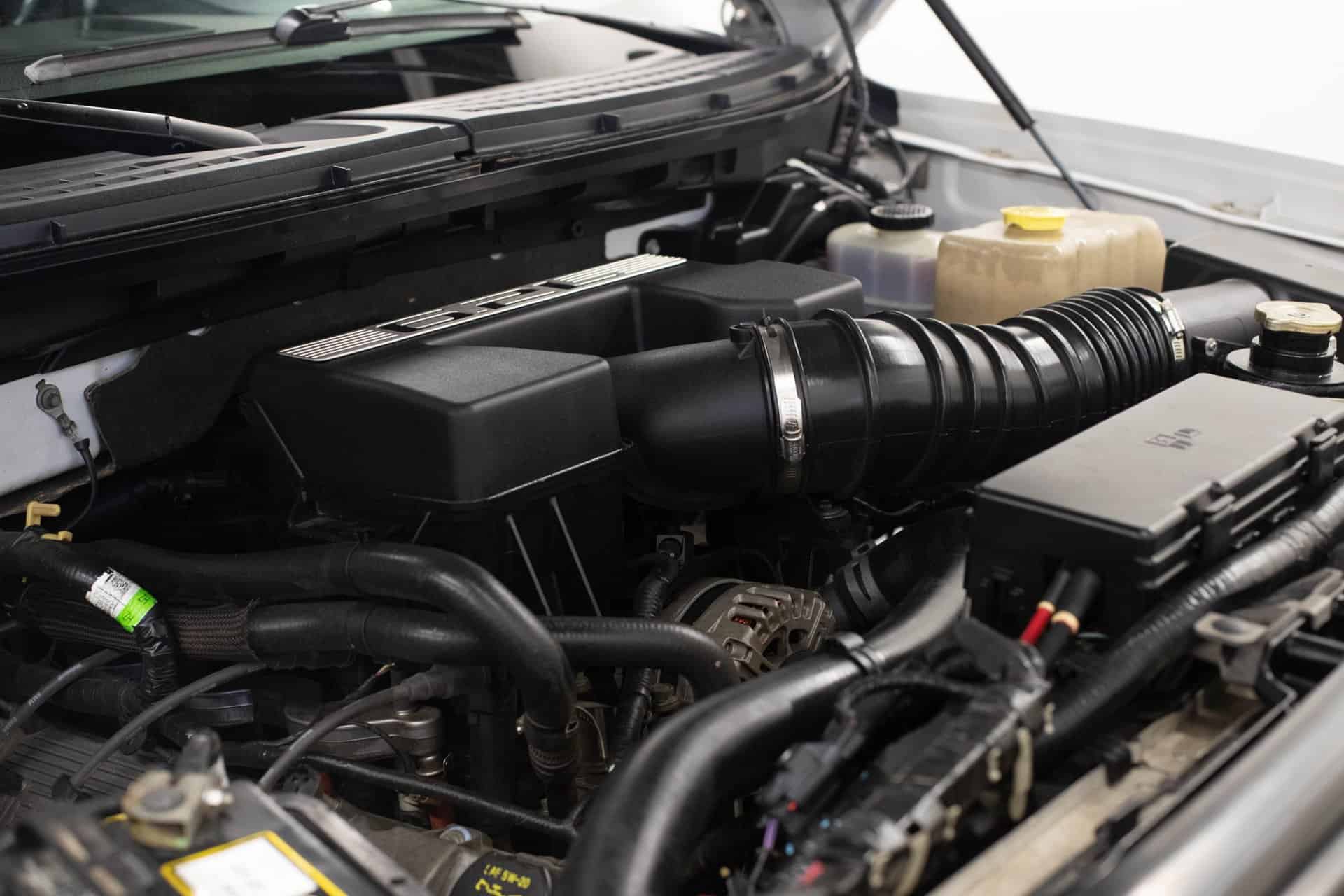 Lifted Truck and SUV Maintenance
If you lift your Bronco, there are added maintenance steps that you'll need to be aware of. Certain parts of the vehicle, such as the nuts and bolts, need to be checked more often to make sure everything is in good running condition. Whether you drive a Ford or any other vehicle, you'll also want to be sure to stay on top of standard maintenance procedures such as your oil and other fluids. Your brakes need to be checked as well, and you should always have a steering alignment done after installing a lift kit!
Ford Bronco vs. Ford Bronco Sport
The Ford Bronco, at least in its latest generation, is a mid-size SUV, and a revival of the classic version of the Ford vehicle. The Bronco Sport, on the other hand, is a compact crossover SUV developed by Ford. It features a great many similarities to the mid-size equivalent, but comes in a smaller size that many drivers find preferable. Both models are available with four-wheel drive, as well as offering a strong selection of modern interior features. We recommend checking out both the standard Bronco as well as the Sport to see which model better suits you!
Short History of the Ford Bronco
The origins of the Ford Bronco date all the way back to the mid-1960s. The 1966 edition of the vehicle was a compact SUV manufactured by Ford, designed for off-road capabilities. Eventually, by 1977, the design was changed to become a full-size SUV, with an emphasis on action on the road rather than off of it. The Bronco was eventually discontinued in the 1990s, until Ford decided to revive the vehicle for a new generation of drivers.
Do you need assistance with your lift setup? Contact Ultimate Rides over the phone today for more information. You can reach us at 815-634-3900, with our team standing by to assist you. Also keep in mind that we offer a full inventory of custom vehicles ready to be shipped around the world. If you're in the Chicago area, you can come visit our HQ and see them for yourselves at 38 W. Division St., Coal City, IL 60416.