Find Custom Trucks at Ultimate Rides
What Exactly is a Custom Truck?
When you go to a standard auto dealership and buy a truck, you're almost certainly buying it with stock parts. That means everything is just as it was when the vehicle left the assembly line from Ford, Chevy, or whatever manufacturer it was designed by. However, the truck doesn't always have to stay that way. More and more drivers are making the decision to customize their trucks, utilizing aftermarket accessories such as running boards, along with improvements including suspension lifts – our specialty here at Ultimate Rides.
While a stock pickup truck will likely serve you just fine in most situations, it's possible to install upgrades that will help your vehicle excel in certain situations. This includes off-road use, ensuring you can get the most out of your truck in terms of performance and safety while on the trail. Additionally, many drivers opt for custom trucks simply to achieve a new look. It truly doesn't matter what reasoning you have. The point is that there are countless options out there, so you no longer have to settle for the stock setup on your vehicle.
With a huge inventory of custom cars, trucks, and SUVs ready, as well as the ability to deliver them anywhere across the country and beyond, Ultimate Rides is the place to go for your next vehicle. Take a look at everything we have to offer, and feel free to contact us over the phone if you have any questions or feel ready to begin.
Customize New and Pre-Owned Trucks Any Way You Want
One of the big benefits of shopping for a truck at Ultimate Rides is that the majority of our vehicles already feature custom upgrades. Most of the trucks you'll see here feature high-quality lifted suspension, raising the height of the vehicle anywhere from a couple of inches to six inches or more. You can trust our team to do the best work possible, ensuring you are safe and comfortable behind the wheel.
The customization doesn't stop there. When you buy one of our trucks or SUVs, you'll always have the chance to further upgrade the vehicle. We can alter the height, provide a new paint job, completely re-design the interior, add on any accessory options you can think of, and so much more. The cost of all this work can be included in your financing plan, helping you stay within budget while still coming away with an awesome custom truck. Our team works quickly, so you won't have to wait too long before your custom ride from Ford, Chevy, Ram or another manufacturer is ready to drive. Just reach out to our office and let us know what you're looking for with your next vehicle.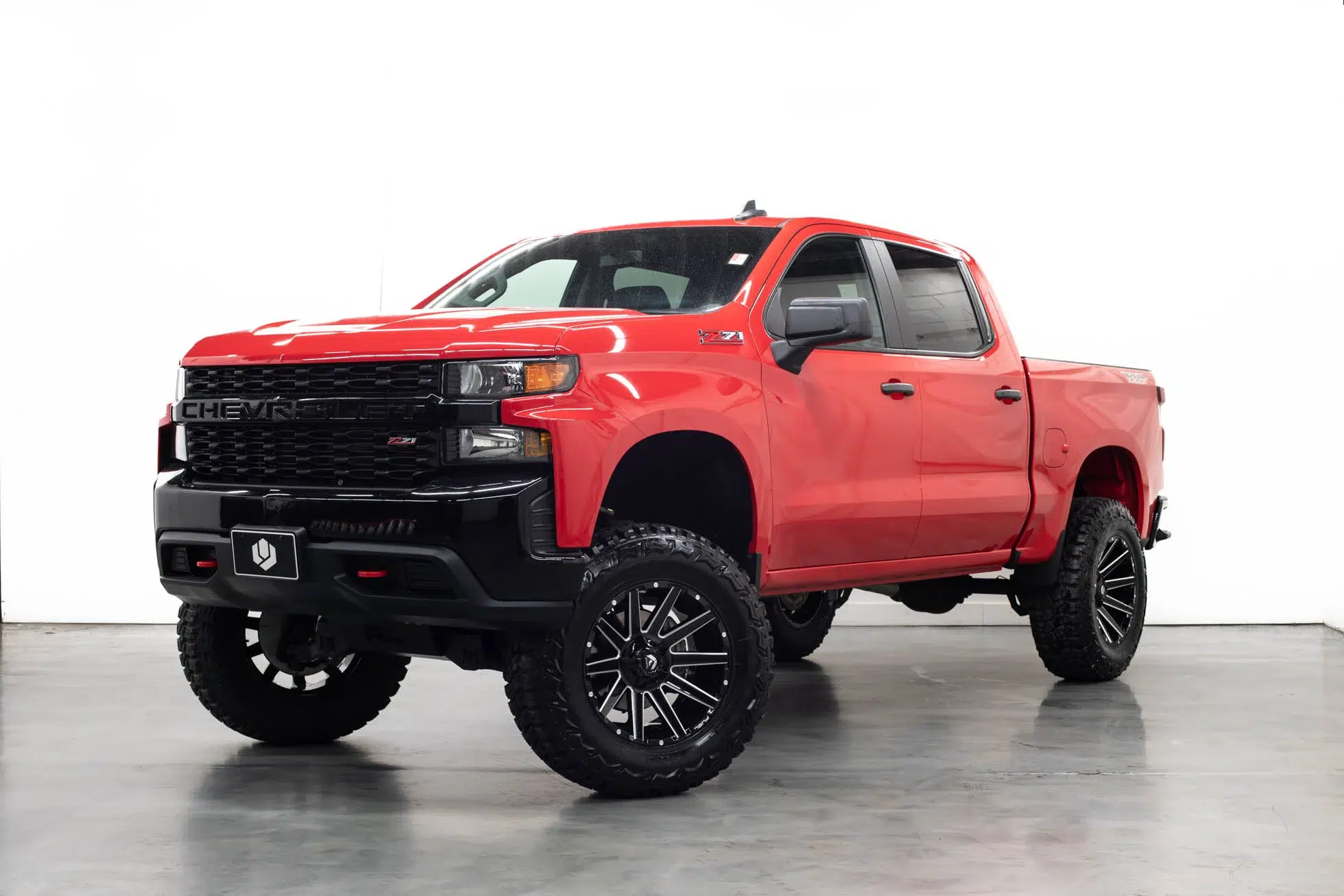 We Offer Trucks from Ford, Chevy, Ram, and More
At Ultimate Rides, we offer both new and used models for you to select from. You'll find trucks from major automotive companies including Ford, Chevrolet, and Ram. Along with that, we provide models like the Jeep Gladiator pickup, and occasional trucks from Toyota and other companies. In addition to our many trucks, you'll also find plenty of SUVs waiting for you here. One thing that you'll find in common between our entire inventory, new and used, is quality. We have a team of dedicated buyers whose job is to track down the best used vehicles, including the Ford F150, Ram 1500, and heavy-duty trucks like the Chevy Silverado 2500 or 3500. They find them throughout the country, and we get them back over to our HQ outside of Chicago to get the vehicles ready for you. If there's a certain truck you're looking for, there's a good chance we already have it in stock. If not, our team will be more than ready to locate it for you! Just say the word, leave a small deposit with us, and we'll have our crew start searching.
Fair Prices and Top-Notch Customer Service
Unlike many other auto dealerships, you won't have to worry about overpaying for a vehicle at Ultimate Rides. We put a lot of thought into the prices of our inventory, from the smallest car to our biggest trucks. While a custom pickup will cost you more than a standard model, our price has to cover the parts and labor that go into each model. Our experts carefully price each truck to ensure you're getting the most out of everything you put into it, and that is a guarantee.
In addition to that, Ultimate Rides is proud to offer top-level customer service for each and every customer we assist. From the very beginning of the process up until you're driving away in one of our awesome trucks, you'll be treated like royalty. Just take a glimpse at our reviews and you'll see that previous customers have excellent things to say about shopping with us. No matter what kind of truck or SUV you buy, the Ultimate Rides team will be here to help, from offering custom part recommendations to seeking out certain accessory brands and so much more. We will always go that extra mile to ensure you're happy with your experience here.
Does the sound of driving a custom truck appeal to you? If so, we hope you'll get in touch with Ultimate Rides. Our office is located an hour south of Chicago, at 38 W. Division St., Coal City, IL 60416. You're welcome to meet with us whenever our office is open. Additionally, we have a team on our phones, standing by to help customers worldwide. Give us a call today at 815-634-3900 to get started. We'll be happy to share more information on our custom rides, shipping, and so much more.