NC Window Tint Law for Trucks | North Carolina Window Tinting
Tint Laws in North Carolina
Like many other states in America, North Carolina has some pretty strict regulations in place when it comes to window tint on a vehicle. This is especially true when it comes to the windshield of a vehicle, but there is a legal limit on window tinting as well. According to North Carolina window tint law, "tinted windows cannot measure darker than 32 percent with a North Carolina-approved window tint meter." The only way to check whether or not your windows fall into this range is by getting an official North Carolina safety inspection, which costs $10. The inspector will use an approved meter to check how tinted each window is, and they'll let you know if you are within the law. That begs the question: how does someone figure out how much they can tint their windows before having the vehicle inspected? That percentage is going to be the key number for you to remember. Take your vehicle to an expert, let them know about that 32% limit, and they'll be able to get you set up with the right window tinting.
When it comes time to get your safety inspection, all you need to do is visit a licensed repair garage, service station, or auto dealership. For a small fee, they'll be able to take care of your yearly inspection. Make sure to do this within 90 days of getting your registration renewed, as it is North Carolina law. In order to keep drivers in NC safe, each vehicle has to be checked out on a yearly basis, so do your part and find out if your windows have a safe tint.
What Window Tinting is Legal on Windshields in North Carolina?
When it comes to window tinting, your windshield has different regulations compared to a regular window, for obvious reasons. You're looking through your windshield at all times in order to see the road ahead and any vehicles or obstacles in your path. However, it makes sense to want to block out at least some of the sun from blinding you when driving toward it. That's why you're allowed to tint your windshield up to 5 inches below the top. Any further down than that, and you'll be outside of the tint laws in North Carolina. Let the professionals who are handling your window tinting know if you are interested in this, and they will surely be able to make it happen for you.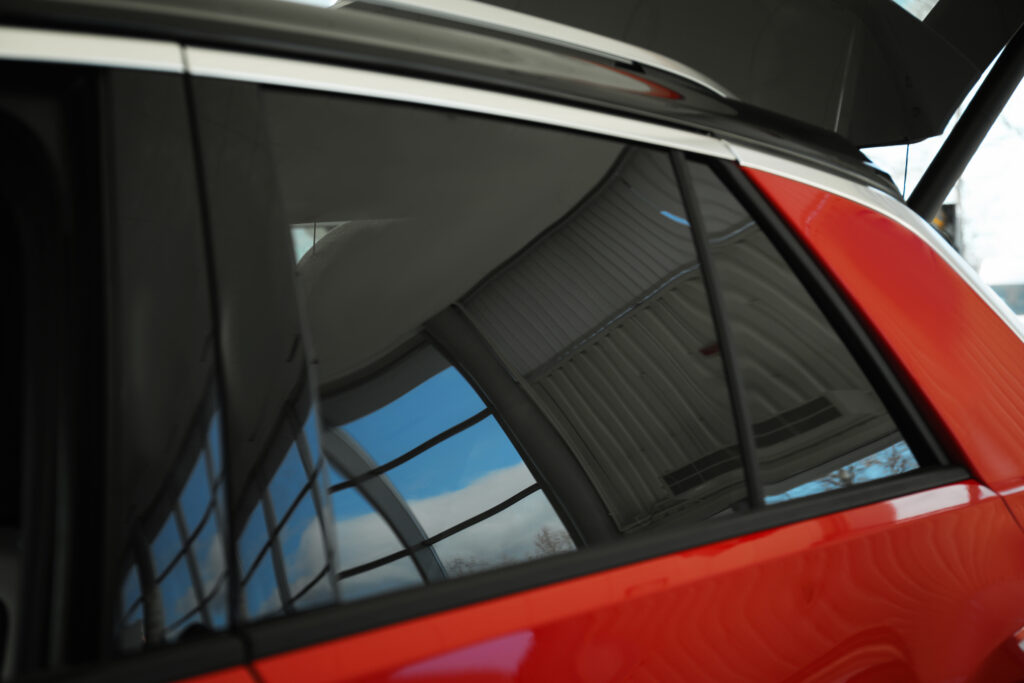 The Best Window Tint Available
As you may or may not know, there are different types of tint out there for the windows of your car. There's ceramic, carbon, metalized, dyed film, or hybrid. In our professional opinion, a ceramic window tint is the best choice for your vehicle. Sure, it costs the most out of these options, but it has some truly excellent benefits. It will greatly reduce the amount of heat drawn in from the sun, ensuring you don't find the window too hot to touch. On top of that, it blocks nearly all UV light from entering, helping protect you and your interior from the sun's rays. It's long-lasting, not difficult to see through, and will even help prevent your windows from shattering. If ceramic is too costly for you, carbon, metalized, and hybrid tint are all worthy options. Even a dyed film can work great if you're on a tighter budget. Just make sure you're conforming to North Carolina state tint laws if you don't want to get a ticket or fail your next vehicle safety inspection.
Additional Ways to Customize Your Vehicle
If you're thinking about a window tint, why stop there? There are plenty of other ways you can upgrade your car, SUV, or truck. LED headlights can be the right upgrade for those who want to have an easier time seeing the road ahead of them at night. These headlight upgrades are cheaper than ever, and can have a strong impact on your safety. Additionally, we recommend looking into seat covers if you're worried about your interior fading due to the sun. With the presence of seat covers, you'll be more comfortable and won't have to worry about damage to your trim.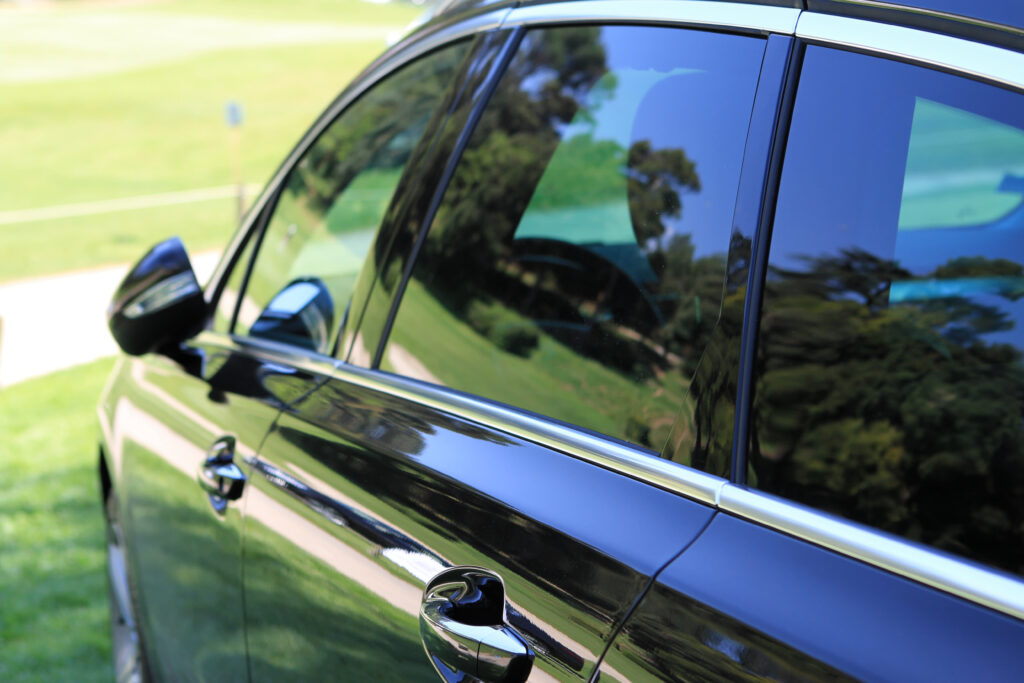 Having Your Windows Tinted with Ultimate Rides
Ultimate Rides is a great place to consider if you're interested in window tinting. Though we aren't located in North Carolina, we deliver our custom vehicles all over the country, and that includes straight to your North Carolina home. We'll even make sure we get the tint level just right, ensuring you conform to window tint laws in North Carolina. We offer a vast range of vehicles, both new and used, and even have the ability to track down specific car, SUV, and truck models for your needs. You can even customize your next vehicle exactly the way you want and include the costs in your financing plan. Think of us the next time you're in the market for a vehicle, whether it's a car or something larger.
Tint Law Outside Your State
If you end up traveling in your vehicle outside of North Carolina, it then becomes important to look into the law regarding window tinting wherever you plan to be. This information shouldn't be difficult to find out. However, it's not easy to change out the tint on your window, so if you've got a darker tint than what is allowed in certain states, you'll want to be careful traveling through. It's likely you could receive a ticket if you happen to get pulled over.