Shop Ultimate Rides Hoodies
Ultimate Rides is finally introducing some merchandise to go along with our vehicles. Customers have been asking for years, so we thought it was about time to deliver. For over 15 years, we've been providing clients all across the US with high-end custom vehicles. In that time, we've developed some diehard fans, who want to sport our logo and designs on their own clothes. Whether you're one of those fans, or you simply like our logo and want to support our business, we've finally got hoodies for sale! Shop here for Ultimate Rides hoodies, and let us know if there are any other designs or styles that you'd like to see.
Multiple Colors and Designs
We'll have black hoodies ready with our standard logo, allowing you to show your love for Ultimate Rides. Additionally, you'll be able to custom order other colors and designs courtesy of a freelance designer that we work with. In addition to our logo design, you could also opt for our Lifted For Life hoodies. These designs feature the grim reaper behind the wheel with the words "Lifted For Life" above, as well as "Ultimate Rides" below and the year of our founding in roman numerals. This design has been popular with customers, and we ourselves absolutely love it. We think you will too! Consider your options and you can soon start wearing your new Ultimate Rides merch!
Comfortable and Wearable Year-Round
The great thing about hoodies is that they can be useful in a variety of situations. In the colder months, when you want to dress in layers, a hoodie can be very useful. However, you don't have to only stick to winter and fall. At night, when things get cooler, it is always useful to have a hoodie to throw on. Additionally, there are few better ways to cover up your head during a rainstorm. Many people even like exercising in a hoodie, no matter how hot or cold it may be. Whatever you decide to wear it for, know that you'll be comfortable. Our hoodies won't itch, and can help regulate your temperature across many different scenarios.
We Value Product Integrity
From our vehicles all the way down to our hoodies and other merchandise, we pay careful attention to quality. Our reputation truly means something to us. If we're going to sell hoodies, we want to know that the quality is there, so you won't be walking around all day wearing something you wind up hating. Because of that, we've tested out different designs and hoodie styles to find something that's right for our customers. If you like what you see, try out some of our merch, and be sure to let us know how much you love it by leaving a review on Google!
---
Two Brothers With a Dream

,

Building The Best Ultimate Rides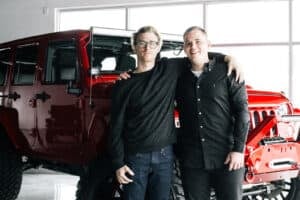 Ultimate Rides consists of two brothers who have been buying and selling custom vehicles for over ten years. Selling lifted trucks by day and writing these awesome reviews by night! They started their Ultimate Rides journey with a third brother Jake, who was a big part of building the business they have today. In 2016 Jake passed away and losing their brother was the hardest thing they ever had to deal with. Even though they had a tragic loss they plan to continue to set a new trend for the auto industry, keeping customers number one. Pushing the envelope on the lifted truck market, these guys love researching and learning about everything in the auto industry!
 — Nick and Alex Bulanda, Founders of Ultimate Rides