Ultimate Rides Merchandise – Shop Hats
In addition to our custom vehicles, Ultimate Rides also offer some merchandise for you to check out. That includes snapback flex-fit hats sporting the Ultimate Rides logo in multiple color schemes. That includes black and white, black and grey, or black and red. The hats are a trucker style, sporting a mesh back that keeps your head cool while defending from the sun. They're also designed to fit a wide range of sizes, with the easy-to-use snapback clip allowing you to quickly adjust to your head.
Though we may be biased, we believe the Ultimate Rides logo is sleek, and anyone would look great sporting it on their head. If you share our passion for custom vehicles, we think you might agree. Check out our Ultimate Rides hats and decide if one might fit your sense of style!
Lifted For Life Hats Available
In addition to our hats featuring the Ultimate Rides logo, we also have options featuring what we call the Lifted For Life design. Those of us with a love for lifted trucks understand each other, and this logo speaks to that feeling. We've designed our hats (along with our shirts and hoodies) with custom drivers like yourself in mind. It's who we are, and it's what we love. This is just another way we can share that with Ultimate Rides fans.
Year-Round Hats Designed for Comfort
You won't have to worry about comfort with our hats. The great thing about trucker hats is that they're made for a wide range of situations. Whether you're out on a hike, at a baseball game, or driving across wild terrain, these hats can serve you well. They'll block the sun from your eyes and keep you cool, and you won't have to sacrifice any of your style while wearing one. Check our hats out and make sure to let us know how it works for you!
About Ultimate Rides
There's a reason why we believe we're worthy of a hat sporting our logo. We are a family business that has been in operation for more than 15 years. It all started because of a love for custom vehicles, and while many things have changed in those years, that part never has. We want to share that love with our customers, and that's why customer service is such a key part of our business. While other dealerships might try and pawn off whatever vehicle they can on you, our goal is instead to help you start driving your perfect custom ride. Whether that's something we already have in our inventory, or we have to build it for you, it won't matter. Our team is capable of creating something entirely unique, built to your specifications. Just let us know how you'd like to begin, and let us know if you'd like to check out any of our merchandise.
---
Two Brothers With a Dream, Building The Best Ultimate Rides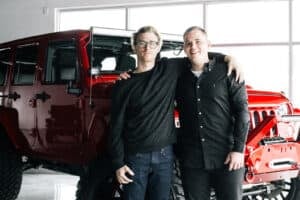 Ultimate Rides consists of two brothers who have been buying and selling custom vehicles for over ten years. Selling lifted trucks by day and writing these awesome reviews by night! They started their Ultimate Rides journey with a third brother Jake, who was a big part of building the business they have today. In 2016 Jake passed away and losing their brother was the hardest thing they ever had to deal with. Even though they had a tragic loss they plan to continue to set a new trend for the auto industry, keeping customers number one. Pushing the envelope on the lifted truck market, these guys love researching and learning about everything in the auto industry!
 — Nick and Alex Bulanda, Founders of Ultimate Rides