Shop Shirts with Ultimate Rides
In the 15 years that we've been in business, we've made a lot of customers happy with our vehicles. That's why, over time, we've had those same customers ask us if we had any shirts or other merchandise available. We're proud to say that we now have some to offer! Over the years, we've put a lot of hard work and effort into building Ultimate Rides into something to be proud of. Now, you can share that same passion by wearing us on your shirt! We have multiple designs available, each one comfortable to wear and made to last. Take a look at one of our Ultimate Rides shirts and decide if it's something you'd want to wear around town.
Bring Ultimate Rides With You Anywhere
The primary shirt we have to offer is black and features our main Ultimate Rides logo. It's a hit with customers, and we're confident you'll love wearing it. It's also a great way to support us and spread the word about our business! In addition to the standard black design, you can also opt for one of our Lifted For Life shirts. This design features the grim reaper driving with the words Lifted For Life printed above his head. It also features the name of our business and the year we started up. Check it out and decide if either one of these designs is right for you.
Customize Your Ultimate Rides Shirt
One of the things we're known for is the ability to customize your next vehicle. It only makes sense that we offer that same level of customization on our streetwear. We work with a freelance graphic design and print shop to offer custom shirts as well as our standard Ultimate Rides merch. We can offer colors beyond the typical black, and may even be able to provide more designs in addition to our logo and the Lifted For Life graphic over time. If you want to sport your very own custom Ultimate Rides shirt, reach out to our team and we can make it happen!
High-Quality Materials in Every Product
If you've ever bought a vehicle from us, or even read about what we do, you know that we only sell the best vehicles we can find. That same level of standards applies to our shirts. Who hasn't been stuck wearing an itchy or uncomfortable shirt sometime in the past? We all know how terrible that feeling is. We've gone out of our way to make sure our shirts are comfortable, no matter the situation. In addition to that, we use shirts with quality fabric, that will stand up over time through countless wash cycles. From top to bottom, no matter what we're selling, Ultimate Rides places a huge emphasis on quality.
---
Two Brothers With a Dream

,

Building The Best Ultimate Rides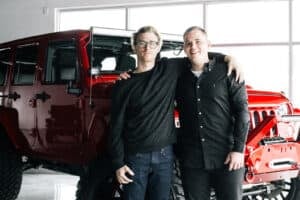 Ultimate Rides consists of two brothers who have been buying and selling custom vehicles for over ten years. Selling lifted trucks by day and writing these awesome reviews by night! They started their Ultimate Rides journey with a third brother Jake, who was a big part of building the business they have today. In 2016 Jake passed away and losing their brother was the hardest thing they ever had to deal with. Even though they had a tragic loss they plan to continue to set a new trend for the auto industry, keeping customers number one. Pushing the envelope on the lifted truck market, these guys love researching and learning about everything in the auto industry!
 — Nick and Alex Bulanda, Founders of Ultimate Rides