While Ultimate Rides is located about an hour south of Chicago, much of our business is done with buyers around the country. That's because all of our vehicles can be shipped nationwide, straight to your home. Let us tell you about this process and what you can expect as you shop with us. By the time you're done, you should know if Ultimate Rides vehicle shipping is right for you!
Nationwide Shipping Available
Every Day
Vehicle shipping may not yet be mainstream, but it has been steadily growing in popularity over the last few years. As most of our shopping continues to shift online, it only makes sense for that habit to transfer over to our biggest purchases. When you choose Ultimate Rides for your next vehicle, you can count on us to offer affordable shipping across the nation.
There are a number of advantages to doing your shopping online. You won't be limited to the vehicles or technicians in your area, for one. With a wider scope, you can shop around until you find the best option for your needs instead of the best thing that happens to be in your area. The process can also result in less stress. Our team is set on making the buying process easy for you. By taking care of everything online and over the phone, you won't have to stop into any dealerships. Just take care of it at your own convenience and then wait for your new vehicle to arrive!
Affordable Vehicle Delivery is
Important to Us
Some may assume that vehicle delivery will force the purchase out of their price range. We're happy to tell you this should not be the case. We work to make vehicle delivery affordable to as many as possible by providing it at cost. We'll charge you as little as possible only to ensure we don't take a loss. In doing so, our hope is that more customers around the United States will choose Ultimate Rides, knowing that we'll give them the best deal on an amazing custom vehicle.
On top of that, you'll have the ability to include these delivery costs in your vehicle financing deal. This opens up the option to more people, making it easier to start driving something special today. By paying only a small amount extra each month, you could have one of our custom trucks, SUVs or cars brought right to you.
Custom Upgrades on
Any Model
Any time you purchase one of our Ultimate Rides vehicles, you'll have the chance to customize it any way you want. With the help of our lift center crew, you can build the truck or SUV of your dreams. Here you'll have access to all the latest and greatest aftermarket parts, from lift kits to custom interiors or whatever else you can think up. Our team is certified to handle these installations, and has countless cumulative years of experience. Perhaps best of all, you'll be able to include the cost of your upgrades in the vehicle financing deal, meaning you'll just need to pay a little extra each month to start driving something really special. Just let us know if you're interested!
Learn Everything You Need to Know
Online and Over the Phone
If you've never made a major purchase like this on the internet or through phone, it's understandable to feel a little unsure at first. We're here to reassure you that the whole process is secure for your finances as well as your next vehicle. Start by giving us a call, and someone from our staff will listen to find out what you're looking for. From there, we'll walk you through our options on the website. We can offer up more information as well as additional pictures on each vehicle, and we'll answer any questions you might have before you decide whether to buy.
Those who'd prefer to complete the majority of the process on our website can do so. Start by filling out our financing form! We can also help you with that financing over the phone, so don't be afraid to call if you run into any obstacles. At any point, you can change your mind and decide to come see us to get a closer look before you buy. Your convenience is one of our first priorities, so just let us know how we can be of help.
Vehicles Arrive in a
Week or Less
When you order a vehicle from us, you shouldn't have to expect to wait too long. From the time when your vehicle is ready (which may vary slightly depending on the schedule of our crew), it will be one week or less before it arrives at your home. In the time that your vehicle is being worked on, we can stay in contact with you so you know what kind of timetable to expect. One thing you can count on is that we'll work hard to get your vehicle to you as soon as possible.
The Importance of
Lifted Truck Accessibility
Not everyone has a custom auto dealer in their own neighborhood, or at least not one they know they can rely on. That's why our shipping is so important. Lifted trucks are more common on the roads than ever before, but not everyone has access to one. By increasing that access, we're giving more people the opportunity to start driving something unique.
You can't just count on any local auto dealer to lift a truck the correct way. It's an in-depth process that takes years to master. If you want the best results, you've got to choose the right technicians, and Ultimate Rides has them. Our team specializes in lift kits, but we also offer all other kinds of customization as well as repairs, maintenance and detailing for those who do live in our area.  Contact us today to get started!
---
Two Brothers With a Dream

,

Building The Best Ultimate Rides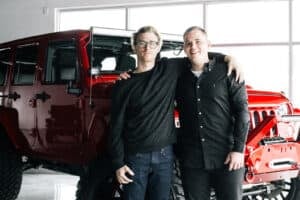 Ultimate Rides consists of two brothers who have been buying and selling custom vehicles for over ten years. Selling lifted trucks by day and writing these awesome reviews by night! They started their Ultimate Rides journey with a third brother Jake, who was a big part of building the business they have today. In 2016 Jake passed away and losing their brother was the hardest thing they ever had to deal with. Even though they had a tragic loss they plan to continue to set a new trend for the auto industry, keeping customers number one. Pushing the envelope on the lifted truck market, these guys love researching and learning about everything in the auto industry!
 — Nick and Alex Bulanda, Founders of Ultimate Rides