At Ultimate Rides, we believe the process of buying a vehicle has become overcomplicated. That's why, over 15 years ago, we set out to change the way these sales are done. We're a family business centered on providing drivers everywhere with top-notch custom vehicles. When you shop with us, you'll have access to some of the best custom trucks, SUVs and cars available today, and each one can be shipped right to your home.
Customer service is something that's incredibly important to us. It's no secret that many auto dealers have a reputation for treating customers poorly. We're out to prove that an auto dealer can not only survive but thrive by treating their clients with respect.
Learn about the Ultimate Rides process here, from the moment we first set eyes on one of our vehicles to the moment we hand over the keys. If you have any questions, or if you're ready to start customizing your next vehicle, give our office a call today!
High-Quality Inventory,
Customized Here
The vehicles you see for sale at Ultimate Rides aren't just any used trucks or SUVs. Each one has been handpicked by a member of our team, and must meet certain qualifications for us to bring it in. That includes being free of rust. We send buyers out to the warmest areas of the country, where the climate makes it easier to maintain vehicles. From there, our buyers bring back the most impressive options they can find. The customers who shop at Ultimate Rides expect the best, and that's one of the most important ways we deliver.
On top of that, every vehicle is brought to our shop for an inspection before we list it. The crew in our service center goes over every inch of the vehicle, looking for possible problems. Once we are fully confident in the integrity of the vehicle, we outfit it with a couple of upgrades and list it in our inventory for the public.
The most popular upgrade you'll find on our trucks and SUVs is a suspension lift. It's one of our specialties, and a primary reason why customers from all across the globe buy their vehicles exclusively from us. That's not all you'll find, and you will always have the option to add on more upgrades once you decide on a vehicle. You'll even have a chance to include the costs in your financing plan! Reach out to Ultimate Rides and we can go over the many possibilities for your next vehicle. The only limit to the level of customization is your own imagination.
You can even contact us if there is a specific vehicle you want to track down. Even if it's something rare, our team should be able to find it for you. You'll just need to leave a deposit with us to cover the cost of buying the vehicle, and from there we'll let you know as soon as we have it.
Shop Online or
In-Person
At Ultimate Rides, you can buy your next vehicle the way you want. Some drivers prefer to come in and see the vehicle up-close before they make a decision. Others would rather go through most of the process without speaking to anyone! Feel free to browse our website, and when you feel ready, fill out our financing application. You could also give our office a call and we'll be able to walk you through the purchase. That includes offering detailed photos of any vehicle you're interested in as well as information on features and possible upgrades. Whether you fill it out alone or with someone from our team, we'll put your financing application through the system and help you find the vehicle that matches your needs.
We Build Custom Trucks from the
Ground Up
Not all of our vehicles come to us from the outside. If you want a custom pickup truck, complete with any changes or modifications you can dream up, there's no better team out there. Our ASE-certified technicians have a ton of experience building vehicles, and they're truly passionate about the work they do. When you're ready to take the first steps towards having a custom vehicle built, we encourage you to call Ultimate Rides. Someone from our team will go over options with you, helping you get the most out of your budget.
Once you decide you'd like to move forward, let us know and we can start arrange payment details. Our team will get to work, and as soon as your vehicle is ready, we'll let you know. From there, you can come pick it up yourself, or we can have it shipped out to you just like any of the vehicles in our inventory. If you're not the type to settle for a standard truck, know that you can count on Ultimate Rides to build something unique.
We Buy
High-Quality Used Vehicles
Are you looking to sell your current vehicle, or want to trade-in for a custom upgrade? Bring your vehicle in to us, or fill out our online form. It gets fairly in-depth, but all of the information is necessary for us to offer a price that's fair for everyone involved. Once all the information is provided, our team will do some research and we'll let you know how much we're able to offer for either trade-in value or cash. As you should know by now, we only offer the highest quality vehicles for our clients, so our standards are pretty strict. However, if you're confident your vehicle is something worth customizing, there's a good chance we'll be interested.
---
Two Brothers With a Dream

,

Building The Best Ultimate Rides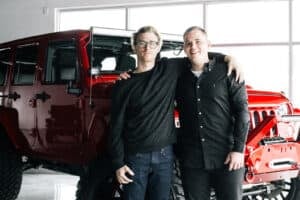 Ultimate Rides consists of two brothers who have been buying and selling custom vehicles for over ten years. Selling lifted trucks by day and writing these awesome reviews by night! They started their Ultimate Rides journey with a third brother Jake, who was a big part of building the business they have today. In 2016 Jake passed away and losing their brother was the hardest thing they ever had to deal with. Even though they had a tragic loss they plan to continue to set a new trend for the auto industry, keeping customers number one. Pushing the envelope on the lifted truck market, these guys love researching and learning about everything in the auto industry!
 — Nick and Alex Bulanda, Founders of Ultimate Rides